Devonia Love-Vaughn knew precisely what she signed on for when she was appointed to a newly created position in Louisiana Tech's administration late in Winter 2020.
More than half a century after the first African American student stepped onto campus, Love-Vaughn became the University's first African American female dean and its first Dean of Inclusive Initiatives and Student Success.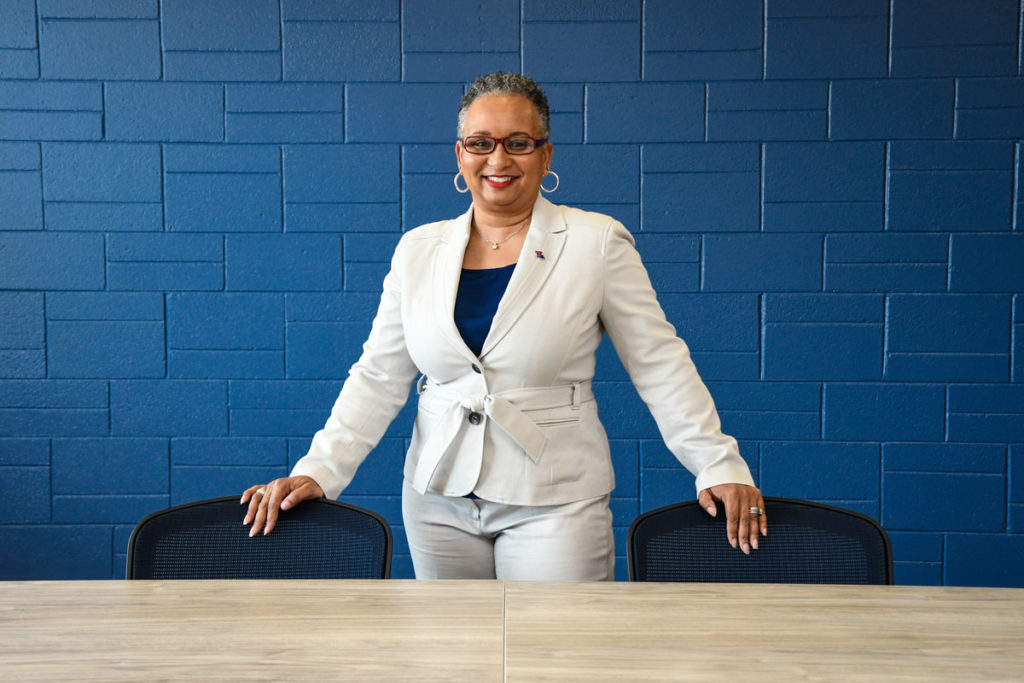 "I've said it before and I will say it again: DEI (Diversity, Equity and Inclusion) work is hard but it is good work and it is worth the hard work," she said. "I remain humbled and honored to be given this opportunity to have an impact on how DEI is addressed on our campus."
Love-Vaughn spent the first quarter of her new position evaluating "a few processes we have on campus," she said, to do the important work of analyzing, evaluating, and re-evaluating options "functionally and with intentionality." Before implementing new practices, she wanted to make sure where the University was in relation to creating the desired opportunity-for-everyone academic environment and workplace.
"I take great pains in how the work will be received, interpreted, and practiced," she said. "I feel it important to evaluate as much as possible on the front end because DEI work is challenging for some to digest."
So, she asks herself questions, like whether or not this certain action will be inclusive? Who have we left out? Why is this concept popular or not popular? Will this be offensive, and is it worth doing anyway? Have we reviewed this from all angles possible?
"Challenging our comfort zones is never easy, but it is extremely necessary to move the needle of progress," Love-Vaughn said. "We cannot please everyone, and that is not the goal; the goal is to educate and create space for everyone to grow and develop an inclusive mindset that benefits the entire institution."
DEI initiatives in the Fall began with a Division of Student Affairs in-service in which participants leaned into some difficult conversations around diversity and inclusion and incorporated some time to address self-care, "something we all need to practice more of so that we can be our best self as we serve others," she said. "We continue to have meetings with (Tech President) Dr. (Les) Guice and Black students to listen, learn, unlearn, and sometimes relearn what is important and needed for our campus to continue to strive toward inclusive excellence."
Since her appointment, she's spent much of her time consulting and collaborating with several students, faculty, and staff about upcoming projects, including formation of the Inclusive Excellence Advisory Council (IEAC), committed to fostering a University community that values DEI, collaborates with all units on campus to enhance student and faculty recruitment and retention efforts, provides guidance for carrying out inclusion initiatives, and supports the Office of Multicultural Affairs (OMA).
"It was a wonderful opportunity to educate FYE (First Year Experience) classes, student organizations, and departments about our take on inclusive excellence, and that diversity and inclusion are not concepts to be feared but practices in humanity that provide for space, opportunity, and accessibility for all us," she said. "Many of these opportunities provided space for us to have courageous conversations about racial, social, and civil issues, from a campus level to a national level."
Most of her work remained student-focused until mid-January when DeVaria Hudson, former Director of International Services and Programs at the University of Louisiana-Monroe and Director of Admissions, Recruitment, and International Affairs at Grambling State, was named Director of Tech's OMA; until then, Love-Vaughn had been performing roles of both new Dean and old Director.
After less than a year of concentrated DEI efforts, results have come, she said, in "unexpected ways."
SGA rounded out its cabinet committees with the inaugural DEI co-chairs positions;
Bertha Bradford-Robinson, who in 1965 became the first female African-American student to attend Tech, served as commencement speaker for the Fall 2020 graduating class;
The continued volunteer community involvement and commitment to student success from the National Association of Black Engineering Students, and growth of the newly revitalized National Association of Black Accounting Students; and,
Dr. Eric Wood became Tech's first African-American Vice President and Athletic Director, a hire that "has reverberated in a way that no one could have imagined," Love-Vaughn said. "The unintentional impact of this hiring demonstrates how important representation is at every level of our institution. Students in the OMA were literally high-fiving one another during the press conference.
"While I may not be directly involved in the decisions around these things, I cannot help but believe that the work being done around inclusion is opening us up to thinking differently and embracing opportunities for growth and development in areas we have not examined before," she said.
What Love-Vaughn sees as "an exciting opportunity for our campus" is Tech's being named as one of 19 national universities recently selected to participate in a three-year institutional change initiative known as IChange as part of Aspire: The National Alliance for Inclusive & Diverse STEM Faculty.
"It was and continues to be an honor for me to contribute to the proposal and the future initiatives of this opportunity under the direction of Dr. Katie Evans and Dr. Terry McConathy," Love-Vaughn said. "Being a part of the IChange Aspire Network will provide us the opportunities to expand STEM faculty knowledge around diversity and inclusion, which will impact teaching, research, advising, and the University as a whole."
Discussions began in late spring concerning the possibility of Juneteenth becoming an official holiday. Those discussions remain open, but how it will be celebrated on campus next year "will be determined by COVID-19 and where we are as a state and country with regard to the virus," Vaughn-Love said. "Instead of electing to have Juneteenth observed as a closed holiday on our campus we feel, at least initially, that it be a holiday that we spend educating others of its relevance and its importance to the Black community. Once we see that there is sufficient understanding of Juneteenth, we can explore the option of it being an observed holiday that is accompanied by a campus closure, much like Martin Luther King, Jr. Day."
Finally, in August, Origin Bank donated $40,000 to Tech's Department of Inclusion Initiatives and Student Success, part of $700,000 the bank distributed to a variety of charitable organizations and other educational institutions in its markets in Louisiana, Mississippi, and Texas. Here are the plans for how it will be used, Love-Vaughn said.
Upgrade computers, printers, and software for student computer lab
Purchase progress report software and ID scanners for scholarship recipients as a part of their academic accountability and retention
Purchase DEI training modules to launch the "Train the Trainers" program
Purchase/develop a campus climate survey to address DEI concerns
Partially fund a DEI speaker series for the entire campus and community
Partially fund Juneteenth Observation
Partially fund the production of "The First Series Guest Lecture Series" highlighting the lives and legacy of the first African-American students, faculty, and staff members of Louisiana Tech.