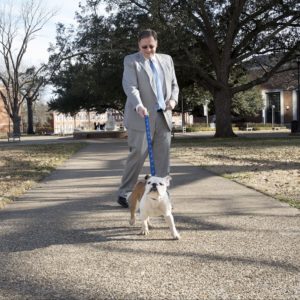 This year has been an exciting one for Louisiana Tech. Our University is continuing to grow and change to meet the needs of our region, state, and nation, and you'll learn more about many of these developments in the pages of this magazine.
Our faculty, staff, and students are having positive and memorable impacts on the world. Tech's impact has been consistent throughout its rich history, and our alumni and friends have set the bar high for future graduates. I am very confident that our students today and tomorrow will continue to rise to meet those challenges.
This spring, Louisiana Tech graduated its largest single class in history with almost 1,100 students walking across the stage in Thomas Assembly Center. These Bulldogs are our state's and nation's future, and I know that our faculty and staff have armed them with the knowledge, skills, abilities, and values for success in their careers and communities. We continue to draw the most talented and qualified students to our University, and thanks to your help, we will continue to do so.
Earlier in the year, the University was again recognized for its outstanding value among the state and nation's universities by Forbes and Kiplinger, as well as other publications. The U.S. News and World Report ranked Tech as a Tier One National Research University – one of only two public universities in Louisiana to be so honored – for the seventh year in a row.
While high rankings bring pride to the Tech Family, these rankings are only important in that they reflect the positive impacts that Louisiana Tech is having and will continue to have on our stakeholders and the future of our state and nation. We are poised to have even greater national-scale impacts as we prepare for Louisiana Tech's 125th anniversary.
Louisiana Tech continues to expand its reach to other communities and audiences, even while our commitment to the Ruston community gains momentum. In late 2017, we opened a new Academic Success Center in Bossier City to provide greater educational access to some of the place-bound and non-traditional students there, while supporting the economic growth of northwest Louisiana. Louisiana Tech is also supporting Barksdale Air Force Base and defense-related industries through its presence in that community. Our faculty and students continue to innovate with new academic, research, and innovation programs designed to take advantage of the opportunities for residents and our future students across the region.
Your loyalty enables Louisiana Tech to grow and prosper, and we thank you for your support. The members of our Tech family are stronger together than as individuals, and we grow by endeavoring to put the University first.
Kathy and I appreciate your dedication to our alma mater and yours. We look forward to working together with you in the next year to create more joyful days for our campus community.
Ever Loyal,
Leslie K. Guice