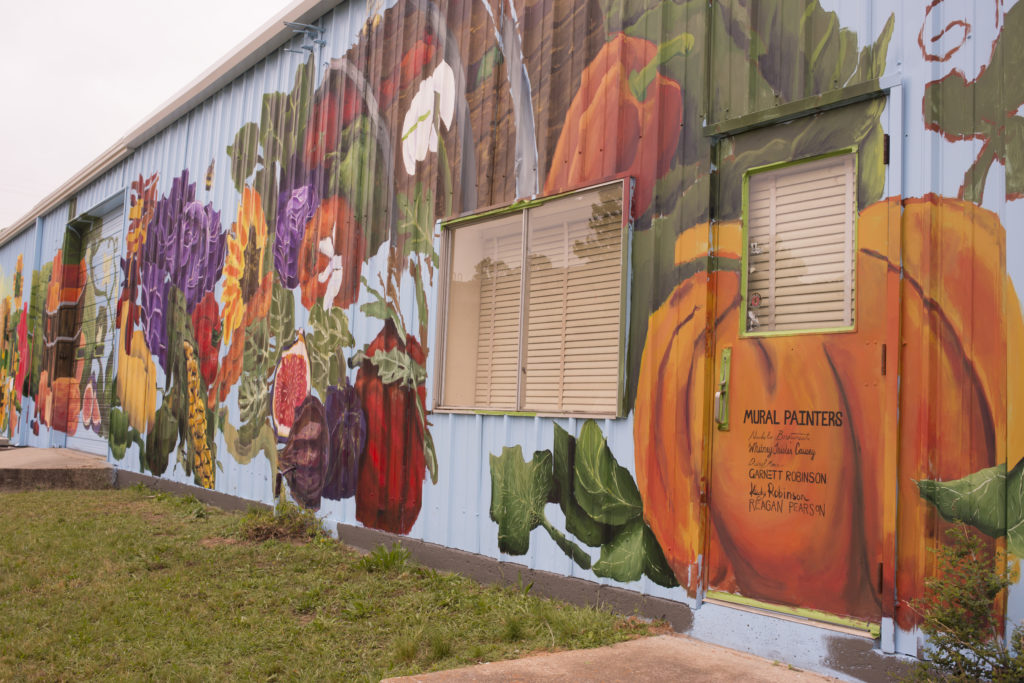 Art to Louisiana Tech Studio Art program chair Nick Bustamante is all about connecting people with people, with a place, with the past, with hopes and beauty and moments. For the past seven years, one way Bustamante and other local artists and students have done this in a big way is through murals.
Murals they've created are in Jonesboro and Homer and Chatham and Farmerville, giant murals on banks and libraries and other buildings. The Ruston murals have served a dual purpose of beauty and connection that's tangible.
"I hope the outdoor murals give alumni another excuse to visit and see how the art community — specifically the Tech art community — has been embraced by Ruston and Mayor (Ronny) Walker," Bustamante said. " It's a great example of the way the University and the City of Ruston are partnering. This is just one example of many, but it's a real visual presence of that."
The latest example of the collaboration is evidenced by the mural on the north wall of the Louisiana Center for the Blind in downtown Ruston. Bustamante and Whitney Cause, assistant professor of art in the School of Design, were hired by the city to create the mural. Since 2014, they've completed five other mural projects as a team, including their first Ruston mural on a building across from the Dixie Theatre in Downtown Ruston.
But Bustamante's greatest joy in this mural mission is the success he has seen with it concerning the University and his students — and the connection it's caused with yesterday's students. He and his Art 320 classes have created seven murals since 2012; those include the Ruston Rock Island Greenway mural under the Interstate-20 overpass and the Ruston Farmers Market murals in Ruston.
"With the student interaction, our students get way more than a skill set; they impact the community in a deeper way," Bustamante said. "These murals encourage students and our alumni to come back; part of them is still in Ruston or still in north Louisiana. Also there's an educational component to it in a way that doesn't involve art: a community member will come and ask a question as we're creating these murals, and I force the student to answer. It educates the public about art and educates these students in the art of interaction."
The Blind Center mural has the illusion of a neon sign glowing. The script simply reads "Ruston," and underneath it the script, in oversized braille, spells out "Ruston." It is one of the simpler designs Bustamante and Cause have created, which is why they developed the enticing illusion of a glowing neon sign.
His Art 320 class will surely be tasked with another mural project soon.
"Bringing students into these projects and the way we've networked is a testament to our partnership with the city," Bustamante said. "Ruston has been supportive in so many ways. Art's not always what people think about when they think of Tech; it's not what Tech is known for. It's cool to be recognized."
Professor of Art in the School of Design Nick Bustamante and Whitney Cause, Assistant Professor of Art in the School Design, were hired professionally to paint these murals:
Center for the Blind, City of Ruston, 2018
City of Ruston (Across from the Dixie Theatre), 2017
North Louisiana Timber Industry, Weyerhauser Company, Ruston, 2017
Bayou Scene, Pelican Reality, Ruston, 2016
Reading is the Light, Union Parish Library, Farmerville, 2015
In the Pines, Jonesboro State Bank, Jonesboro, 2014
Mural Class: Art 320 is a special topics course where students design and paint murals in the community. Bustamante led his students in these projects:
Rock Island Greenway, I-20 underpass, Ruston, 2017
Market Time, Ruston Farmers Market, Ruston, 2016
Myth of the Koi, George T. Madison Hall, on the Tech campus, 2015
Historic Chatham, Chatham, 2015
Finding Home, Monroe, 2014
Coca-Cola Park, Homer, 2013
High Cotton, Homer, 2012