On the eve of the inaugural DXL Frisco Bowl in mid-December, a friend passed Louisiana Tech slot receiver Teddy Veal in a meeting room at the team hotel and said he hoped Santa was going to bring him a present.
"I could really use a ring," Veal said.
Veal and his teammates didn't have to wait on Santa. The next night in chilly Toyota Stadium in Frisco, Texas, the touchdown underdog Bulldogs blew out SMU in their own backyard, 51-10, marking the triumphant end to a bizarre 7-6 season that saw Tech rally to win its final three games and its fourth bowl game — and ring — in as many seasons.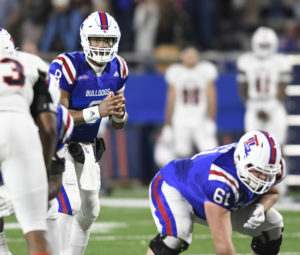 "We lost games in about every crazy way you can imagine," said Tech Head Coach Skip Holtz. After a 4-8 season his first year at Tech, Holtz led the 2017 senior class to 34 wins, the most by any LA Tech senior class since the program joined the FBS ranks in 1988.
A large part of the success has been the way the nucleus of Tech's staff has remained together, along with how Holtz has been able to patch it in a way that has kept the chemistry intact. There are also a couple of big — as in size — reasons.
"The facilities are a game changer," Holtz said of the DAC and the impressive press box and suites. "Every opportunity I have to thank anyone who contributed, I do it. It gives us a chance to recruit at a higher level. We're recruiting a higher grade of student-athlete, and a big part of that is these future Bulldogs see the support the University and the program is getting from President (Les) Guice and (Ruston) Mayor Ronny Walker and the city itself and our alumni and friends."
Clemson built its 2016 NCAA football national championship program into what it's become with the birth of "IPTAY" in 1934: "I Pay 10 A Year." Administration wanted to get as many fans and alums involved as possible. It worked. Even consistent little amounts have a big payoff. Tech's LTAC organization works off the same theory: Give at least a little, but give it consistently, each month. It adds up. Holtz sees this type of model in play at Louisiana Tech.
"People buying season tickets, giving annual or monthly donations … it all makes a difference," Holtz said. "Every person and every dollar plays a role. That's operating budget money. It allows us a better chance of competing at the level we want to compete on. We're trying to build this thing the right way on the field but we're trying to build it right off the field as well."
If you don't think the little things matter, consider the Bulldogs' 2017 autumn…
Before the 2017 Dogs took the field in the fall, it had taken the previous 20 Tech football teams a combined two decades to play eight one-point games. About 240 contests. The 2017 Bulldogs played four one-point games — plus a double-overtime game — in eight weeks. And one of those weeks was a bye week.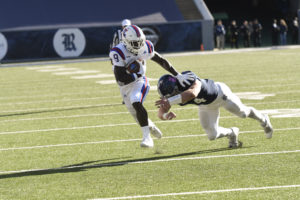 "You can't make this stuff up," Holtz said. "We're up on USM 11 with four minutes to play and lose. Up at South Carolina with 55 seconds to play and had basically controlled the game up to that point. These are games where our odds of winning were above 90 percent late in the game. It was a frustrating season to go through from that standpoint.
"We can't use injuries as an excuse, but we've had 25 surgeries since last fall," he said. "That's unheard of; you might have eight, and that would be a lot. We didn't play the same offensive line in back-to-back weeks until weeks 10 and 11. What was frustrating is that the injuries didn't allow us to develop any stability. Being hurt stopped us from a consistency we could have developed. You almost look at the bowl game as what could have been."
There are definitely a couple of silver linings, though, one being that bowl game blowout and the fact that Tech won its final two games of the season to become bowl eligible.
"We finished strong," Holtz said, "and a lot of young guys got to play last fall that wouldn't have played as much if the guys in front of them had been healthy. I say this all the time: young players are going to make mistakes; you just hope the youthful mistakes they make don't cost you a game. When you get in one-play games, those mistakes are more likely to cost you, and they did. But on the other side, I'm awfully encouraged by what we return. I mean, look at the youth…"
For the first time in Holtz's six seasons, Tech has its quarterback returning in junior J'Mar Smith, the Frisco Bowl's offensive player of the game. The defensive player of the game was Amik Robertson, a true freshman corner who was named to the Football Writers Association of America Freshman All-America team.
Teamed with him at the other corner is junior La'Jarius Sneed. Young receivers include the fastest guy on the team, junior Rhashid Bonnette, and a big pair of sophomore targets in 6-2 Adrian Hardy and 6-4 Zach Cousar. Another sophomore, walk-on Jake Norris, caught five passes in the spring game. Alfred Smith, who started at wide out as a freshman, was a victim of one of those 25 surgeries but returns this season. And don't forget Veal, who had off-season surgery and missed spring practice but will be 100 percent for his senior season; he led the team in catches with 74 for seven touchdowns and was Conference USA's Newcomer of the Year.
Tech lost a pair of 1,000-yards rushers in Jarred Craft and Boston Scott, but junior Jaqwis Dancy and sophomore Israel Tucker appeared strong in the spring. Kam McKnight, the 6-2, 232-pound receiver/running back, will spend his senior season in the backfield.
Joshua Outlaw is the only graduate from an offensive line that includes a pair of former Freshman All-Americans in senior O'Shea Dugas and junior Ethan Reed. "I feel really good," Holtz said, "with what we've got there."
Smith started all 13 games at quarterback last season. Behind him are Westin Elliott and true freshman Elijah Walker, who enrolled at Tech for the spring quarter and threw a 46-yard touchdown to Bonnette in the spring game.
"J'Mar is right where we needs to be as a junior quarterback," Holtz said. "He'll be able to execute whatever we ask him. As a true freshman, Elijah probably made more progress than anybody in the spring."
The Bulldogs have a lot of playing time back on a defense that finished the season strong with six turnovers, two interception returns for touchdowns and four sacks in the Frisco Bowl. Get used to names like Sneed and Jaiden Cole and Michael Sam, a senior transfer cornerback who was injured in last year's first game. Holtz feels like some signees and transfers and a shuffle of positions will improve the Bulldogs at linebacker.
Davan Dyer punted six times for a 39-yard average in the spring game; Tech remains on the lookout for a replacement for Jonathan Barnes, who ended his career as Tech's all-time leading kick scorer.
The season begins on the road in Mobile against South Alabama Sept. 1.
Your support can make a difference
Fans can support Louisiana Tech University's teams through LTAC – Louisiana Tech Athletic Club, which serves as the athletic fundraising arm of the Division of University Advancement.
"Over 300 student-athletes need support in their pursuit of academic and athletic excellence," said Paul Kabbes, senior associate athletic director for external operations. "Alumni, former athletes, friends, and fans can join LTAC and be a supporter of Louisiana Tech Athletics."
Last year was record-breaking for the LTAC, with $1.5 million in student-athlete support from fans, according to AD Tommy McClelland.
"Our student-athletes were able to achieve new heights on the field and in the classroom because of your contributions," McClelland said. "Your support of LTAC is vital to the success of Tech Athletics by allowing us to fund scholarships for our student-athletes, improve athletic facilities, and invest in retaining successful coaches."
Following are some of the ways donations to LTAC make a difference for Louisiana Tech Athletics:
Scholarships: In addition to tuition and books, scholarships provide quality housing, meals, and access to world-class sports medicine and training.
Facility Enhancements: Facilities are instrumental in providing the support for Tech's student-athletes to succeed in the classroom and in competition. Equally important, facilities are critical assets in recruiting quality talent.
Salary Supplements: Salary supplements make it possible for Tech to attract and retain the highest caliber of coaches in the NCAA.
Special projects: Many times throughout the year, certain projects and opportunities arise for every sport. We are able to accomplish these projects because of your donations to LTAC.
To contribute to LTAC, visit latechalumni.org/LTAC.
Suites & Press Box
Last football season, Louisiana Tech Athletics opened a $16.7 million facility upgrade at Joe Aillet Stadium.
The upgrade included a new press box and executive suites, new LED stadium lights, west side ticket booth, restroom renovations and aesthetic improvements such as an open, roomy concourse.
On the bottom level, Tech has added 14 suites, including a president's suite. The press box accommodates as many as 60 media members, with a spacious television booth and radio booths for home and visiting teams, all equipped with wireless internet and ethernet connectivity.