Friends of the late Patricia Brown Cochran have established a scholarship in her honor through the University Foundation.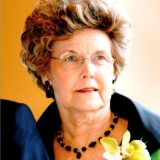 Cochran graduated from Louisiana Tech in 1962 with degrees in mathematics and education. She passed away in April 2018 after a 55-year career in which she taught two generations of math students.
The Patricia Brown Cochran Scholarship annually will benefit a Tech student in Math Education and is the first major gift to support UTeachTech, the University's pathway for STEM majors to become certified in secondary education.
Patricia Cochran was quick to realize that high school math instruction required a passion and a commitment to prepare students for the high-tech world. She knew it was not what students were taught, it was what they learned. For more than a half-century, she did her best to fill the teaching gap in math.
Honoring her passion and her lifelong commitment to teaching, her friends decided to establish the scholarship.
As soon as she graduated from Tech, Cochran drove her new red Volkswagen from Ruston to Port Arthur, Texas to begin her teaching career. After returning to north Louisiana to marry Carrol, her husband of 52 years, she taught math in Shreveport, Cotton Valley and Springhill before moving to Ruston, where she taught at Cedar Creek and then Ruston High. She often supervised Louisiana Tech students who did practice teaching in her high school classrooms.
Friends urged her to retire when she reached 70, "but each autumn," a sorority sister said, "she always felt drawn to the new school year and always returned with eager enjoyment."
When her doctors told her that an illness would require travel to Houston for treatment, she retired after 31 years at Ruston High because "she thought it would be unfair," one of her friends said, "to subject her students to a series of substitute teachers."
"Patricia Cochran treated everyone the same, no matter who you were," said Zach Yates, best friend of the Cochrans' son Brandon. "You could always go talk to her; that's what made her so endearing. She genuinely cared."
"The Cochrans opened up their home to us; they accepted us just as we were," Yates said. "At school she was not there just to teach; she was there to help you learn. She'd take time and help you through it. That's why she was a lot of people's favorite teacher."
"I basically stayed with the Cochrans most of my senior year," said Richard Anderson, another friend of Brandon's and Zach's and a fellow 1996 Ruston High graduate. "The Cochrans gave me guidance when I needed it; I could have easily gone a different direction. She and Carrol both were there when I needed them most. I owe them a great deal. I love those people."
It is the goal of the scholarship to identify those teaching candidates who have the same passion as Patricia Cochran and to assist them in fulfilling that dream. To donate to the Patricia Brown Cochran Scholarship in Math Education, contact Emily Becker Kabbes, Director of Development for the College of Education through University Advancement, at emily@latechalumni.org or 318.257.2296.