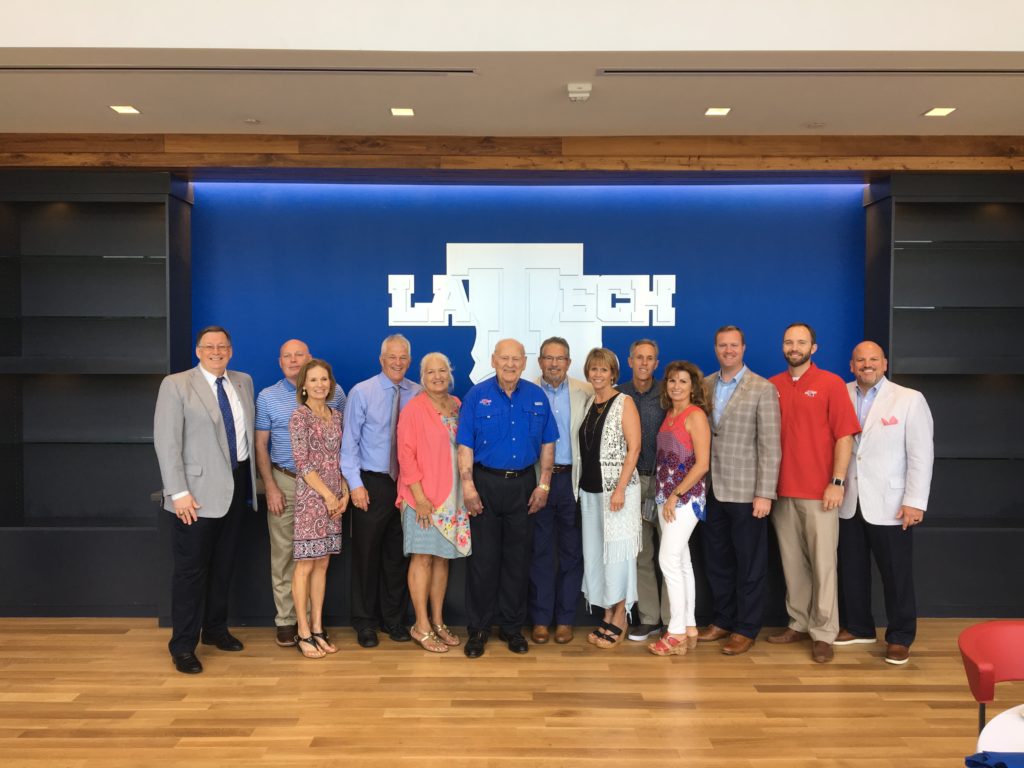 Leo Sanford hasn't played football for Louisiana Tech since 1950, but that hasn't stopped him from suiting up for his alma mater for the past nearly seven decades.
Most recently, Sanford established the Leo and Myrna Sanford Endowed Athletics Scholarship, the largest endowed scholarship in Tech Athletics history, to be awarded annually to a deserving student-athlete.
"I made this investment because I think Tech is one of the finest schools you can go to, for two reasons: for education and also for athletics," said Sanford, a two-time all-conference pick at both center and linebacker for Tech, an all-America selection in 1950, and a linebacker on the mythical all-Louisiana First 100 years of Football team. "We play a good brand of football, and you don't have to spend every nickel in your savings account to go to a game. You can take your whole family and you're going to see football as good as you'll see it played anywhere."
The scholarship will reach all teams in Tech's athletics department, not just football.
"Might be a basketball player or a track man," Sanford said. "I gave it to the program to use as they see fit; whatever is best for the school and the program."
"Leo has had a most positive impact on Louisiana Tech since arriving on campus 70 years ago," Dr. Les Guice, president of Louisiana Tech, said. "He has set a standard of excellence, loyalty and commitment to this institution as a student athlete and alumnus that few can match. His performance as an athlete at Tech and in the NFL played a major role in elevating Tech's reputation as a powerhouse in the Joe Aillet era, a reputation that Tech continues to benefit from today."
Tech Vice President for University Advancement Brooks Hull announced the scholarship informally on a Friday morning this summer during the weekly coffee-drinking session Sanford and several other friends, most of them Tech alums, have each Friday morning at a Shreveport café.
"Leo, you're such an icon to us as an institution; the best part of my job is getting to say 'thank you' to people like you who support the University's mission and truly understand what we're trying to do," Hull said. "We celebrate this moment and gift today, but your philanthropy started long ago."
Endowed scholarships are just one of many ways alumni, family, friends, and benefactors can support the University's athletics mission to educate its student-athletes and give them the tools to help them become champions both on and off the field. For ways you can push Tech's mission forward, contact the Louisiana Tech Alumni Association, the University Foundation, or the Louisiana Tech Athletic Club (LTAC) at the Marbury Alumni Center, 318.255.7950, or visit University Advancement online at LATechAlumni.org.