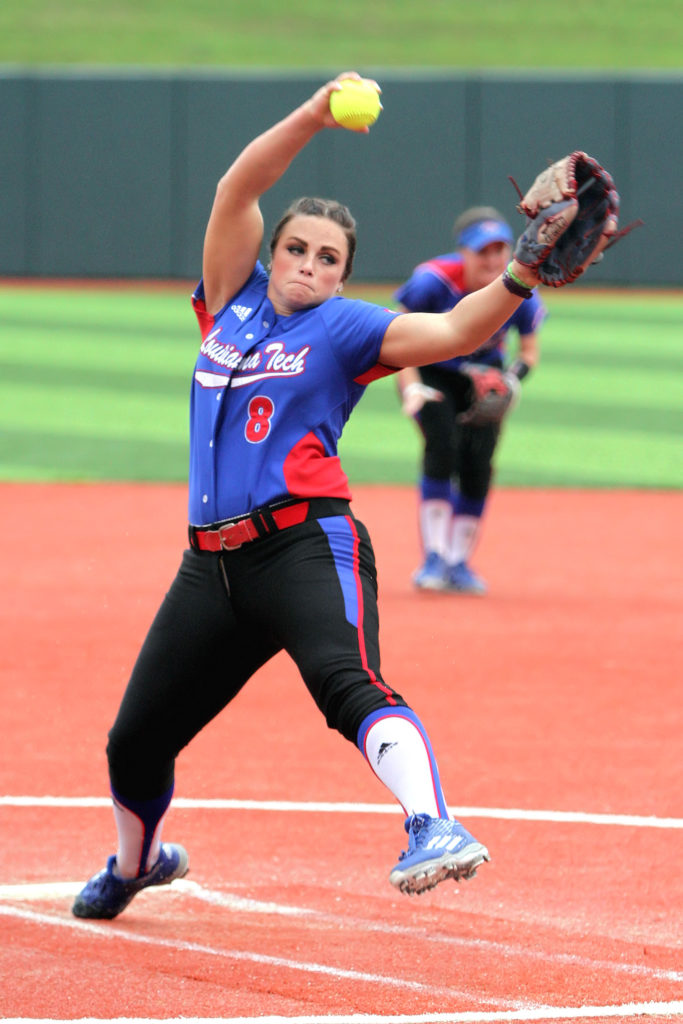 Louisiana Tech's softball team will look back at the 2018 season with mixed emotions.
It began with the Lady Techsters picked in preseason to win Conference USA but ended in a sputter.
The Lady Techsters won 34 games, including victories over Top 25 foes Texas State, James Madison, and McNeese State, and played toe-to-toe in one-run losses to the likes of Texas A&M, LSU, and Long Beach State.
Junior Preslee Gallaway became the first player in program history to earn conference Pitcher of the Year honors, and junior Morgan Turkoly become only the second Lady Techster to earn the conference Player of the Year award.
No question that head coach Mark Montgomery and Co. positioned themselves to win their first regular-season C-USA title: Tech won 13 straight games in late March and early April — the program's longest winning streak in more than 20 years—then won 17 of 18 games down the stretch.
But then…
Tech faltered in the final weekend of the regular season in El Paso and was swept; even having lost the first two games of that three-game series, the Lady Techsters were still four outs away from the regular season title but gave up five runs with two outs in the sixth and ultimately lost, 6-5.
Then came heart-breaking losses to Florida Atlantic and UAB in the Conference USA Tournament in Charlotte.
Season over.
Bottom line: the Lady Techsters, 34-23, didn't meet their own lofty expectations.
When Montgomery arrived in Ruston six years ago, 34 wins would have been considered a great year. Yet because of the growth of the program during Montgomery's tenure — thanks in large part to a graduating senior class that won at least 30 games each of its four years and helped the team to the C-USA post-season title and regional appearance last spring — 2018 fell short of what the Lady Techsters felt they should have been able to do.
"I think it says a lot about where this program is that we are looking back at this season and feeling like we should have done more," said Montgomery. "It's a credit to our senior class. They have been the foundation in building this program. As hard as the end of the season was on us, I hope it will fuel a fire in the returning players during the offseason and into the fall. I know as a coaching staff, we are going to take a hard look at what we could do better too."
Although Tech will miss the likes of four-year starters Katie Smith and Karlee Jensen in the middle infield and two-year starter Ali Galaz in the outfield, the Lady Techsters will return the nucleus of a team that was one win away from making program history.
The Lady Techsters will look toward 2019 with even more determination and motivation and the talent to reach its goals of a Conference USA title and return trip to the NCAA Tournament.