Diamond Dogs trending up after record-breaking season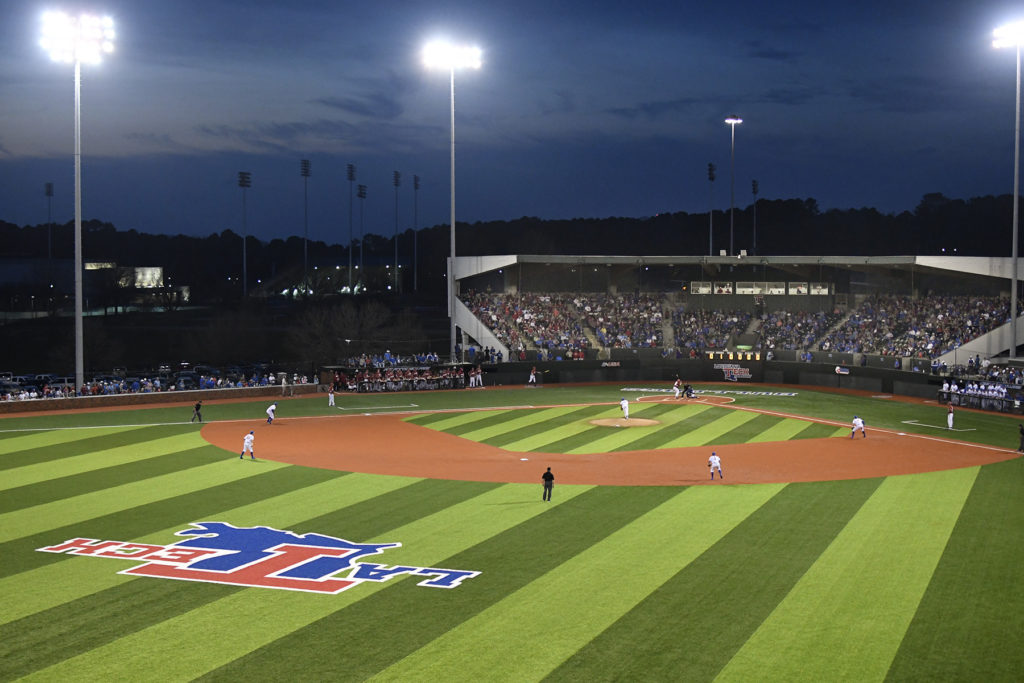 The season started in the sunshine in Malibu against Pepperdine and ended in Biloxi with the Diamond Dogs losing to Rice, Florida Atlantic, and lightning.
Lots and lots of lightning … Six lightning delays in three games. Tech's opener against Rice, due to the weather delays and overnight postponement, took more than 30 hours to complete.
But in between the West Coast trip in late February and a disappointing end to the season in the Conference USA Tournament, Tech made some thunder:
Most league wins in program history: 21
Most road wins since 1982: 18
All-conference selections: 7
Picked to finish 7th in C-USA: Finished 2nd
The Bulldogs, 39-20, at season's end had its best RPI, 60, of the past three very successful seasons. A 'rating percentage index,' RPI is the NCAA's system of ranking teams based on wins and losses and strength of schedule, determined as the season progresses. Results in other league tournaments, the way the NCAA Tournament came together because of it, and Tech's 1-win, 2-loss finish in its own league's tournament combined to keep the Bulldogs out of a regional. (Tech swept its final series of the regular season and saw its RPI actually get worse by six spots because of what other teams did.)
"I feel bad for our fans; we won more than 20 games in a pretty good league and finished second; 20 wins will get you a title in most leagues in most years," said Lane Burroughs, head coach of the Bulldogs for the past two seasons. "Some teams made it (into the NCAA Tournament) that I know we're better than. I'm pretty sure we're one of the Top 64 teams in the country.
"But," he said, "we can't beat a computer; we can only beat our opponent, and that's what we have to do each year. We can't even control RPI; we schedule two and three years out. Just because a team is good this year and we schedule them, that doesn't mean they're going to be good the next year or the next when we actually play. So what we have to do is beat our on-the-field opponent. Knock 'em out. Leave no doubt."
The 2018 team couldn't erase all doubts but they erased a lot of them, and there were plenty to choose from in February. Tech lost 15 graduating seniors, three players to the draft, and only one everyday position player returned; 26 new players were on the 2018 team, including several junior college players, necessary after the mass defection. Baseball coaches don't usually have 15 seniors, and they don't usually have a team with so many new parts to blend together so well.
"I couldn't be more proud of the way they responded," Burroughs said. "I'd take our record any time. The expectation here is we plan on playing in a regional every year. It took us a minute to figure out our identity; we started out 5-4, then I think winning the Frisco Classic (beating Texas A&M and Cal) turned us around."
Burroughs preached toughness on Sunday games; his players responded. Tech won Sunday road games at UAB, UTSA, WKU (in 11 innings) and at league-champ Southern Miss to win each series, 2-games-to-1. (Tech swept Marshall on the road.)
At home, Tech swept Rice and Old Dominion (in a regular season-ending Thursday-Saturday series) and won a Sunday game against FIU to win that series, 2-games-to-1. In the only two series Tech lost, the Bulldogs beat Charlotte on a Sunday and lost to Middle Tennessee on a Sunday. So in league play, Tech was 9-1 in the final game of each three-game series.
"I tell the guys, 'This is our culture,'" Burroughs said. "We might not be as talented as the other team all the time but we can always be tougher. We found a way to get it done on the road; it's hard, but we did it."
The cleat's on the other paw now. "Expectations will be a lot higher with all these guys coming back," Burroughs said. "That's what you want; that's how you build a program."
The average combined ERA of the six Bulldogs who pitched the most innings this spring is 3.12; each is back. Hunter Wells, fourth on the team in on-base percentage (.421), had 91 hits, a single-season program-record. Steele Netterville, Parker Bates, Taylor Young, and Mason Mallard each had an OBP of .414 or better. Netterville and Young are true freshmen.
"You can't continually add junior college guys; you build your program with freshmen," Burroughs said. "I love JUCO guys; as a player, I was a JUCO guy. But you have to get solid freshmen and start plugging them in. I call them 'company men;' a couple of years down the road and the coaches shouldn't have to say a lot to them."
The mix of freshmen with junior college players and upperclassmen, plus the right talent and chemistry, put Tech in position to win. They did win plenty. But in Biloxi in postseason — which is always about timely hitting and timely pitching and a little luck — the Diamond Dogs had little of either.
Overall though, the skies look pretty clear. After winning 42, 36, and 39 games during the past three seasons, the Bulldogs are obviously trending in the right direction.
Donors and fans have played a huge role in the resurgence of Bulldog Baseball during the past three years, a dramatic turnaround after nearly three decades here of hardball in the semi-wilderness.
Tech head coach Lane Burroughs figures the three-seasons-old field turf of J.C. Love Field at Pat Patterson Park has saved 10 home games during the past two springs, at least four or five this year. It's the same across Tech Drive at the turfed softball complex. The swings and playground equipment out in front of the ballpark give Tech's youngest fans something to do besides watch all nine innings. Tech's athletic marketing team adds the inflatables in the play area each game, and recently, the grills and tents down the first-base line have given fans who've purchased those spots for a season a taste of tailgating all game long.
"It all helps the program be successful," Burroughs said. "Each of those things means one more opportunity to enhance the game-day experience. Those grills start smoking and everybody can smell it and you can smell it on the field…I really believe it adds to the whole aura of a weekend series. We've built a family atmosphere, but it's also one of the tougher places to play in our conference."
The Love Shack: Where we can get together
2017 Attendance Totals
Home: 49,466 (29 dates = 1,705 avg.)
Away/Neutral: 35,954 (27 dates = 1,331 avg.)
Total: 85,420 (56 dates = 1,525 avg.)
2018 Attendance Totals
Home: 43,097 (27 dates = 1,596 avg.)
Away/Neutral: 52,034 (32 dates = 1,626 avg.)
Total: 95,131 (59 dates = 1,612 avg.)
Largest Home Crowd – 2,138 UL-Lafayette – April 24, 2018