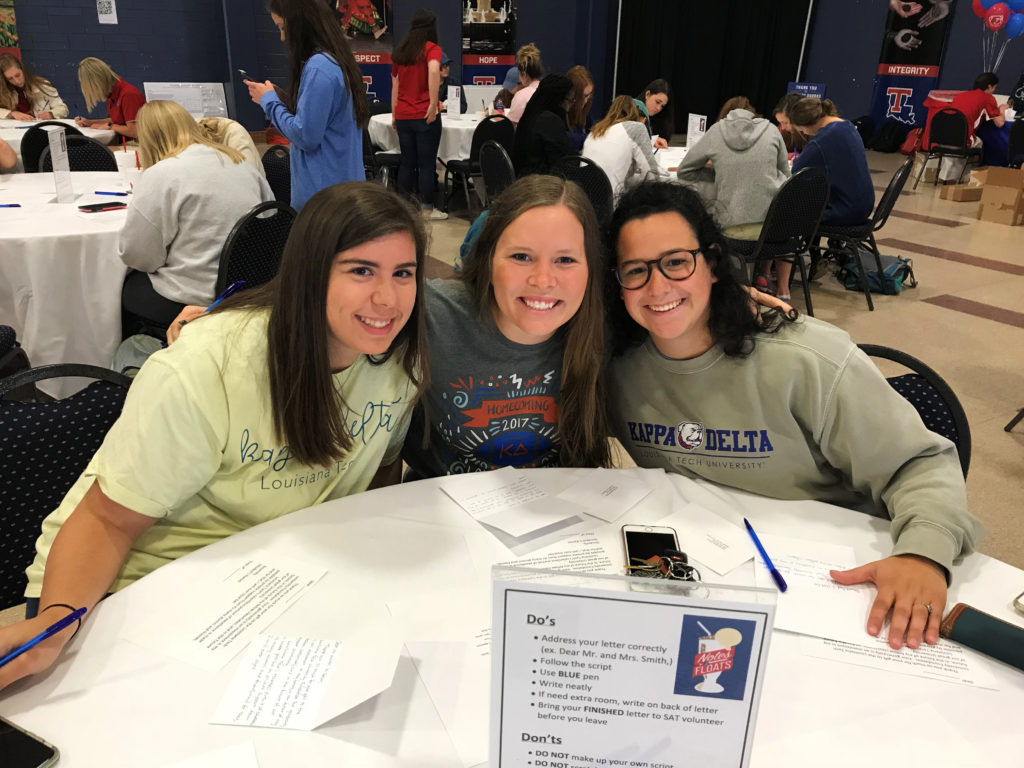 What makes a Louisiana Tech University Bulldog?
Confidence. Excellence. Commitment. Knowledge. Integrity. Respect. Leadership. Loyalty. Enthusiasm. Caring. Hope. Pride.
Instilled in first-year Bulldogs at Freshman Convocation when they drop their tenet medallions into the Lady of the Mist, the Tenets of Tech leave a lasting impact on our students. Those Bulldog students are working to leave their own paw prints on the University through charitable giving and volunteerism.
From donating goods, money, and time, our Bulldogs give back to their friends, families, schools, and communities.
"It's important to develop this heart for philanthropy while our students are in school," Tech President Dr. Les Guice said. "If they do, years from now they'll continue to give to the institution and to other entities as well."
There are opportunities aplenty, on and off campus, for students who want to give back. For students who want to give and don't know where or how to start, there are resources on campus to help guide them – their peers.
These on-campus guides, better known as the Student Advancement Team (SAT), educate their classmates about the importance of philanthropy, and how they can begin giving back to Tech through the Louisiana Tech University Foundation even before they graduate.
Started in Spring 2016 with only two members, the SAT has come far from its humble beginnings and is now comprised of 25 student leaders. Nominated by faculty and staff, these students go through an application and interview process. Only the best are chosen to serve as shepherds for the next generation of Tech graduates.
"These students do what they do for the love they have for Louisiana Tech" said Katie McGowan, Director of Campus Engagement and Tenet Society, and SAT Advisor. "The Student Advancement Team held three philanthropic events during the 2017-2018 year: Dollars and Dogs, Impact Day, and Notes and Floats."
During homecoming week, SAT holds Dollars and Dogs, which encourages students to become part of the 1894 Giving Society by donating $18.94. Students who donate receive a hot dog and are entered into a drawing. Individual students are not the only ones giving during the Dollars and Dogs event. Student organizations across campus compete at "The Joe" during the Homecoming Game to see which group can raise the most money. The winner gets bragging rights for the next academic year.
The inaugural Impact Day was held this year to bring awareness to the importance of private gifts to the University. SAT leaders placed 50 gift tags on parts of campus that would not exist without the generous private donations given to the Louisiana Tech Foundation. Faculty members holding Endowed Professorship and Chair positions across campus wore "Impact Day" buttons to draw attention to the significance of philanthropy in the classroom.
SAT student leaders set up a table in the Quad to hand out cookies labeled with Louisiana Tech University Foundation giving facts. These cookies were also thoughtfully crafted so that "pie-shaped" pieces were missing, signifying that the whole could not be complete without privately given gifts.
SAT reached out to Greek Life for its final event of the year. Held during Greek Week festivities, Notes and Floats showcased appreciation for the generous donors to the Louisiana Tech University Foundation. Students wrote handwritten thank-you notes to over 1,900 donors and each was rewarded with a root beer float for their efforts.
As the SAT continues to grow and educate students on campus about the importance of philanthropy, McGowan said she is "beyond proud of this group of students and (feels) blessed to get to work with them."
It is important for current students to understand how being a member of the Louisiana Tech community enriches their lives, according to Michele Robinson, Director of Alumni Engagement and Leadership Giving.
"We have all been afforded a remarkable opportunity to be members of the Louisiana Tech family," Robinson said. "Our educational experiences are unparalleled. Our campus culture is rare. It is our responsibility and honor to ensure that this opportunity is available to future generations.
"It is also important for all of us not just to maintain the value of our own degrees but also to strengthen it, giving ourselves and our families hope to realize life's potential."
This caring and commitment towards excellence, integrity, knowledge, loyalty and pride is what makes a Bulldog, a Bulldog.