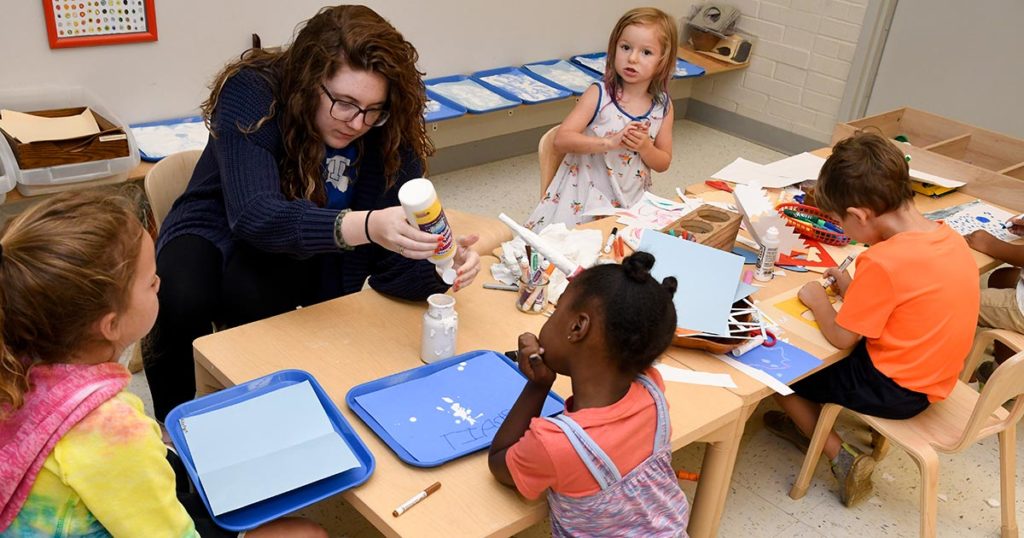 Just across the parking lot from the College of Business and the new Integrated Engineering and Science Building is a small, white building that has been home to several Louisiana Tech offices and departments over the years. Today, it's the home to perhaps its most important role: housing the imaginations, giggles and squeals, first friendships, and artwork of more than 30 3- and 4-year-olds.
This learning laboratory known as the as the Early Childhood Education Center (ECEC) is an integral component of instructional programming in the School of Human Ecology.
With a combined 50 years of experience in early childhood development, faculty members Laura Chestnut and Shannon Tatum not only serve as lead teachers for the center, but also as mentors and professors for numerous undergraduate and graduate Tech students. Nursing, speech pathology, education, and family and child studies majors have the opportunity to study, complete research, and apply theory related to their academic programs.
Camille Phillips, who graduated with a bachelor's in Family and Child Studies in 2015 and a master's in counseling and guidance in 2018, worked as a graduate assistant at ECEC in Tatum's class. Today, she works as a family therapist at the Center for Children and Families in Ruston.
"I was given the opportunity to grow and learn from Mrs. Shannon and Mrs. Chestnut, and it gave me a greater respect for teachers at any level because this is not easy work," said Phillips. "Both do extraordinary work with the students who pass through ECEC. They have a love and passion for teaching and you can see that in each and every student they have taught."
Undergrads outside of the College of Education and College of Applied and Natural Sciences also play an important role in the education of our youngest Bulldogs. Joseph Orgeron is a senior construction engineering technology major who serves as a STEM instructor at ECEC — helping the children understand basic science and math principles, then using play to show the practical applications of the concepts.
"These little rascals get me outside of my comfort zone," said Orgeron. "During my first year working at ECEC, I had a death in my family and was having a hard time hiding my emotions. One of the kids walked right up to me and gave me the biggest hug I had ever gotten there. When I asked why she did it, she said, 'You looked like you needed a hug, Mr. Joe.'"
This empathy and kindness shown to Orgeron is something both Chestnut and Tatum hope to instill in each child at ECEC.
"I want all of my students to know they matter," said Chestnut. "These years are critical to their social and emotional development. They are learning to be good citizens, how to think and form opinions, how to work in a team and be part of a community, and how to be creative and resilient."
All of this — teaching children to think deep and broad, to be curious learners, to know they can do hard things — happens in a little white building right on Tech's campus. And while the youngest Bulldogs learn how to learn, Tech students learn how to teach and influence positively as well.