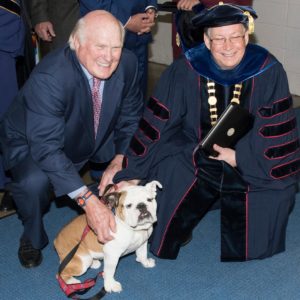 For 125 years, Louisiana Tech University students, faculty and staff members, and alumni have embraced challenges and provided solutions that have changed our state, nation, and world for the better. Your support has inspired innovation and excellence at Louisiana Tech, and I thank you for making a difference for all Bulldogs over the years.
Louisiana Tech made a lasting impact on my life, as I know it has for you. I am proud to be a graduate and am so grateful for those who invested in my Louisiana Tech education.
In this 125th anniversary year, I encourage you to deepen your engagement with Tech. I look forward to seeing you at the celebrations and events we have planned. When you visit, you will see progress toward our dreams for building a 21st Century Campus, offering an unparalleled educational experience, and focusing our research efforts on the Grand Challenges for our nation.
We are committed to advancing our University in the next 125 years and beyond. Your support makes the difference in our success.
Tech has the most loyal, generous, and committed alumni in the world. Bulldogs create everyday impacts in their communities and careers, and they serve as the greatest endorsement for the value of a Louisiana Tech University education.
I hope you enjoy this alumni magazine. In it, we take a look back to help our University frame the next 125 years. It is my great honor to serve you as president of our University, and I look forward to celebrating with our Forever Loyal family all the future successes of Louisiana Tech University.
Forever Loyal,
Leslie K. Guice
Louisiana Tech University President