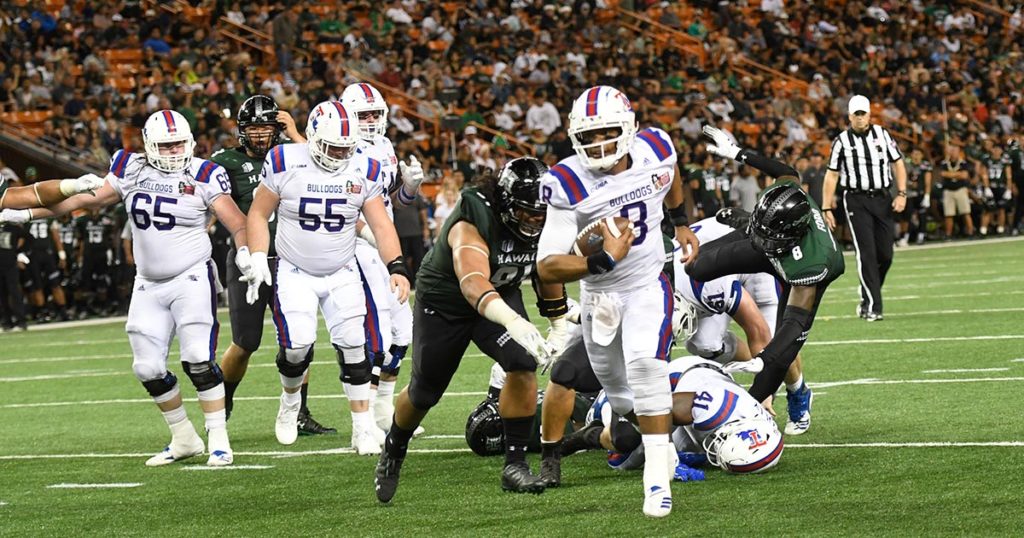 The questions around college campuses and in alumni clubs this time of year is always the same: "What's our football team gonna do this fall?"
It's no different at Louisiana Tech, except the question might be even harder to contemplate if you're trying to roll over info from last year's up-and-down team into the 2019 team that hasn't played a game yet.
The 2018 Bulldogs started the season 3-1, a mark that included a loss at LSU — Tech trailed by three in the fourth quarter and lost 38-21 — and a C-USA road win in the league opener against preseason C-USA West Division favorite North Texas, 29-27.
But then came the first speed bump, a 28-7 loss at home to eventual league champ UAB. From there, Tech sort of sputtered through the rest of the season, starting and stopping, and ended with a pair of conference losses before popping Hawaii in the SoFi Hawaii Bowl, 31-14, in Honolulu, to end on a dominating high note.
It was a wonderful destination bowl and well-earned reward for a program that has tied Wisconsin for the nation's longest active bowl game win streak at five.
The thing lacking during those five years? A C-USA title. (Wisconsin is in the same boat: the Badgers most recently won the Big 10 title in 2010, 2011, and 2012 — and lost a Rose Bowl after each title.)
As Tech head coach Skip Holtz likes to remind everyone, each football team has a lifespan of one season. Last year's team is not this year's team. But the experience of the returning players — and there are a bunch of those — should make the 2019 Bulldogs a more mature bunch than last year's team, which got no favors from the scheduling gurus as Tech had to play 10 straight games after getting a bye week on the ridiculous date of September 15.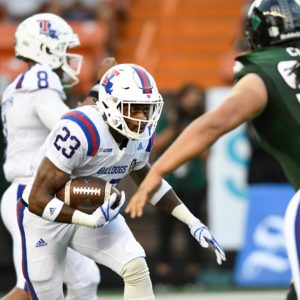 The Dogs have open dates October 5 and November 2. They don't play back-to-back road games until November 15 (a Friday night at Marshall) and November 23 at UAB. And for the first time in the six-year Holtz Era, Tech opens the conference season at home, September 20, a Friday night game against a much-improved Florida International team.
Tech starts the season with a bit of a historic flair. The Bulldogs open against the Texas Longhorns at Darrell K. Royal- Texas Memorial Stadium in Austin Saturday, August 31 at 7 p.m.
Then Lincoln Parish welcomes the national spotlight September 7 when the NFL Network broadcasts its first college game, Grambling State against Tech in Joe Aillet Stadium at 2:30 p.m. This game will mark only the second meeting between the two teams — the Bulldogs beat the Tigers, 20-6, to open the 2010 season in Shreveport in Independence Stadium — and the first in Lincoln Parish.
To win those games, appear in another bowl, or compete for a conference title, the Bulldogs would help themselves if they can find some offensive consistency. Injuries at different times to running backs Jaqwis Dancy (now a senior) and Israel Tucker (junior) severely hurt the offense last year, especially when Dancy's speed was sidelined. Quarterback J'Mar Smith, entering his senior season as a two-year starter, was inconsistent throwing the deep ball, limiting Tech's big-play chances, something he must overcome since the Bulldogs might be deeper at receiver than at any other time since 1984.
Also, last year opposing defenses managed 33 sacks, something Tech should be better at avoiding because it figures that Smith should be wiser and, with Ethan Reed, Kody Russey, Joshua Mote, and Drew Kirkpatrick back and tackle Gewhite Stallworth coming off a redshirt year for his senior season, the offensive line should be stronger — and hopefully won't lose a starter to injury as they did last year when Mote was lost after only four games.
The Bulldogs were a joy to watch defensively last year. The good news is that the secondary is back and the not-as-good news is that the veteran line is gone. But … Willie Baker, who had four sacks in the bowl game, leads a new line that is young but learned from a group that played smart, played hurt, and kept getting better most of the past three seasons.
Dennis Smith was hired during the offseason to coach special teams — one of four new guys on the coaching staff — an area Tech struggled with last season. Todd Fitch remains as the offensive coordinator and will coach quarterbacks; another of Holtz's longtime coaching friends, Bob Diaco, takes over as defensive coordinator; when he was Notre Dame's defensive coordinator, Diaco was awarded the Broyles Award, which recognizes the top assistant in college football, after the Irish played in the BCS National Championship game in 2013. And fans would like to think one or all of them would be able by now to answer your question: "What's our football team gonna do this fall?"
But as is the case with most coaches across the country, they don't know either. They have a semi-idea, but they don't know. Not until the fur starts flying. The team's not really born until the bus loads to head for Austin.