Louisiana Tech's original mace, the face of a tradition that began in 1986 as a symbolic Torch of Knowledge and Light of Learning, has retired, and a new Mace to mark the University's 125 birthday has taken over those duties.
Atlanta resident Mitch Mitton, a 1969 Tech advertising design/fine arts graduate, is the designer and creator of both — 33 years apart.
The 1986 Mace has been presented in every commencement exercise since Mitton created it while working in the Tech Special Projects department as an assistant. Both Maces were used in the Spring 2019 commencement exercises, and the old Mace will be retired to either the Marbury Alumni Center or Prescott Memorial Library.
The Mace was born when former Tech Special Projects Director Steve Rodakis, now retired in Ruston, began talking with then Tech President Dr. F. Jay Taylor about the idea of a symbolic mace to lead commencement.
"Other colleges had started carrying one, usually a small decorative rod and emblem," Rodakis said. "There was no internet then so I hadn't seen many, but I'd seen a few."
Taylor liked the idea, so Rodakis, Mitton, and Tech Art professor Albino Hinojosa, who created dozens of sports media guide covers for Tech's Sports Information Office during those years, began "batting around ideas," Rodakis said.
I hit on the 'torch of knowledge,' since that's why we're here. Those things combined are the genesis of it all.

– Steve Rodakis
Mitton began with sketches, and ideas evolved until the finished Tech Mace made its debut in 1986. It's still the "torch of knowledge" or "light of learning" to symbolize the Tech mission to its students, but there are differences.
The old Mace included the names of Tech's Colleges carved into the ribbons on its shaft. Those colleges have changed in the years since, so the new Mace features the Tenets of Tech.
To Mitton, the old mace "looked uncomfortable to carry," he said, so he made the new one shorter, and while it's slightly heavier, included in the neck is a small cove, a little recess that makes it easier to carry. "The original Mace had a visual feeling of being too top-heavy, and the diameters of some of the parts were too big to hold for a long march," Mitton said.
The old flame is hollow; if you look into the flame from on top, you see down into the mace. The new flame has a more 3D, fuller look that Mitton made from two turnings; then he fit the carvings together to make two flames, a flame within a flame. The new flame is the same as the old in this way: Mitton coated the crafted poplar wood with an automotive polyester primer, then a candy-apple-type gold and red paints were blended to get the color Mitton desired. Finally a clear two-part paint was applied to complete the slight metallic shine of the flames.
The original case for the Mace's downtime was a fitted design. "It protected the Mace but also hid some parts of it," Mitton said. "The new 'case' is really a more open stand designed to both show off its details and protect it."
The new Mace includes the University's anniversary dates — 1894 and 2019 — and the Bulldog logo.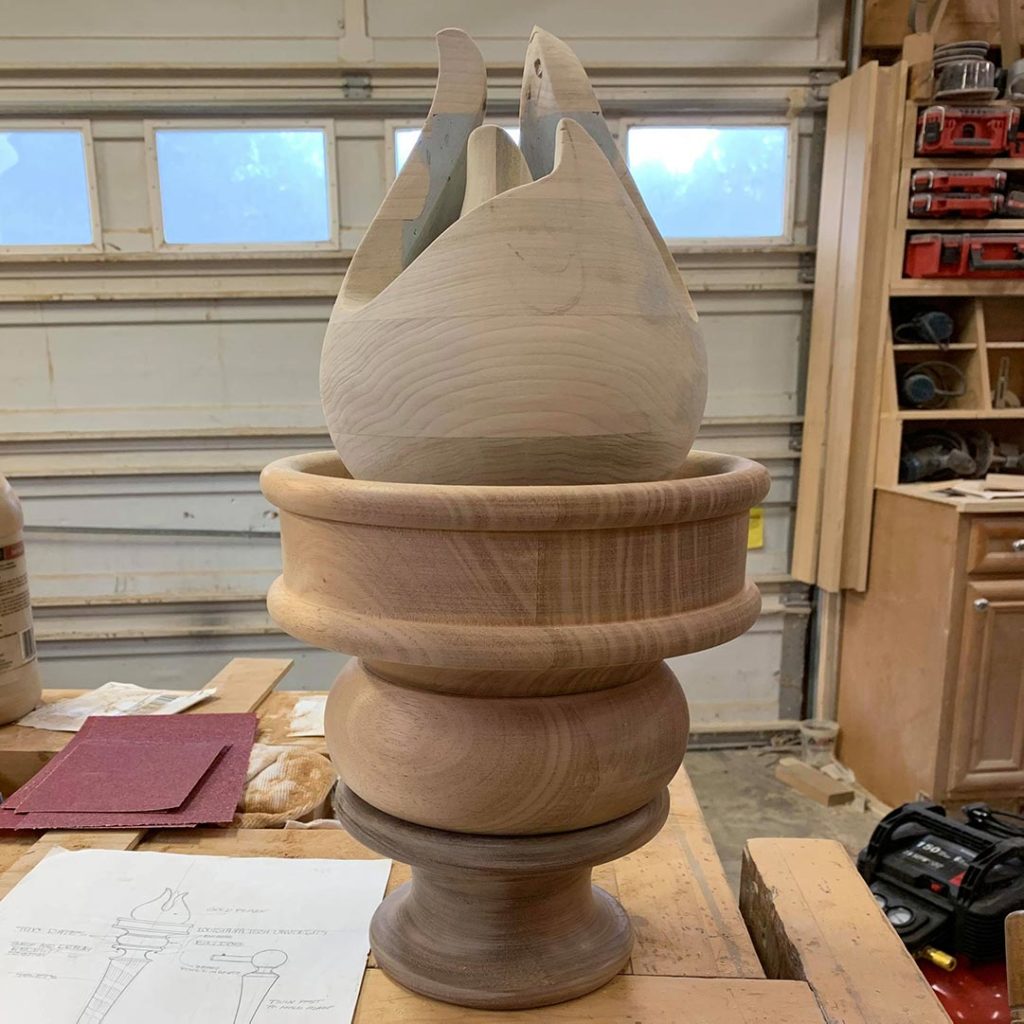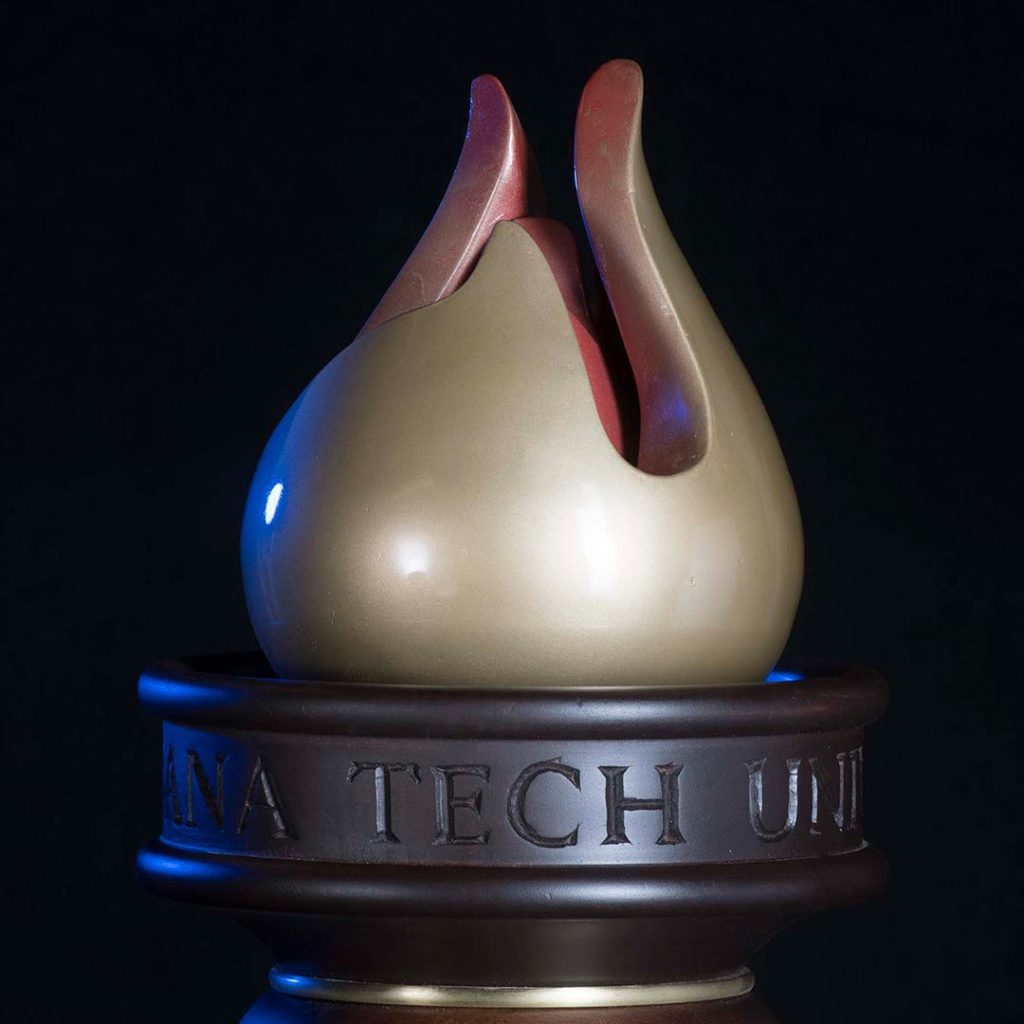 A graduate of Woodlawn High in Shreveport, Mitton came to Ruston as a freshman in 1965.
"While at Tech I learned to be a true student," he said, "and after the first few months I was constantly on either the Dean's List or President's List."
Mitton said he was "lucky" to be able to take a course in Manufacturing Processes, a hands-on engineering lab "that would pay off over and over for me. As a result, I've had a long career in design and manufacturing of products and custom furniture."
The textbook explained how industrial products were made, but in the lab, Mitton got to run the lathe, cast aluminum, and understand the processes he'd continue to use his whole career.
"It's one thing to read the textbook," he said, "but it's another thing to run a machine. I took mechanical drawing in high school, went on field trips, got to see some stuff. When we moved to Madison, Wisconsin, in 2000 and I became an industrial designer, I knew every process we were doing. I've taken my Tech education with me everywhere I've been and continued to be a student."
Not long after completing the original Mace, he quit working toward his master's in sculpture when he got another job opportunity. He and his wife, Patty Scott Mitton, a 1981 Tech graduate in what today would be graphic design, formed The Woodchuck Carving Company. For 14 years, they sold products to The Home Depot Expo Design stores. Most of the work produced by Woodchuck was for Hart and Associates, the lamp and accessory company created by Tech graduates Bill and Charles Hart.
Then came the move to Madison.
"But sculpting is my love," said Mitton, who has worked for Walt Disney World and several other companies doing theme design and fabrication. He and Patty created the Baptismal Font for Trinity United Methodist Church and also designed and built custom furniture for several Ruston residents throughout the years.
He currently creates fiberglass sculpture and works with 20-plus interior designers making custom furniture. He recently started creating movie props.
On April 25, at almost 3 a.m. Atlanta time, he completed Tech's new Mace. It turns out he was spraying the final coat on it when the F-3 tornado ripped through Ruston. He loaded the Mace in his and Patty's Hyundai Santa Fe and was going to deliver it the next day to Tech President Dr. Les Guice.
"We checked Facebook to see what was going on and called Ryan [Richard, Tech's Coordinator of Planning and Advancement], and Ryan said not to come, obviously," Mitton said. "So we turned South, headed to Florida for vacation. We'd planned to do that on the way back."
So the new Mace had already been on vacation before it was presented by Mitton to both Guice and the University in May at the rescheduled Benefactors Dinner.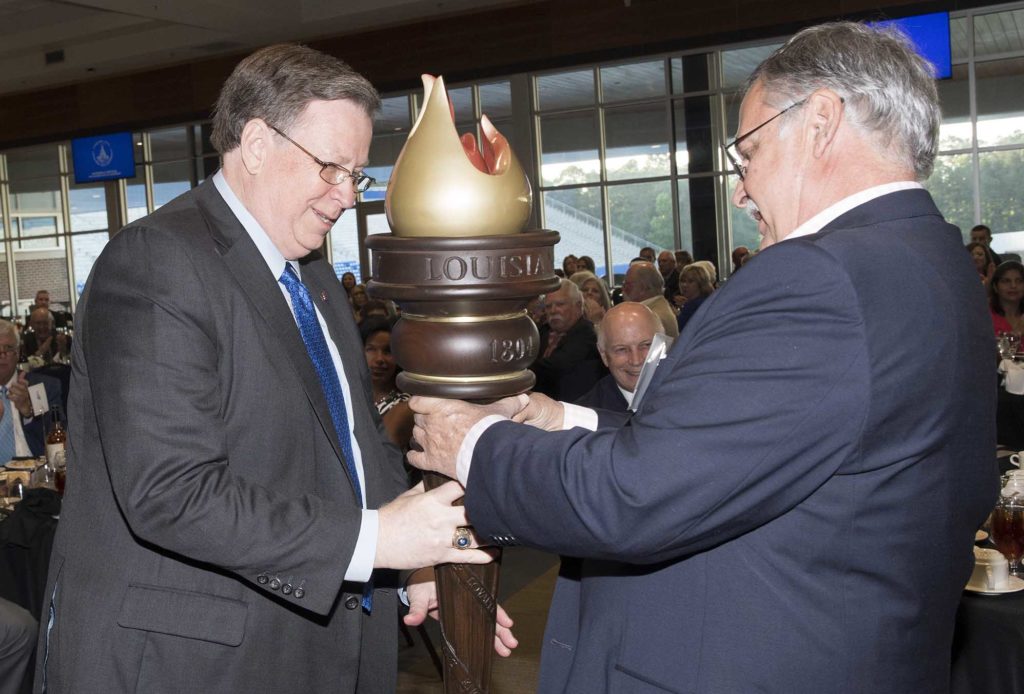 Mitton's work for the University wasn't free, but it's an example that everyone has something to contribute, especially once they come to appreciate the role Tech's played in their lives. The cost to the school for the new Mace was $4,000.
"Normally I would charge more than that for something like this, around $7,000," he said. "I feel guilty about charging, but on the other hand, it's like, 'Hey, you taught me how to go out and do this so I can make some money.'
"It seems sometimes I'm the only one in Atlanta who can do difficult jobs," he said. "I work with these designers and the price keeps going up because the jobs are more difficult and I have to sort of say to them, 'Y'all are no fun to play with so I've got to charge you more.' But that's not the case with my school. Tech is fun to play with."
Meet the Mace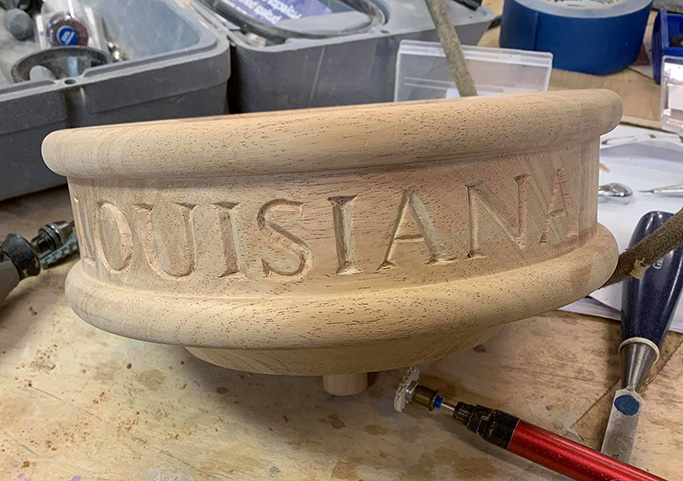 Birth Date: April 25, 2019
Height: 43.5 inches
Weight: 17.8 pounds
Time to create: About nine months
Material: Four hardwoods — walnut and mahogany (for the body, woods chosen for their ability to be carved to great detail), poplar (flame), beech (the fork inside the stand that is otherwise mahogany).
Flame: The poplar in the Mace was coated with an automotive polyester primer, an element Mitton said"was kind of a gamble" but lent itself to a sort of metallic shine. The flame is painted gold outside, red inside.
Other elements: Wooden dowels serve as connectors, and the separator — a decorative element that brings the color of the flame all the way down through the torch — is brass.