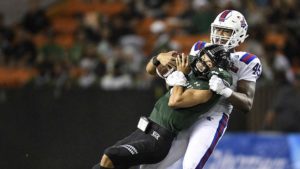 The NCAA's all-time leader in sacks got his first one as a redshirt freshman in October 2015 in San Antonio and his last one in December 2018 in the SoFi Hawaii Bowl.
Jaylon Ferguson wore No. 45 for Louisiana Tech.
That's the number others will chase now that Sack Daddy did something no NCAA player had done before: record 45 sacks in a career.
Ferguson also shattered the 33-year-old Tech record of 38 set by Louisiana Tech Athletics Hall of Famer Walter Johnson.
In April he was selected in the third round of the 2019 NFL Draft by the Baltimore Ravens. There he could join his old Tech teammate Kenneth Dixon; the Ravens drafted the record-setting running back in 2016.
Ferguson earned his diploma in November and then went on to put the finishing touches on a senior season that saw him lead the country in sacks (17.5) and be named the Conference USA Player of the Year and to four different All-American teams as Tech finished 8-5 overall and 5-3 in C-USA.
"You can put binoculars on him and watch him the whole game, and that'd be worth the price of admission," Tech head coach Skip Holtz said.
The 6-2, 262-pound defensive end from St. Francisville had six sacks as a freshman, 14.5 as a sophomore, seven in a junior season that saw him miss some time with an injury, and then the 17.5 as a senior, including 2.5 in the Hawaii Bowl to break the all-time record of 44 and help Tech beat Hawaii, 31-14.