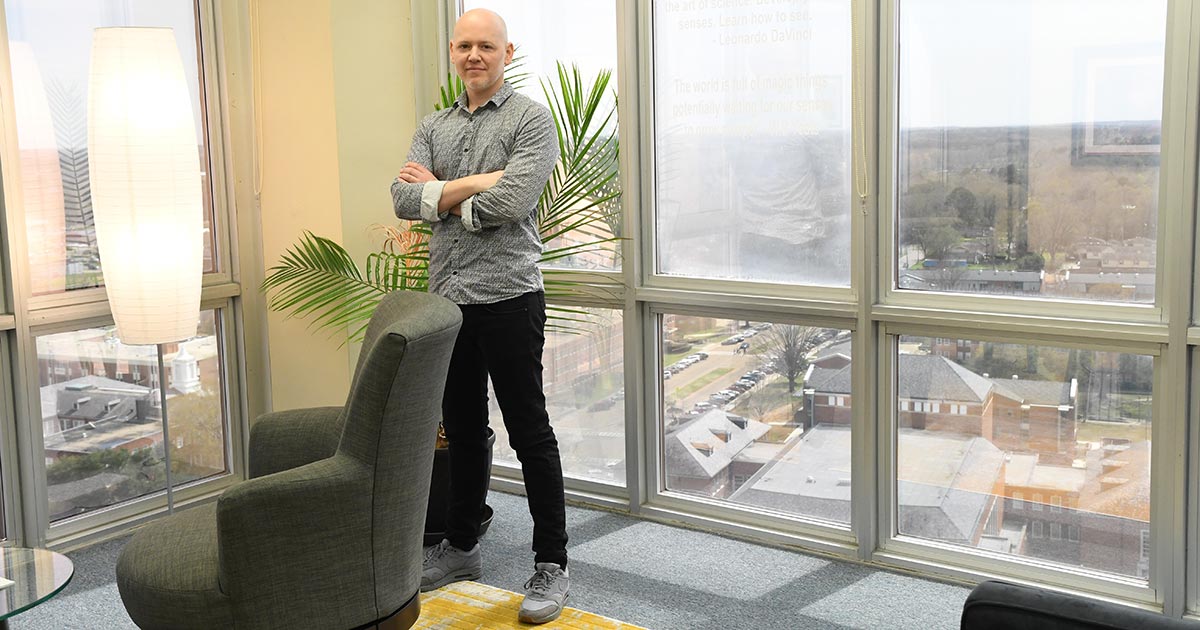 Even if you're not a video gamer, you can't help but notice that Electronic Arts (EA) video games are everywhere: Madden 19. Battlefield V. Unravel Two. Anthem. MicroMachines. Need For Speed.
Ever wonder where video games come from? Who invents them? What it takes to build them?
So did Emerson Oaks, who as a kid growing up in Calhoun, Louisiana, in the 1980s "felt that video games were a truly new experience that gave me doorways to open and explore," he said.
The other attraction to joining the cutting-edge field of video game creation was his intense "interest in technology," and video games continue to bring the Louisiana Tech graduate to the cutting edge of entertainment technology.
Oaks came to Tech, earned his BFA in graphic design in 1998, and today, at age 43, is living in Vancouver, Canada, and working as the art director for Electronic Arts. Yes, that same EA – the second-largest gaming company in the Americas and Europe, and headquartered in Redwood City, California.
"As time's gone by, the medium has evolved and matured," Oaks said. "Now we're starting to see game makers create works that display real artistic expression. Video games still have a lot of opportunity for evolution, so game development is a field where I can combine these interests — art and technology — and constantly push the bounds of our medium even further."
The normal day for the art director at EA is "full of variety," said Emerson, who most mornings gets to the studio around 8 before the artists get there mid-morning.
Then the day goes something like this:
A half hour or so catching up on emails, then considering concept art and doing "offline" reviews of work that artists sent the day before.
10 a.m. to 12:30 p.m.: In-person critiques or feedback sessions with the artists. Handle a few things like questions about game design, conflict resolution between different domains or departments, resolution of budget or scheduling problems.
12:30 to 1:15 p.m.: Lunch, usually in the studio cafeteria and usually talking shop.
The afternoon: A mix of meetings with direct reports and craft leads, and with peers in management to discuss the overall direction of the game production.
6 p.m.: An hour or so of hands-on work to remain grounded to the art and to the team.
"After that," Oaks said, "I'm out of the studio to take care of IRL (in real life) stuff."
An Art Director on a video game is responsible "for leading the art team to define the visual identity of a game and to create all of the visual content in the game," he said. This includes creating concept art to set vision, production-designing environments and characters, guiding the creation of animation, visual effects, and user interfaces.
"I lead an incredibly talented team of craftspeople to achieve this work in a constantly shifting landscape of technology and tools," Oaks said. "Video games are increasing in complexity every year as players become more discerning about the visual quality they expect from their media."
When he's not designing or playing video games, he's hiking, skiing, and snowboarding in the winter and sailing in the summer on Canada's west coast where "the mountains seem to flow right up to the city," he said. But … he still can't vote there. He has to drive out of the country to do that.
"I'm not a Canadian citizen," Oaks said, "so I still vote in California where I was last registered."
It's one of those IRL things.