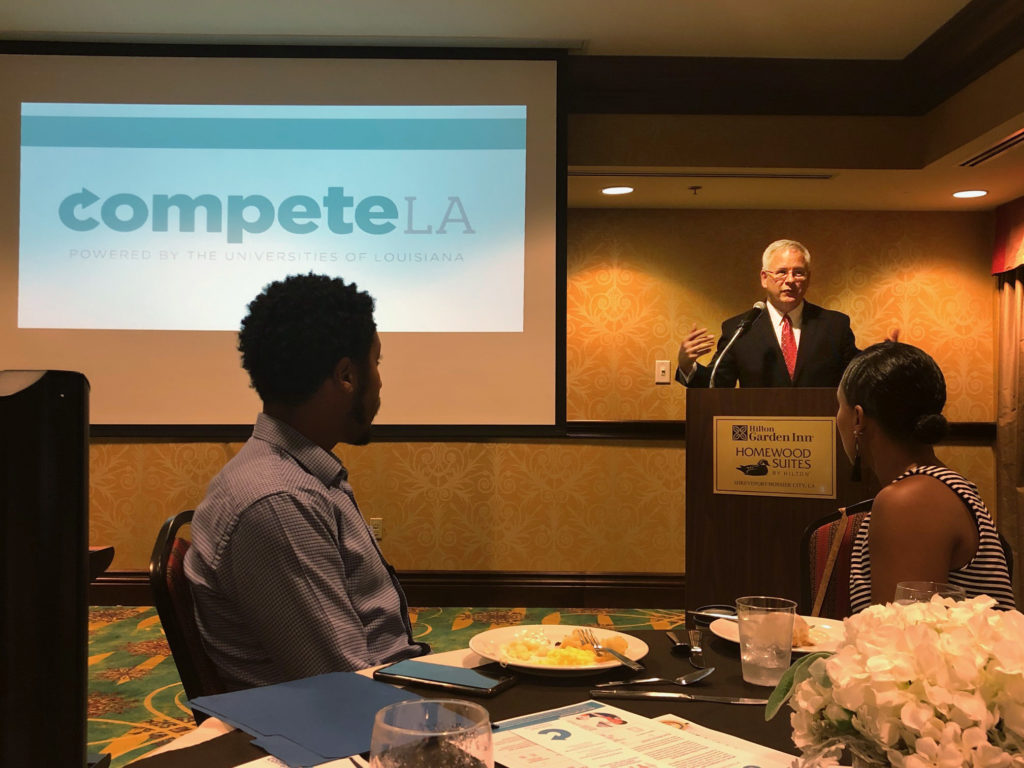 The University of Louisiana System recently launched a new initiative to recruit adults who are ready to return to college and earn their degree. More than 653,000 Louisianians have some college credit but no degree, a factor that contributes to the state's second-to-last ranking of those with bachelor's degrees or higher. Compete LA hopes to increase credentials among Louisianians to improve the state's overall educational attainment and create a more educated workforce.
All nine of the University of Louisiana System (ULS) member institutions* are contributing to the 33 degree programs with adult-friendly features such as completely online or hybrid course delivery, increased entry points beyond the traditional university calendar, and prior-learning assessments.
Compete LA features two bachelor's degree programs from Louisiana Tech – Interdisciplinary Studies and Health Informatics & Information Management – and will enroll its first cohort of students in Fall 2019.
"Louisiana Tech is well positioned to provide increased services to returning adults to ensure their success this time around," Louisiana Tech President Dr. Les Guice said. "We hope to welcome many of our former students back to finish their degree and welcome some new Bulldogs as well."
The unique benefit of Compete LA is the coaching structure designed to ensure students' success. Each student is paired with a free coach who evaluates existing credits and guides the student to the best degree program that suits their goals whether for specific career advancement or the fastest pathway to degree.
We are committed to a student-centered process designed to ensure adults can re-enroll no matter their life circumstances.

– Dr. Donna Johnson
Returning adults often face greater time constraints than the traditional student — they are mothers or fathers, caretakers for aging relatives, full-time employees. Compete LA creates pathways to meet the student exactly where they are.
"We are helping to cut the red tape and get students successfully on a path to degree completion," Tech's Assistant Vice President for Academic Advancement and Partnerships Dr. Donna Johnson said.
The University's Bachelor's in Interdisciplinary Studies is housed at Louisiana Tech Barksdale, an instructional site that specializes in meeting the needs of veterans, active military, military family, and other nontraditional students.
"Those with military experience are perfectly suited for Compete LA," Johnson said. "Students in the Greater Shreveport area and beyond will greatly benefit from the services we are offering at Tech Barksdale."
Earning a degree online is not a new concept, but many do not realize the vast online degree programs available through the Universities of Louisiana member institutions, opportunities designed to fit the need of busy adults.
"The same online degree conveniences that you hear from national ad campaigns are available right here at the institution you already know and love," ULS President Dr. Jim Henderson said. "Compete LA connects adult students with the specific resources needed to successfully complete their degrees."
Through its hands-on coaching model, Compete LA addresses academic, financial, and social barriers that can hinder the success of returning adults. Coaches will help students navigate prior debts, academic history, childcare, food insecurity, and other life situations that may interfere with success.
Compete LA is also partnering with business and industry to highlight existing benefits such as tuition reimbursement, flexible work schedules or debt repayment. Businesses offering benefits supporting employees' return to school are eligible for a free co-branded webpage to promote these opportunities. Employers can share the webpage with employees to remind them of their benefits and encourage them to continue their education.
Louisiana Tech's research, talent development, and innovation have been primary contributors to the creation and rapid advancement of the I-20 technology corridor. The next step is to guarantee that northwest Louisiana has the skilled workforce in place to meet the needs of employers.
"For 125 years, our University has been nurturing graduates who have the skills necessary to meet the workforce needs of Louisiana and beyond," Guice said. "Today is no different, and this is an excellent opportunity for Louisianians to prioritize expanding skillsets and advancing careers."
The University of Louisiana System hopes to have 10,000 students enrolled in Compete LA in the next five years. Students interested in returning to school can download the Compete LA app from the App Store or Google Play or visit CompeteLA.org for more information about how the program works, degree offerings, and university profiles.
* Member institutions include Grambling State University, Louisiana Tech University, McNeese State University, Nicholls State University, Northwestern State University, Southeastern Louisiana University, University of Louisiana – Lafayette, University of Louisiana – Monroe, and University of New Orleans.