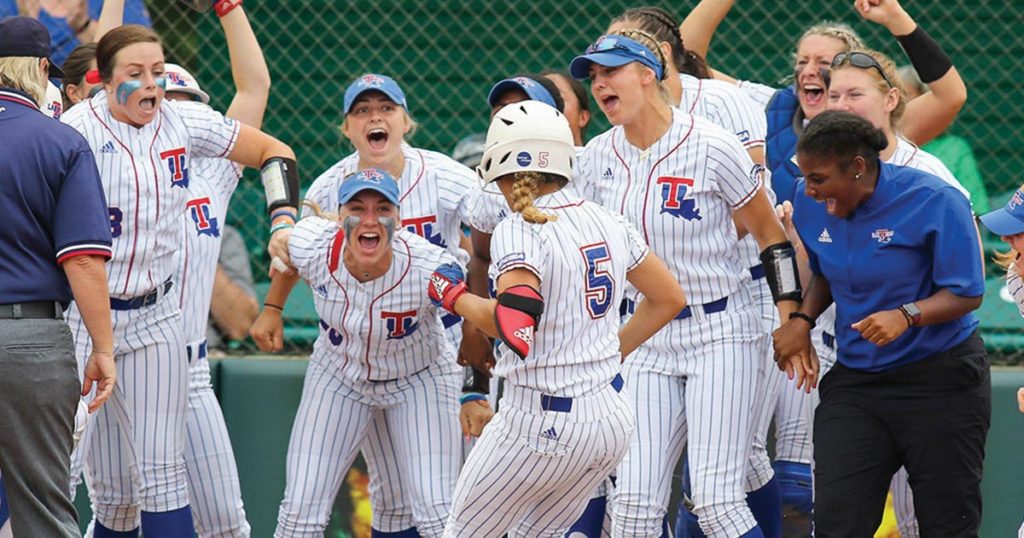 For a team faced with adversity after the EF3 tornado that totaled their entire softball complex, the Lady Techsters received a new pitching machine, a victory made all the more meaningful by their struggle. The Lagniappe Ladies recently awarded the Lady Techsters softball team a grant that makes this new machine a reality.
In many ways, Lady Techster Softball is beginning a new era, and in a time when every contribution to the team's success is more critical than ever, the Lagniappe Ladies have made the Techsters' road to recovery that much easier. The former pitching machine used by the Techsters was destroyed in the April tornado. It was more than seven years old and had undergone multiple repairs. Its mobility was limited, and the machine showed its age, but the team used it well en route to a Conference USA Tournament Championship and NCAA Tournament berth in 2017 and 2019.
When former Lady Techsters head coach Mark Montgomery applied for the grant, he had no way of knowing how crucial a new pitching machine would become the next spring. The Techsters' new head coach, Maria Winn-Ratliff, said she realizes how important this grant is for the players and the program as a whole.
Receiving a new machine will allow our athletes an opportunity to train with one of the most cutting-edge tools on the market. The machine will not only enhance our offensive skill set but will provide the program with a variety of options within our daily practice routine.

– Maria Winn-Ratliff
The new machine, a Hack Attack Softball Pitching Machine, is lightweight and optimal for everyday use. It is a premium, college-level machine that will allow the players to hit multiple pitch types at different speeds. It also has wheels, making it easier to use during practice and easier to transport. Since the team will play its entire 2020 schedule off-campus, a pitching machine with mobility will prove to be an advantage. Without the Lagniappe Ladies grant, the team would have been responsible for raising the money for a new machine themselves.
"It is a special honor to be a recipient of a Lagniappe Ladies grant," Winn-Ratliff said. "This is an amazing opportunity that will make a huge difference for this team now more than ever."
The team began their spring 2020 season as the traveling host of the Big Easy Classic in New Orleans Feb. 7-9. They will play their home games for the season at the new Ruston Sports Complex.
Through it all, they will take their training to the next level thanks to a pitching machine courtesy of the Lagniappe Ladies.