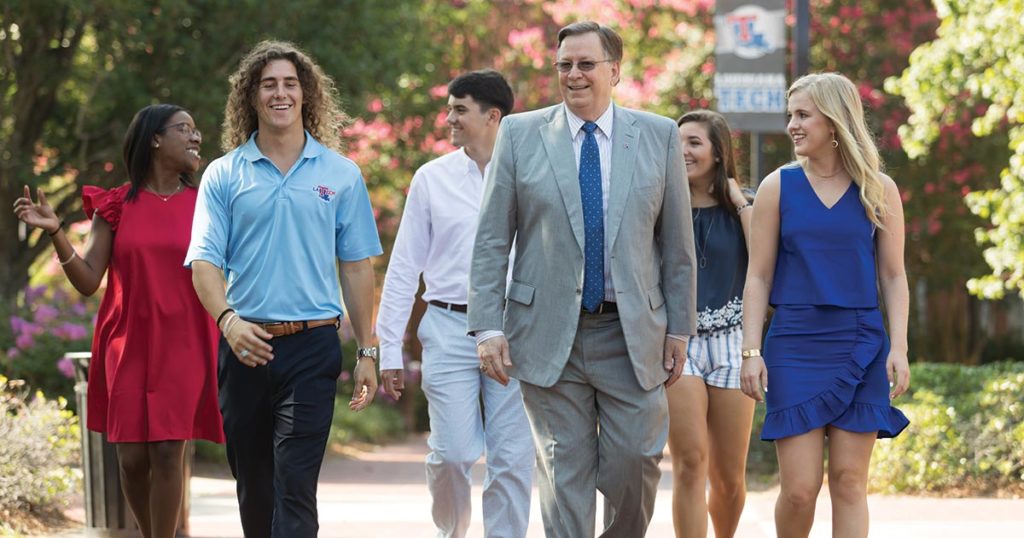 The year 2019 was an eventful one for Louisiana Tech students, faculty, and staff. Our work has been recognized and applauded on a national and international level, and we have you all to thank for your continued support of our University.
We began our year with celebrations of Louisiana Tech's 125th anniversary, and we'll bookend our milestone year with a weekend of events, reunions, concerts, and gatherings. Make plans to rejoin members of the Tech Family in Ruston April 24-26, where we'll have the opportunity to show how much our campus and the city have grown.
This year, Tech was honored with two international rankings that recognized our faculty and research connections and our commitment to sustainable growth on the international stage. We were named to numerous lists recognizing the great value and return on investment we offer our students – and the financial impacts a degree from Louisiana Tech can have on our alumni. US News and World Report also named Tech a top tier national university, reinforcing our standing as the place students and faculty choose to begin and continue their fruitful careers.
Our campus has also seen heartbreak this year. The April 25 tornado that plowed through Ruston and destroyed much of the Tech Athletics Complex allowed us all to reframe our idea of what a 21st Century Campus is. Your support through that time – with a record-breaking Giving Day and innumerable volunteer hours – reinforced our belief that Louisiana Tech is a special place. We saw hope and caring and excellence during that time, and we continue to know that our Tech Family will support us well into the future.
Thank you for your continued support of our great University. As we look forward to the next 125 years, Louisiana Tech continues on our path to ensure that our region continues to enjoy the transformational impact that a Tech education has.
Please take the time to read this Tech Report and celebrate our achievements with me and the rest of our Tech Family.
Forever Loyal,
Leslie K. Guice