Out of an abundance of caution, the Louisiana Tech University Alumni Association has made the decision to suspend the 125th Anniversary Celebration Weekend. Individual organization reunions will be rescheduled at a later date. Anyone previously registered for the event will receive a full refund.
Thank you for your constant support of Louisiana Tech University, and we will let you know when individual events have been rescheduled.
For more information: latech.edu/coronavirus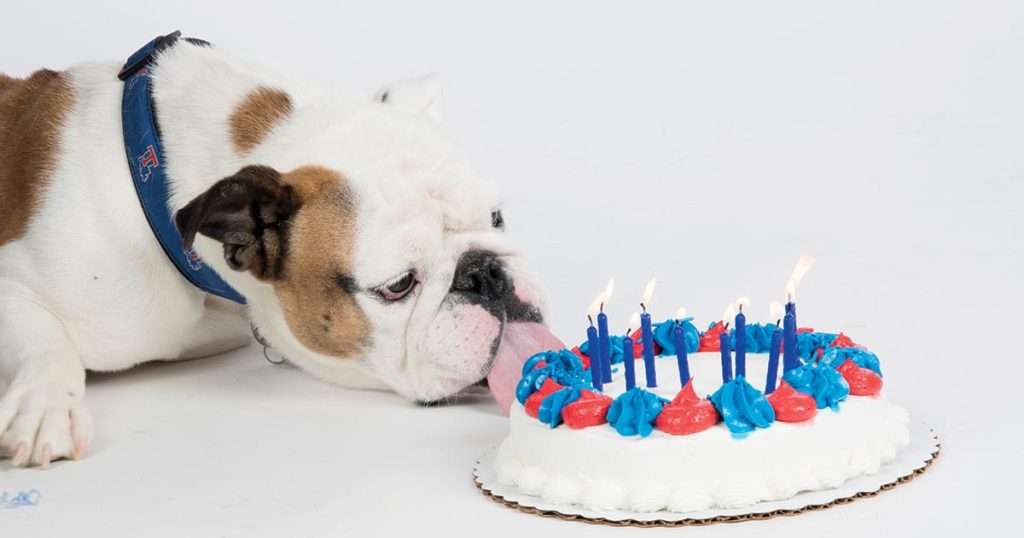 Happy Birthday to … US!
What's been planned for more than 20 months will become reality when Louisiana Tech joins hands across generations for the University's 125th Anniversary Celebration during the final weekend of April.
Alumni who have not been to campus lately are in for pleasant surprises. And for those who have seen the expanding and improving college campus lately, there will still be much to appreciate and learn and share — especially concerning the historic, fast-paced past quarter-century — as the Tech Family walks together into its next 125 years.
The specific plan is online and is updated as improvements are made at latechalumni.org/125.
The planning committee, which began with six members and expanded greatly to represent all possible eras and areas, has arranged the weekend — Friday-Sunday, April 24-26 — to be one of remembering and discovering.
"We want everyone to remember the past and their favorite moments and to reconnect," said Tech's Executive Director of Alumni Engagement and Regional Development, Michele Robinson ('85), "but we also hope we've set the stage well enough so they'll discover what's going on here now and envision what's possible in the future, and how they can become a part of that."
To do that, the committee has blocked out chunks of time for alumni to enjoy larger events — the Procession of Rings, the Ring Ceremony, Spring Fling, tours of the individual colleges — and non-competing blocks of time for more intimate gatherings.
For instance, if you were a Student Recruiter, Union Board Member, Orientation Leader, Student Advancement Team member, or member of the Student Government Association, there is a special time for all of you, past and present, to meet. Same with Greek reunions, social and college organization reunions, faith-based groups, even organizations no longer on campus.
"The committee was not charged with how people celebrated the 125th; those groups will have different ideas about how they might want to use that time," Robinson said. "We were more about coordinating and promoting. People have embraced the 125th since we really kicked off the celebration with The Happening in Monroe in August."
The Happening is the University's annual late-summer get-together, an Alumni Association event that's become a can't-miss night with the feel of a mixer that's part pep rally and part state-of-the-union.
"For Celebration Weekend," Robinson said, "We feel we've come up with something for everyone."
"With everything we've strategically identified through this anniversary year, we've wanted the celebration weekend to have an anniversary flair," said committee member Cathi Cox-Boniol ('82, '83). "We wanted to offer an elevated experience for this once-in-a-lifetime event."
Around the scheduled events will be plenty of time to just wander through campus, look for your alumni brick, or take a trip back before even your time and see the 125 Years Anniversary Exhibit on the fourth floor of Prescott Memorial Library, a remarkable exhibit of Tech dress and traditions and changes through the years, a can't-miss collection assembled by University Archivist and Special Collections Librarian Nolan Eller and his staff.
"It's like the Tech Smithsonian," said Cox-Boniol.
The weekend will be celebrated with one of Tech's biggest partners, the City of Ruston. Downtown festivities included concerts at the Dixie Center for the Arts as well as shopping and dining at both the old and best-loved as well as some newer favorites.
"A highlight will be spotlighting how we work together with the City of Ruston and with the Ruston-Lincoln Convention and Visitors Bureau," Robinson said. "We want this to be an opportunity for people to see what's going on in our beloved Ruston and Lincoln Parish."
"There was a time when this wasn't a college town, even though it might have wanted to be," Cox-Boniol said. "It's a totally different ballgame now. We want people to experience that."
The City will provide shuttles through the dependable Tech Trolleys. There will be golf carts, some preferred parking, maps … all that's needed now, is you.
Of course, future Bulldogs are more than welcome, even encouraged to come. Information about attending Tech will be easy to find.
"While we want this to be a celebratory experience for everyone," Cox-Boniol said, "we want it at the same time to be an opportunity to plant the seeds for the next 25 years."
To help build momentum and spread the word that this will be far from an ordinary weekend, Tech President Dr. Les Guice will visit each alumni chapter beginning with the chapter in Washington, D.C., Jan. 21. At each stop, the president will "pay homage to the most recent 25 years and then really look at where we are and where we're going," Robinson said. "A big part of the message is the foundation that's been laid and how it is serving to catapult us into the future."
Celebration Weekend is a mountaintop for this anniversary year, but the goal is to keep climbing. The 125th celebration is all about engagement, about alumni and friends interacting in meaningful ways to grow both relationships and the University through communication, events, volunteering, and philanthropy.
We celebrate relationships, our Forever Loyal bond, and this: what began as The Industrial Institute and College of Louisiana with six faculty members and 202 students has grown into the region's flagship University. The challenge now – together – calls for even bigger and better.