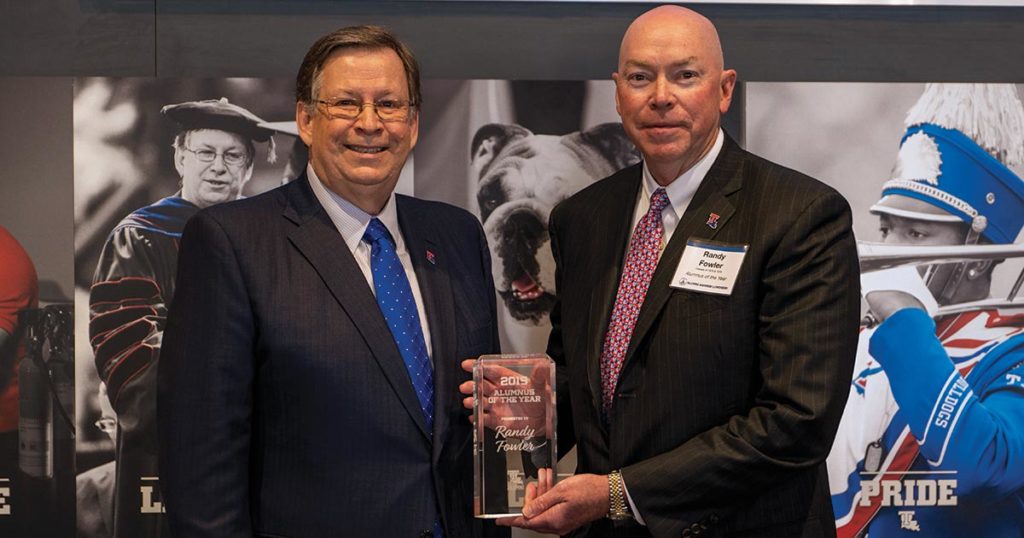 No university is more fortunate than Louisiana Tech in having loyal and dedicated alumni who offer their support in a variety of ways and who, by their own professional and personal accomplishments, bring honor and deeply appreciated recognition to the University.
As it does each year during Homecoming Week, Tech honored its Distinguished Alumni for their achievement in professional life, community life, and loyalty to the University during a November luncheon at the Davison Athletics Complex.
Distinguished Alumnus of the Year Randy Fowler ('78,'89) is President and Chief Financial Officer of Enterprise Products, one of the largest publicly traded partnerships and a leading provider of energy services. He earned a BS in Accounting, his MBA in Finance, and continues to be a true friend to the University.
Fowler was named Distinguished Alumnus of the Year for the College of Business in 2012 and serves on the College's Advisory Board. He still enjoys his successful career, and he is known as a leader who has treated people well along the way. He is a Lifetime Member of the Alumni Association and is married to his wife of 38 years, 1981 Louisiana Tech graduate Ann Raborn Fowler. They live in Houston and have three sons: Cody, Ben, and Matt.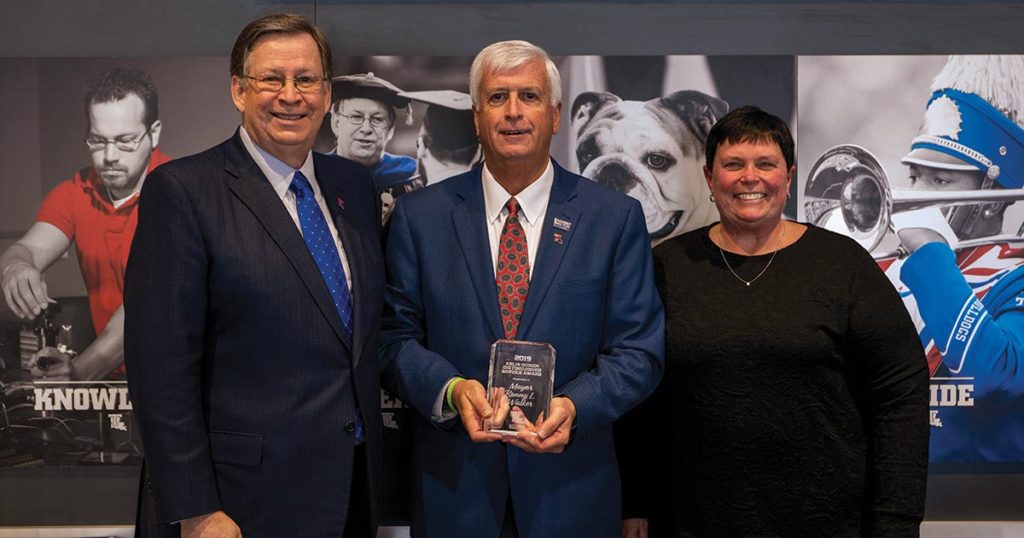 On very rare occasions, the Alumni Association honors an individual who is not a graduate of the University but is a part of the Tech Family and is dedicated to the overall mission of Tech. The Arlis D. Scogin Distinguished Service Award was last presented seven years ago — until Ronny Walker, Ruston Mayor since 2015, was recognized at the November luncheon for nurturing the partnership between the City and the University and his part in assisting in recovery efforts after the April 2019 tornado.
Mayor Walker is not a graduate of Tech and is not from Ruston, but ever since he arrived from Mississippi years ago, he's held many local positions, and each one has benefited the community he quickly grew to love. With the support of his wife Kay, he has helped create several initiatives and strategic partnerships that have been for the good of Tech, the community, the region, and the state. He continues to be a shining example of what it means to be a leader, partner, and servant.
Young Alumni of the Year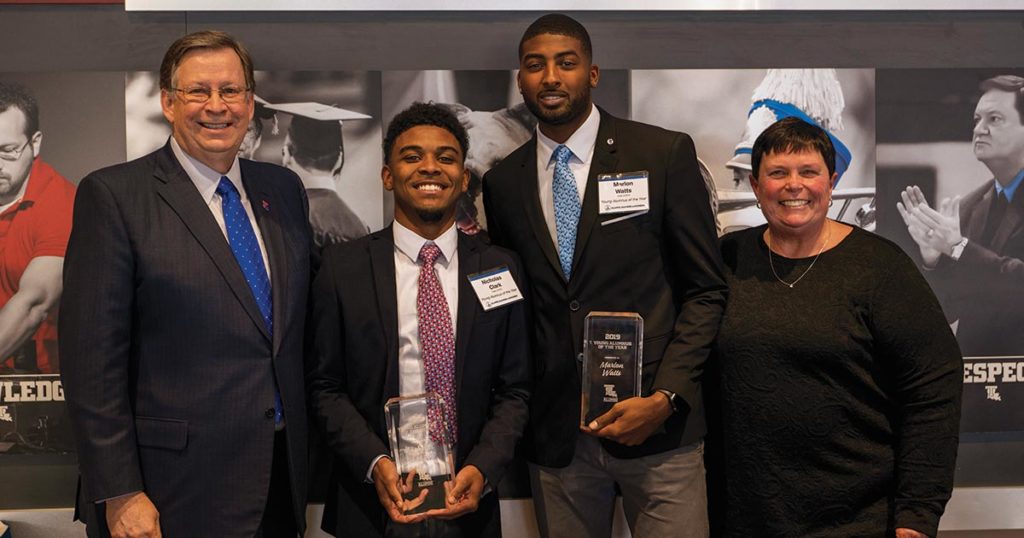 New Orleans natives Nicholas Clark ('18) and Marlon Watts ('18), founders of WRLDINVSN, were named Young Alumni of the Year. Both are first-generation college graduates. Clark earned his BA in Graphic Design, and Watts earned his BS in Business.
The two met in fifth grade and sold their first self-designed T-shirts when they were 14. Combining Clark's knack for visual art and Watts' natural business mindset, the two were a perfect pair of friends and business partners. They established their own LLC in 2014 when they were only 18.
They both received scholarships to Tech and lived together, but they spent their college days in totally different spheres. Watts played football and Clark spent long days in the art building learning graphic design, but they never stopped collaborating and designing.
The pair graduated in 2018 and are focusing on their brand full time. WRLDINVSN and the College of Business partnered in 2018 to design an exclusive COB T-shirt, and proceeds established a COB scholarship to benefit a business major.
The 2019 honorees in each of the five academic Colleges of the University exemplify the very best; they have used what they learned during their Tech experiences to overcome challenges, to achieve, to live according to the Tenets, and to bring honor to both Tech and their academic colleges.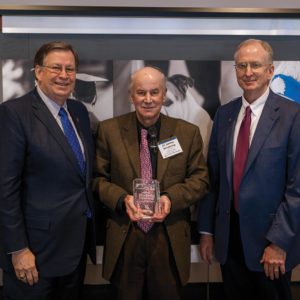 College of Applied and Natural Sciences Alumnus of the Year
, Dr. Johnny Armstrong ('72), is today retired as a partner in a 38-year pathology practice in West Monroe and Ruston.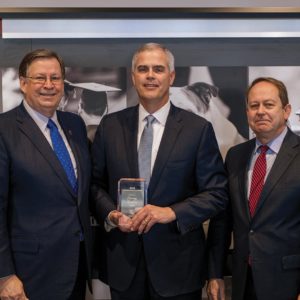 College of Business Alumnus of the Year
, Kenny Guillot ('88, Finance), of Merrill Lynch is a former President of the Louisiana Tech University Alumni Association.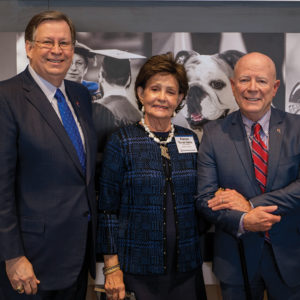 College of Education Alumna of the Year
, Frances Turner Henry ('58,'70), taught for more than 22 years and served for seven years on President George Bush's No Child Left Behind National Commission.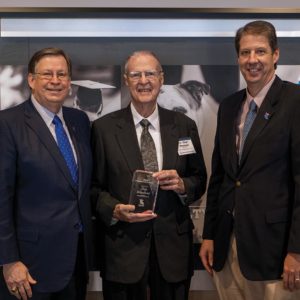 College of Engineering and Science Alumnus of the Year,
Mechanical Engineering graduate Chip Woodard ('54), is now retired after nearly 25 years of working for ExxonMobil.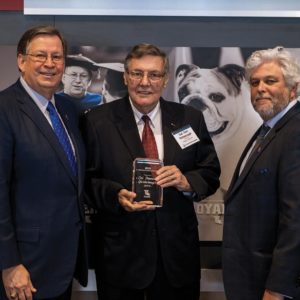 College of Liberal Arts Alumnus of the Year
Colonel Thomas Yarborough ('67- History) has earned the Silver Star, Distinguished Flying Cross, Air Medal, and the Purple Heart during his career as a member of the United States Air Force.