Almost seven months to the day after an April tornado totaled Louisiana Tech's Lady Techsters Softball Field and Soccer Complex and destroyed J.C. Love Field at Pat Patterson Park, home of the Diamond Dogs, University officials presented plans for the complete rebuild of those three facilities.
Louisiana Tech's new soccer/softball complex and new baseball field are going to be a dramatic, inspiring addition to the 21st century campus landscape.
"The tornado allowed us as a University to reimagine our athletics facilities in the context of our developing 21st Century Campus," Tech President Dr. Les Guice said.
"We've involved coaches, students, faculty, and staff in the formation of plans moving forward, which include additional housing, updated parking, and recreational facilities to create a living and learning environment that is worthy of our wonderful students.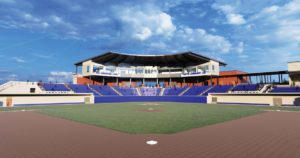 "These athletics facilities will allow our Tech Family to enjoy intercollegiate sports in a number of ways, and they will be a shining example of innovation for other schools in the nation."
The early renderings pictured are impressive but cannot do justice to what Tech fans and the City of Ruston will experience through the new facilities. As the design and construction process progresses, the aesthetics of these facilities will be fine-tuned to maintain the architectural standards previously set across campus.
"The construction of the Davison Athletics Complex and the new press box and suites over the past six years has established a standard of excellence for Louisiana Tech Athletics," said Athletics Director Tommy McClelland. "Our goal with these new facilities is to meet or surpass that standard. With our eyes focused on our student-athletes' welfare and our fans' game-day experience, we feel we are delivering at a level that will be second to none in our conference and our region."
Softball and soccer will relocate to the rugby field and part of the parking lot just north of the Jim Mize Track and Field Complex and just west of the Marbury Alumni Center on Tech Drive. Those two programs will share a tiered facility, and the new location will change the traffic flow on Bulldog Drive and the boulevard between the track and the current rugby field.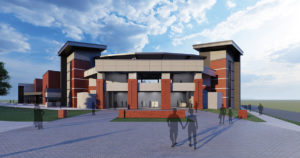 Heading south on Tech Drive past the complex, fans and students will see the baseball field in the same familiar location it's called home for the past 50 years. J.C. Love Field was the jewel of college baseball complexes in the state and region when it opened. The new facility will be 15 feet higher to create a dramatic entrance to campus.
"The entire landscape of our athletic facilities is being taken to a new level," said baseball coach Lane Burroughs. "The same can be said for our recruitment and development of our current and future student-athletes. We are so thankful to everyone who worked so diligently and tirelessly to make the possibility of these fields and facilities a reality."
Construction on the new facilities will happen concurrently. The goal is for all three teams to be able to compete in their new facilities by next year (soccer – fall of 2020; baseball/ softball – spring of 2021).
Philanthropic opportunities exist within all three stadiums and both team facilities. Louisiana Tech petroleum engineering graduate Tim Cutt ('83) and his wife Carolyn donated $250,000 in September to assist with the rebuilding of the Lady Techster Soccer Complex in honor of former professor Dr. Robert Caruthers.
The loss of our field was devastating and the memories we created there will never go away. This new complex will give us a chance to create even greater memories. It will play a huge role in recruiting and provide a unique experience for the student-athletes and fans alike.

–Kevin Sherry, soccer coach
"Thank you to our administration and all those involved in the planning and designing of this first-class facility," softball coach Maria Winn-Ratliff said. "Our alumni also deserve to be recognized. Their past successes have paved the way for future athletes to train and compete in a facility of this magnitude."
The Lady Techster Tennis Complex and the Jim Mize Track and Field Complex, which lost light standards and equipment, will also be repaired at their present sites.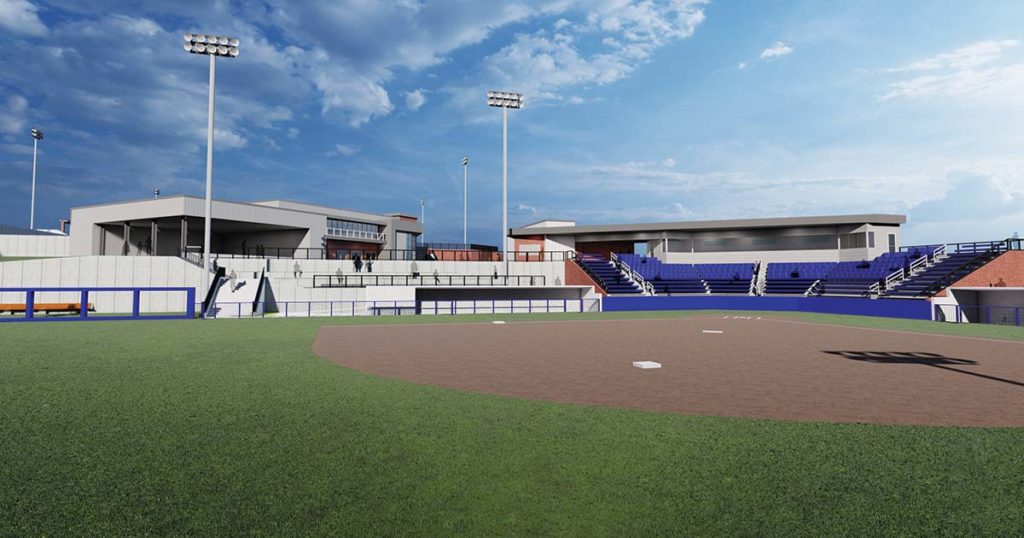 New facilities
Baseball Stadium, corner of Tech Drive and West Alabama
Includes player locker room; coaches locker rooms; coaches offices; athletic training satellite room; team meeting room; player lounge; equipment/laundry rooms; indoor practice facility
Seating: all chair-back seats with berm seating; partially covered; capacity of approximately 2,500
Fan Amenities: tailgating opportunities, restrooms, concessions, ticket booths, plaza entry
Unique Characteristic: Once fans enter the concourse of the stadium, they never have to leave (bathrooms, concessions, etc., all located within the confines of the stadium)
Baseball Facility, northeast of but adjacent to the stadium
Includes player locker room; coaches locker rooms; coaches offices; athletic training satellite room; team meeting room; player lounge; equipment/laundry rooms; indoor practice facility
Soccer Field, north of the Jim Mize Track and Field Complex on the current site of the intramural rugby field
Seating: a combination of bleacher seating and berm seating; capacity of 750
Fan Amenities: tailgating opportunities, restrooms, concessions, ticket booths, plaza entry
Softball Stadium, west of the site location for soccer; will sit where currently some of the parking on the northeast side of Joe Aillet Stadium is located
Seating: a combination of chair-back seats, bleacher seats, and berm seating; capacity of 1,000
Fan Amenities: tailgating opportunities, restrooms, concessions, ticket booths, plaza entry
Soccer/Softball Facility, centrally located between the soccer field and softball field
Includes: player locker room; coaches locker room; coaches offices; player lounges; team meeting/video rooms; equipment/laundry rooms; indoor practice facility
Unique Characteristic: The coaches' offices overlook each of their respective fields