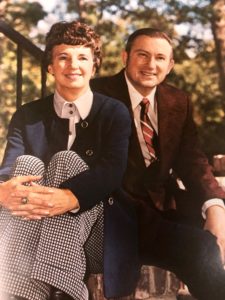 By Caroline Clifton
On the morning of Friday, April 24th, I received the news that my beloved great-grandmother, Evelyn Johnston, had passed away during the night. She went peacefully after living a very full life – 97 years, survived by a son, multiple grandchildren, and great-grandchildren. Due to the Coronavirus, most of my family members weren't able to say goodbye to her or spend time with her during her last few days. Although her passing was mostly unexpected and painful for us, I have been trying to remember Grandmommy, as we called her, as the smart, spunky woman she was.
Evelyn was proud to have been the former First Lady at Louisiana Tech University for two decades. She was married to F.J. Taylor, who was the president from 1962-1987. Evelyn took her role as First Lady very seriously. During her last few years of life, Grandmommy could not remember much about her day-to-day activities, but she could always tell me stories about Tech and her days on campus. I've heard tales of planning game-day parties, decorating the Ropp Center for every holiday, and even designing the current president's house with a young architect named Les Guice. Grandmommy truly cherished these memories and made sure to pass along her Tech tales to me. One of Grandmommy's favorite Tech memories was when the Band of Pride marched up to the president's house on the day of the homecoming football game and played for all of the guests out on the porch. She remembered how stressful event planning was and appreciated when she got to enjoy her parties as much as her guests did.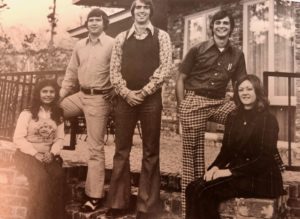 Not only did my great-grandmother get the opportunity to make memories at Tech, but she also made memories all over the world. Grandmommy spent time in Europe, safaried in Africa, and accompanied a Tech study abroad group to Greece. She spent time pursuing her passions, including travel, sewing, and square dancing. My grandfather puts it best, Evelyn was the director of her own life.
Grandmommy inspired me to attend Louisiana Tech and to pursue my passions. As an independently living 97-year-old, Grandmommy demonstrated what a strong woman can achieve in life, and her determination reminds me that I can do what I put my mind to.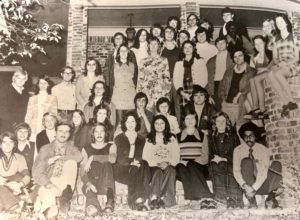 I think everyone can take a bit of her spirit of independence and apply it to their own lives. Grandmommy did what made her happy, and I hope we all can share a portion of the joy that she experienced in life.