Born, raised, and educated in Southern California, Tom Hoover moved with his wife and their six children to Ruston in January when he began working both toward his doctorate and as Louisiana Tech's Chief Information Officer.
But before he knew where to buy milk or get his clothes dry cleaned, he became an overnight on-campus hero when he led the technological battle that COVID-19 waged on the campus community in mid-March.
In just three days, Hoover and his team were able to move 1,700 courses online.
"When most universities took a pause or an extended spring break, we accomplished a minor miracle so our students had continuity in their education," Hoover said. "Thanks to the generous support of our alumni, we were able to purchase the necessary software required to move to online learning. When the pandemic hit, I had a front row seat to witness how the Tech Family responded and how special our family really is."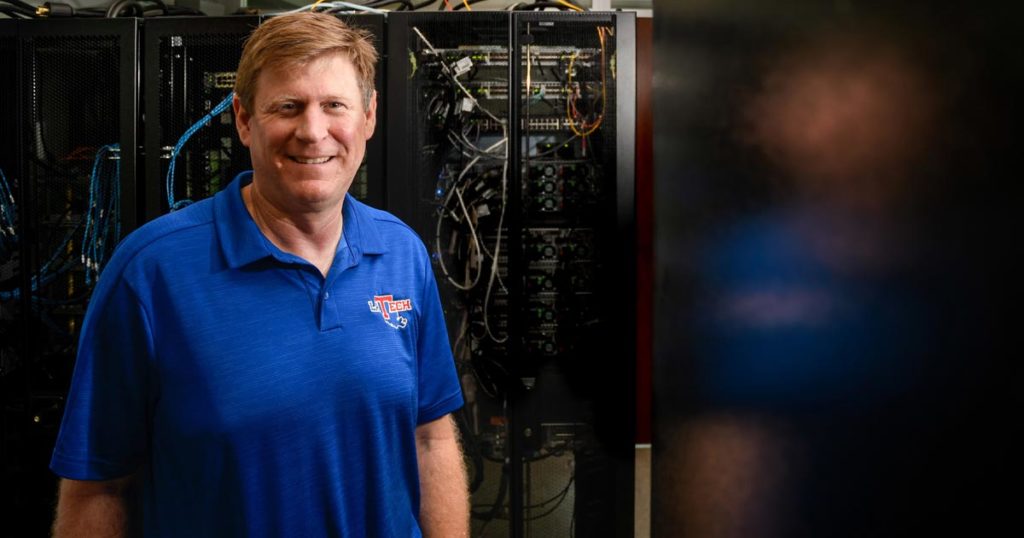 The required software for distance learning was purchased on Wednesday, March 11, in anticipation of a stay-at-home order; the move to online classes was announced two days later — Friday, March 13 — the same day Hoover's team began training faculty for online classes.
"Our information technology (IT) team showed up and put in the work to make this transition a success," Hoover said. "That Friday, Saturday, and Sunday, more than 150 faculty came in to be trained on how to use these new instructional technology tools. Monday, March 16 we went live with 1,700 classes.
"Again," he said, "it was exciting to see the Tech Family come together to achieve great things. Our alumni allowed us to transition to online course delivery in a short period of time."
The University was able to purchase tools for recording lectures, for video streaming, for taking attendance, and for online testing and exams, along with web cams for faculty and staff who needed them to engage, and of course Zoom technology for live online phone calls. Tech's IT team also repurposed some older laptops for students who needed one for distance learning, and each Friday the team led an online "Q&A Café" to teach the new technology.
"I've been working in higher ed for 21 years and am passionate about it," Hoover said. "I'm passionate to get the students the tools they need to achieve their educational dreams in an ever-changing world. COVID-19 made it necessary to start educating students online, and Tech really met the challenge."
The IT team continues to offer training for students and faculty as well as on-demand training.
"Supporting our students, faculty, and staff has been our main goal during the crisis," he said. "We want to help keep the community safe and at the same time help our students to continue to make progress toward their educational goals."
Here's a short Q&A with one of Tech's newest and most valuable members:
What are some things that jump out at you about Tech after just six months?
I love the strong academics, the beauty of the campus, the Traditions, the dedicated faculty and staff, the loyal alumni.
When did you know you were going to make a career out of IT?
I was first exposed to IT during graduate school at Pepperdine. I discovered that I enjoyed helping people and had an aptitude for solving problems. Career opportunities presented themselves and a passion for IT grew in me. I have been blessed with a network of supportive mentors who continue to encourage my striving toward innovation and excellence.
What opportunities do you see in IT, in Virtual Reality (VR), and with our library?
The importance of IT has exploded over the last five months due to the pandemic. Louisiana Tech has the opportunity to better integrate IT into all aspects of the University. Over the past few months we have seen this academically, administratively, and for the student experience.
I have a passion for VR, and its applications are endless. I look forward to integrating it across the disciplines.
The Prescott Memorial Library is a core piece of life on campus. It has a great history and valuable collection that students and the community can access. Our hope is to see the library used even more as a central place for student collaboration and learning on campus.
What is your vision for the 21st Century Campus?
The 21st Century Campus is one where information technologies are the circulatory system of the campus. Everything would be part of the information technology network. You would see this through a paperless campus, data-driven decision making, instructional technologies, a solid robust wireless and network infrastructure, unified communications, and so much more cutting-edge technology.
Can you introduce your wife to us? Is she IT savvy too?
Gretchen is an amazing woman. She was an elementary educator for 14 years and junior high ministry director for three years before deciding to stay home with our children. Since we started fostering in 2012, she has become an advocate for children in foster care and involved in supporting and encouraging those who are fostering and adopting and who have adopted. Although she is IT savvy, her passion is helping those in need. She is fiercely loyal and the keeper of the chaos that is our ever-changing family.
Our children and their ages:
KaraLin, 12
J.J., 10
Rocky, 8
Ruby, 6
Zeke, 4
We welcomed a foster baby into our family in December; she left foster care in mid-June.
How is online school at your home and how many children do you two have in school?
All of our children are in school and they are all very familiar with Zoom. We are seeing lots of success as some of our children continue occupational therapy, physical therapy, and speech therapy online. We have been very impressed at how these therapists have adapted and are able to continue their work even during this unprecedented time.