A proposed Virtual Anatomy Lab in Louisiana Tech's College of Applied and Natural Sciences will offer students in all health science areas an opportunity to interact with human and animal anatomy in new and innovative ways, better preparing them to meet the challenges associated with ever-changing health-related professions.
Renovation of a room in Tech's Carson Taylor Hall for the high-tech Virtual Anatomy Lab began this summer. The initial goal for funding the innovative lab is $300,000.
"The College of Applied and Natural Sciences is committed to helping its students, as well as other health science students across Tech's campus, be prepared to meet career and/or professional school challenges," said ANS Dean Dr. Gary Kennedy. "The Virtual Anatomy Lab will offer Tech students an amazing array of technology that is state-of-the-art and also state-of-the-future in preparing them to excel academically and professionally."
In a remotely delivered Virtual Anatomy Tournament this fall, students had a chance to test out the Anatomage Table, a virtual dissection table the College hopes to acquire for the lab. Competitors tested the technology through their computers, practiced their knowledge of anatomy, and worked together as teams to win prizes and recognition.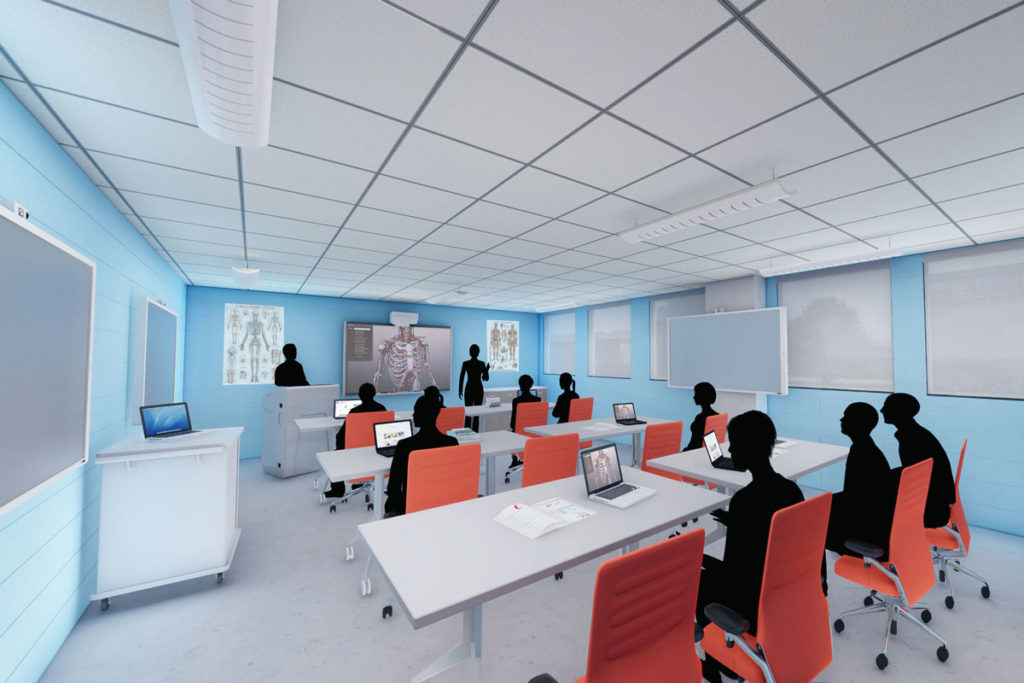 Anatomage and ANS partnered to host the tournament so students could get valuable digital hands-on experience and be introduced to the technology in the table.
"The Virtual Anatomy Lab tournament that I was able to observe demonstrated how impactful that system will be for our students," said Tech President Dr. Les Guice, "and I know that our professors will provide unparalleled experiences for our students in their labs, classes, and exercises. These students were able to detect muscles and other tissues that would be obscure on a two-dimensional photograph, even one with very high resolution. The Lab also enabled students to work in teams while communicating with each other and manipulating the 3-D bodies; this takes learning to a whole new level for our students."
For the simulation itself, I really enjoyed having the chance to use this technology and was amazed at the detail and quality of the model. (Teammate and fellow student) Theo (Robison) and I couldn't stop talking about how much this would have helped if we'd had access to this type of study tool for Anatomy & Physiology, as well as how different it is to see realistic displays rather than 2-D color-coded diagrams in a textbook.

—Shiloh Bott, who, along with teammate Robison, finished second in the tournament
"I loved how the figures were much more realistic than the cartoons in a textbook," said student Abigail Abercrombie, who, along with teammates Alicia Hutson and Zachary Blake, finished fourth in the tournament. "I feel like it is easier to learn about the human body, its structures, and the relative positioning of those structures through interacting with the software. The addition of the Anatomage Table would greatly enhance the learning experience for the many undergraduate students who take human anatomy."
The development of the Virtual Anatomy Lab will offer students in all health science areas an opportunity to interact with human and animal anatomy in a new and innovative way. The lab will be equipped with the following items to help provide exceptional learning opportunities:
The full-size Anatomage Table for virtual human and animal cadaver instruction and learning;
Interactive, wall-mounted displays for instruction and group work; and
iPads for students to access anatomy software.
"The Virtual Anatomy Lab will introduce students to the latest in anatomy software and allow them to interact with course material in a way they never have before," said Dr. Jamie Newman, associate professor in ANS and director of the Newman Lab. "Not only will these students have the opportunity to experience the technology during class time, but they will have access to the room for study hours where Kinesiology, Biology, and Animal Science students may be in the room at the same time learning together. The hands-on, interactive, and collaborative learning experience will better prepare our students for the next step in their careers."
The Virtual Anatomy Lab will be a hotspot for interactive, collaborative, and remote learning for students from a variety of disciplines, but especially for students in Biology, Pre-Medicine, Pre-Dental, Animal Science Pre-Veterinary Medicine, Nursing, Health Informatics and Information Management, Human Ecology Nutrition and Dietetics, Kinesiology, Biomedical Engineering, and any other health sciences areas.
"The Anatomage Table will heighten and expand the students' educational experiences in Human Anatomy and Physiology," said Dr. Shelcie Menard-Harvey, instructor in Tech's School of Biological Sciences. "The technology in the table is based on real MRI scans of cadavers, so the students will get to see the anatomy of real humans. This type of technology adds a layer to the student experience that cannot be accomplished with standard animal dissections. I think the students will really enjoy and benefit from getting to use the technology and see 3-D representations of anatomical structures."
In the proposed lab, students will be able to clearly visualize cardiovascular, nervous, muscular, and skeletal systems, as well as blood flow that can be vividly animated for any artery or vein in the body. With a life-size touchscreen, students can rotate structures, make multiple incisions or undo any incision, instantly.
"More and more universities and colleges across the country are implementing this type of technology in their classes and labs," Newman said. "Especially where access to a medical school is limited, this technology serves to bridge a gap and expose students to more of what they will see when they enter a health profession degree program. Now, in light of the pandemic and on-going reliance on technology to communicate and learn, it is even more critical that students have the skills and tools to be able to continue making progress in their education and be prepared to adapt to the changes taking place around them."
To learn more about the lab or how you can make a difference in making the Virtual Anatomy Lab a reality, contact Newman at jjnewman@latech.edu or ANS Director of Development Penny Humphries at penny@latech.edu.