National Society of Black Engineers (NSBE) president Max Broussard and National Association of Black Accountants (NABA) president Tyler Ross are two Louisiana Tech students at the forefront of strengthening both professional opportunities and inclusivity for all the campus community.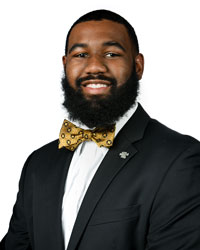 "NSBE is also known for its family-like atmosphere and its large support system for minority students in STEM," said Broussard, a junior mechanical engineering major from Breaux Bridge. "With this theme in mind, my vision for our chapter is to continue to build our support system and continue to retain more minority students in STEM and assist in the recruitment of minority STEM students.
"We want to be able to eliminate as many external boundaries as we can that may deter a student from finishing as a STEM major—no matter if those boundaries are academic or social—so together we can help them in the best way toward success in their desired profession."
The NSBE mission is to increase the number of culturally responsible black engineers who excel academically, succeed professionally, and impact positively the community. Following this mission statement, the Tech chapter tries to provide programs that can serve its members and other students on campus that adhere to the three main pillars of the mission statement.
For academic development, Tech's NSBE chapter provides weekly study nights on Tuesdays and Thursdays from 7 p.m. until the last person that night or early the next day has finished, to give students more peer-led academic support during the evening.
To develop students professionally, NSBE coordinates with different engineering companies to host informational sessions so students can learn more about the internship opportunities they have, to host resume workshops and mock interviews to prepare students for the internship process, and to provide information on different types of business professional attire.
To impact the greater Ruston and Grambling area and campus, Tech's chapter hosts quarterly neighborhood cleanups, organizes bi-weekly campus recycling drives, and leads its annual "A Walk for Education" on Martin Luther King Jr. Day, when chapter members pass out information to different homes about opportunities for students after high school.
The Louisiana Tech Chapter of the NSBE has been active on campus since 1985 and would like to increase its numbers—current membership is 30—so others can take advantage of these opportunities. To get involved, email nsbelatech.chair@gmail.com.
NABA is in its first year on Tech's campus and became official just before Thanksgiving break. Its executive board is its founding executive board, led by Ross, a senior accounting major from Frisco, Texas.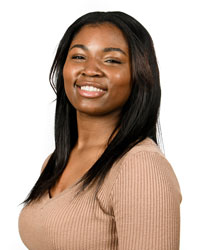 "We have 10 members officially, including the five executive members," she said. "We have been working hard on recruiting and establishing our foundation and legacy within the College of Business, which is our No. 1 goal."
The chapter is currently solidifying a partnership with Gleim Accounting Test Prep, the leader in exam prep for accountants in four certifications: Certified Public Accounting, Certified Management Accounting, Certified Internal Auditor, and Enrolled Agent.
"Through this partnership we will create an executive board position for a 'Gleim Accounting Campus Representative,' who will be the leader in educating our members and students on accounting certifications, setting up networking events with professors and accounting professionals, and ultimately helping students earn their own set of study materials," Ross said.
The partnership could also result in raffle opportunities for exam test prep and workshops for students seeking to earn accounting certifications.
The chapter is also working to build on the College of Business' existing recruitment network with KPMG, a top accounting firm, both to recruit students through the Tech chapter and to hold specific recruiting events on campus.
"Our goals are to establish an organization that is not only a networking tool and professional developer for our students and peers," Ross said, "but also a safe space for all ethnicities within the College of Business.
"It's a huge opportunity," she said, "and a blessing to be a part of this."

Her vision is that in 10 years, "hopefully sooner, we can come back and see that the amount of Black business students will have skyrocketed at Tech, the number of thriving students will have grown, and peer-to-peer relations will continue to be fostered through a common goal of success," she said. "I believe that NABA is the start of this. Through our organization, Black business success stories will be told, and students will have both a plethora of internship and job opportunities from companies all over the country and an opportunity to network with professionals who are where they want to be."
Students in Louisiana Tech's NABA chapter are supported by their advisor, Dr. Bob Cunningham, a three-time alumnus who returned to Tech in 2018 as an Executive in Residence for the College of Business. For more information about the chapter and how you can take advantage of these opportunities, contact Dr. Cunningham at bcunning@latech.edu.