The pandemic that began impacting college sports in mid-March 2020 largely disrupted or shut down college competition for months, but in the classroom, Louisiana Tech's student-athletes found success across the board as 13 of Tech's 16 Division I sanctioned programs recorded a Graduation Success Rate (GSR) of at least 75 percent.
According to the NCAA's 2020 GSR data, Tech student-athletes earned an overall GSR of 78 percent and a four-year Federal Graduation Rate (FGR) of 57 percent; the FGR for all students during the same period is 55 percent.
Tech VP and Director of Athletics Dr. Eric Woods said the marks represented "an illustration of the commitment and dedication our student athletes are making in the classroom."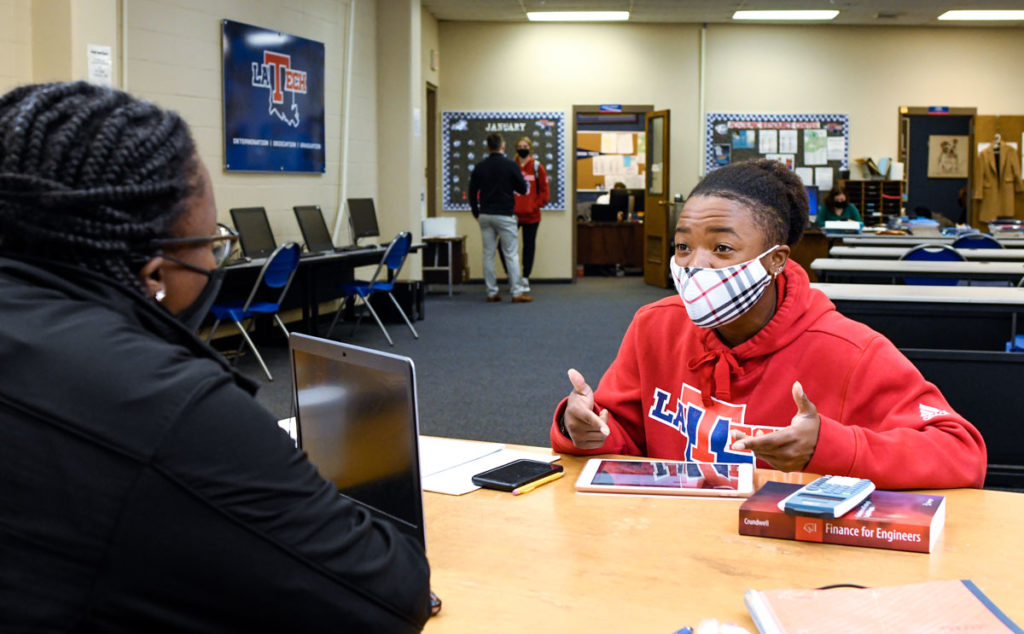 "Our mantra is for our student athletes to compete in everything they do, whether that's on the playing field or in the classroom," Wood said. "I think these numbers prove that they are doing that on a daily basis."
Women's tennis earned a 100 percent GSR, followed by softball (95) and soccer (90).
Tech registered improvements in this year's GSR scores in baseball, women's basketball, and volleyball. Men's basketball, golf, women's track and field, softball, and women's tennis all maintained their same rate from the previous year.

In FGR scores, Tech saw improvements in baseball, men's basketball, golf, women's track and field, women's tennis, and volleyball. Men's track and field remained the same.
Our student-athletes and support staff showed a tremendous amount of resiliency to transition so quickly. Our student-athletes showed us that they are ready to compete in the classroom, no matter the format, and it shows in the numbers as a school-record 10 teams achieved at or above a 3.0 GPA to end the Spring 2020 term and the Fall 2020 term.

Assistant AD for Academics Dr. Amber Burdge
It wasn't as easy as just showing up for class. The athletic department initially shifted to a limited capacity in the Academic Resource Center with strict cleaning schedules. But stay-at-home orders changed that: with coaching staffs adding supplemental support, each student-athlete had at least two touch points each day to help keep them on track.
But going virtual was not the only challenge for the department.
"Academic advisors were now working around internet access issues, laptop availability issues, and some student-athletes became primary care-givers to young siblings or older family members," Burdge said. "Through work with (senior associate AD) Paul Kabbes, LTAC donors helped us provide laptops for student-athletes who didn't have one. We shifted to conduct at least one meeting per week via Zoom to allow the student-athletes to become more comfortable using the program. We checked in about space available to do homework and time available to do homework. And that doesn't include tutoring, which had a major shift, too.
"All tutor activities moved to a virtual format on Zoom, thanks to a huge undertaking by Retain (tracking software) and Louisiana Tech's Center for Instructional Technology (CIT)," she said. "After some quick tutor training, all tutor sessions were conducted on Zoom and recorded for compliance assurance. Advisors scheduled tutor sessions, and the tutor and student-athlete received a notification email and text from Retain with the Zoom link included. Our tutors learned how to use the whiteboard feature and to share their screen to complete example problems. Not only that, our student-athletes learned the same features on Zoom so they could show the tutor their work during a session. Our student-athletes and our tutors showed a tremendous amount of resiliency."
Tutors are primarily undergraduate students, and a few are graduate students on campus. Burdge said that they "have demonstrated both a mastery of the subject matter they are working with and the capability to act as a supplement to the instruction given in the classroom." Also, Tech's UTeach program through the College of Education "has been a phenomenal partner," she said, in providing tutors.
Through all of that, dozens of student-athletes still earned C-USA All-Academic honors or received recognition on the C-USA Commissioner's Honor Roll. Marilyn Rizzato (softball) was named a CoSIDA Academic All-American, the 18th in the University's history.
"Bottom line: our student-athletes are superstars when it comes to adjusting and adapting to new circumstances," Burdge said. "The tutors were phenomenal when it came to learning a new technology and immediately using that technology to foster student-athlete academic success. Our new academic staff is top notch. Alumni supported us with equipment and CIT showed us how to most effectively use it."
By Winter Quarter 2020-21, students were again able to access the Academic Resource Center, but tutoring is still conducted virtually. Student-athletes may virtually attend class, either from the Academic Resource Center or from the overflow areas that allow the University to remain compliant with capacity maximums. Student-athletes are seeing their athletic academic advisors face-to-face and, when necessary, virtually.
The student-athlete community also combined for nearly 1,800 hours of community service work through the first nine months of 2020. The work included a late-summer donation drive for those impacted by Hurricane Laura at McNeese State and in the greater Lake Charles area. In October, several members of the football team participated in Maggie Lee for Good Day, an annual celebration of the life of Shreveport's Maggie Lee, who died in a tragic accident in 2009 and has since had her memory honored by more than 18,000 people who have performed a single act of kindness each Oct. 29 since Oct. 29, 2009—which would have been Maggie's 13th birthday.
Although in a limited capacity, the Bulldogs and Lady Techsters were able to compete outside the classroom in the fall. Golf and soccer each played in three matches, and tennis played two matches, as did bowling, a team that will carry a No. 9 national ranking into the 2021 season. Austin Ballow and Riley Killian paced Tech's men's and women's teams, respectively, in the C-USA cross country championships on Halloween. Football finished 5-5 and competed in its seventh consecutive bowl game but saw its NCAA-best sixth straight bowl win streak broken in The R&L Carriers New Orleans Bowl Dec. 23 in the Superdome.