In consecutive years, two students in Louisiana Tech's School of Agricultural Sciences and Forestry earned prestigious scholarships worth a staggering $20,000 each from international timber management organization Resource Management Service (RMS), LLC.
Taylor Linke, a senior and Forestry major with a concentration in Forestry Management, earned the scholarship from RMS this year and will intern with the company this summer.
Natalie Lang earned the scholarship last year, has since graduated with her Forestry degree, and was hired in late spring by RMS as a permanent employee.
The scholarships give each student $10,000 for their junior and senior years, for a total of $20,000 to help fund their college careers.
"From our standpoint, it was really neat to tell someone they'd won something like this," Dr. Joshua Adams, assistant professor in the University's Department of Agricultural Sciences and Forestry, said. "We've never had a scholarship like that; that's a big chunk of money, a huge scholarship that will hopefully offer more opportunities in the lives of these young ladies."
Founded in 1950, RMS is a global timberland investment firm based in Birmingham. Its investors are public pension plans, university endowments, charitable foundations, insurance companies, and family offices. The firm manages forest investments in the U.S., Brazil, China, New Zealand, and Australia that are collectively valued at more than $4.5 billion.
"RMS knows that Tech still produces out-in-the-woods real foresters," Adams said. "This scholarship goes to only a few universities, so we felt good about being recognized but better about being able to award the scholarships to such deserving students."
Both Linke and Lang were selected by a faculty committee as Tech's applicants. Each female forester was blindsided yet thrilled by earning the scholarship. RMS was just as delighted to make a difference.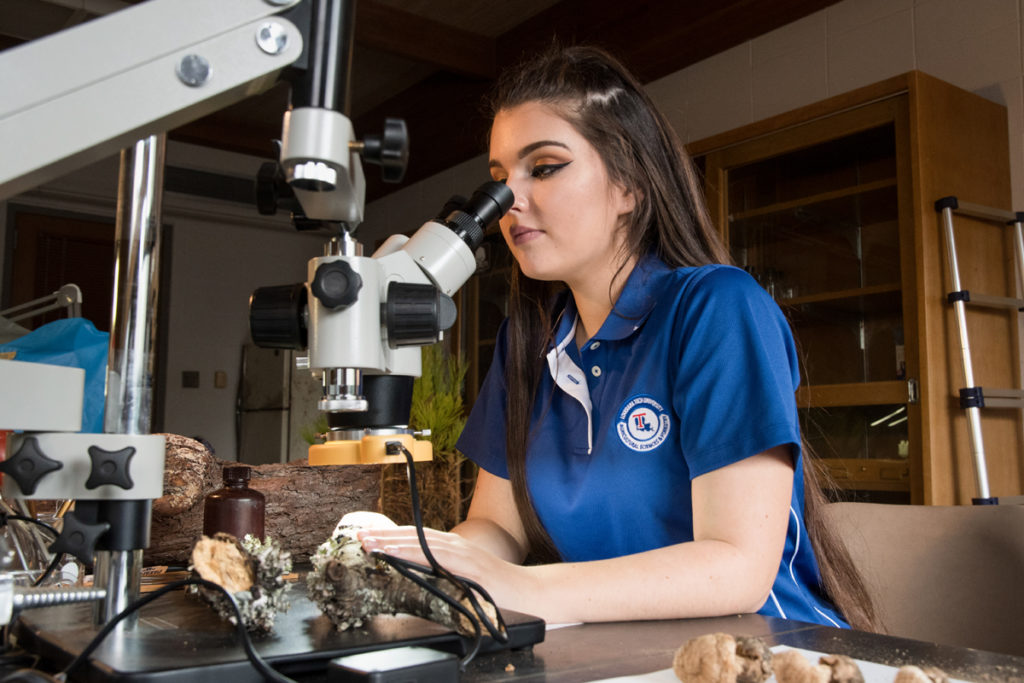 "We're very pleased to be able to offer these scholarships to such well-deserving students, like Natalie and Taylor," said Craig Blair, president of RMS. "They are exactly the types of people we envisioned this program benefiting when we developed it, and we look forward to watching each of them take the next steps along their paths to meaningful and rewarding careers in forestry. We're grateful to the forestry faculty at Louisiana Tech for helping us award the scholarship and to the University, in general, for supporting our efforts to attract talented students to the profession."
RMS has maintained a long working relationship with the University and has aided Tech students with lab donations, encouragement, internships, hands-on guidance, and scholarship opportunities.
Forestry majors are exposed to lots of companies at Tech. Although pandemic protocols have altered this year's schedule, on Thursday night of every full week of any normal quarter, different companies come to campus to talk to the students, feed them — pizza, barbecue, sandwiches — and introduce their company. That means potential employees are right there in front of potential employers.
Most of the forest management and forest products companies in Louisiana, the U.S. Forest Service, and some from Arkansas and Texas come every year. Every few years, Oklahoma Forestry Services and the Arkansas Forestry Commission send representatives down to Ruston.
"The next day are interviews for permanent jobs and internships," said Agricultural Sciences and Forestry Professor Dr. Gordon Holley. "Most of our seniors are ready to go to work and have jobs by the first of the year. It's the same for internships.
"By late May or early June, companies are calling me to get on the next year's schedule," Holley said. "They're eager to get the best of the best."
Last year, eight schools received the scholarship; this year, Tech was one of only four schools to receive the scholarship from RMS, which has a vested interest in developing the next generation of forest managers.
Applicants must be full-time students with minimum class standing of junior. Applications are reviewed on the basis of career goals, financial needs, and minority status (ethnic or racial minority groups and/or women majoring in Forestry Management).