What started as an initial investment of $150,000 in March 2018 has grown into a million-dollar opportunity for finance students to learn about investment research, portfolio positions, and reporting on investments.
The Student Managed Investment Fund (SMIF) within the College of Business is now one of the largest undergraduate student investment funds in the state thanks to generous commitments from leadership donors in the College of Business.
The SMIF provides real-world experience in managing a long-term investment portfolio with an annual growth objective relative to appropriate benchmarks. Student managers provide performance reports to an advisory board comprised of industry professionals and make a formal presentation to the board each year. In addition to providing real-world experience for students, the SMIF's spending rule provides the College of Business with funds for technology upgrades, student travel and other program enhancements.
"This experience marries the theoretical and the practical of the financial world and gives you experience that definitely puts you ahead of the competition going into the work force," said Drew Turnage, a 2020 graduate who served as a student-analyst. "Most people have learned about options and bonds, but have no idea how they actually work and that's what you gain from this class. It shows what we are learning in class and how it relates to the real world."
Students conduct their research in Ray's Trading Room, the College's state-of-the-art trading environment that functions as both a classroom and laboratory. Outfitted with exclusive access to the same tools and software used on Wall Street thanks to generous donations from alumni and friends, Ray's Trading Room has the applicable technology, devices, and software that allow students to be locked into real life simulations — making trades and performing research in real-time on companies and markets from around the world.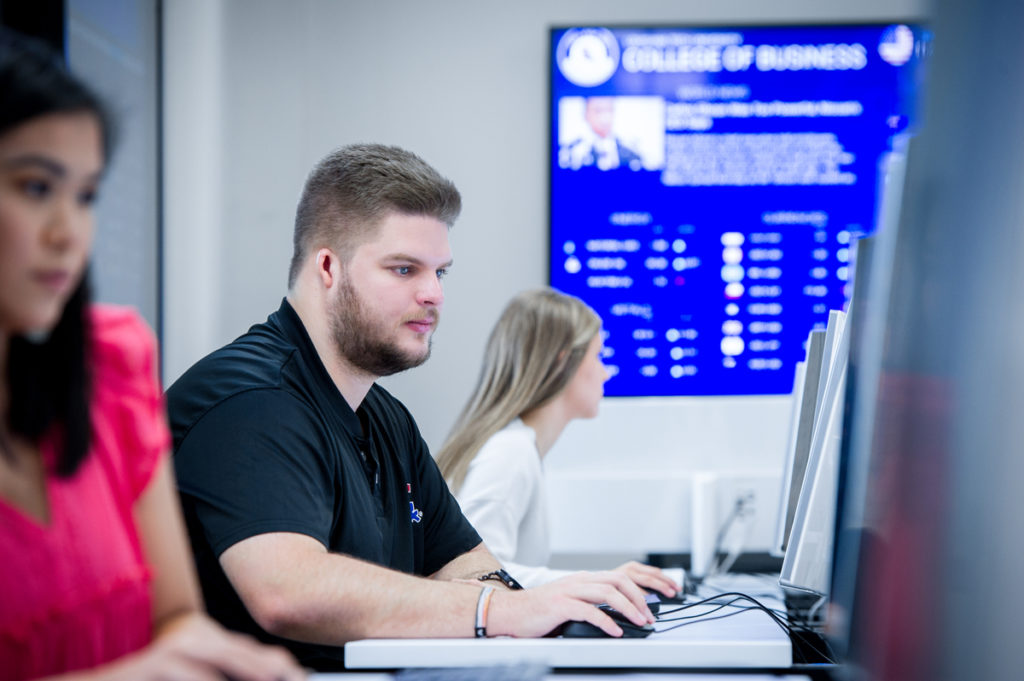 "The SMIF is an opportunity that few people — even in the real world — would ever experience," said JPJ Investments Endowed Professor of Finance Dr. Bill McCumber. "It benefits students by bridging the gap between theory and practice, allowing them to build and articulate demonstrable, professional, real-world experience."
McCumber considers the course one of his favorites to teach, though he's quick to point out that it's not, by design, a traditional class. "If a typical classroom experience is PowerPoint slides, a textbook, and tests, this is the other end of the spectrum," McCumber said. "This is experience with professional, real-time data, and tools, making analyses and decisions that have immediate and long-term, real-world consequences measured in real dollars."
Students have now invested funds for three years, and managed to navigate a market made extremely volatile due to the COVID-19 pandemic. Notably, during this time, the fund managed to post gains beating the benchmark despite dramatic volatility in global markets, only once dipping below the benchmark due to the global pandemic. Now, a new class of student-analysts are working diligently to make sense of the impact of COVID and trade wars on global asset prices in order to responsibly manage institutional funds.
"We can provide these experiences for students because of the investments of committed College of Business alumni and friends," said Dr. Chris Martin, Dean of the College of Business. "The Student Managed Investment Fund provides a framework for the growth of applied investing education and experiential learning in our College. We are forever grateful to each of our donors for their investment in the College's mission."