More than 20 years ago, longtime professional pilot and Louisiana Tech graduate Louis Waller began providing plenty of valuable runway in front of and air underneath the University's aviation program.
His continued support has allowed student after student the chance to spread their wings and fly.
Waller, Class of '87, created the Louis W. Waller Endowed Scholarship in 2001, the largest scholarship in Tech's Department of Professional Aviation and one that supports many students each year. He continues to grow it annually, including in 2020 when he made a major designated gift to the Forever Loyal Campaign.
"Looking back to 1985, I can tell you as a transfer student (from a Mississippi community college) that I believed the aviation program at Louisiana Tech would give me the best opportunity to achieve my goals and dreams of pursuing and becoming a professional pilot," said Waller, who is Captain of the Boeing 767 and now flies Central and South America routes almost 100 percent of the time for UPS from his home base in south Florida. Waller was able to take advantage of the opportunity Tech provided, and he wants to extend the chance to fly to more students.
"I credit a retired Tech aviation faculty member who introduced me to the Mississippi Air National Guard where I was a pilot for 11 years," said the Waynesboro, Miss., native. "To be able to give back now is just a small way I can thank and repay Louisiana Tech. To know that our aviation endowed scholarship may help a future aviator achieve his or her dream is also very rewarding."
"His financial support is a blessing to our students, faculty, and Department," said Jordan Lyons, the Louis W. Waller Endowed Associate Professor of Aviation. "An aviation education requires a significant financial investment. Many of our students would not be able to complete this unique degree program without help. His scholarship continues to provide that support to so many of our students."
Waller also established the Waller Professional Aviation Professorship in 2010-11, an endowment separately funded from the scholarship.
"On a personal note," Lyons said, "his Endowed Professorship has allowed me to maintain an active role with AABI (Aviation Accreditation Board International) as a member of their Board of Trustees. This active involvement with AABI helps us to offer our students the only AABI-accredited programs in this region."
The significant investment Waller has made through the years greatly helps students financially, but his personal investment directly impacts both the department and the University's mission.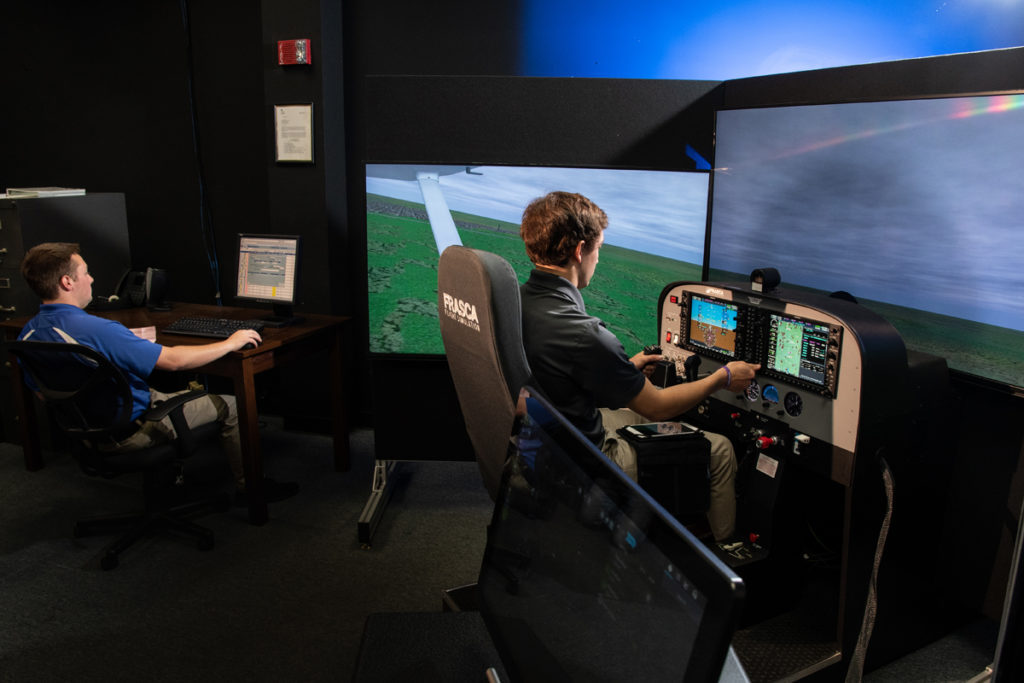 "The Department of Professional Aviation has established itself as a global leader in collegiate aviation education," Lyons said. "There is no doubt in my mind that our success is due in large part to the unwavering support from Louis Waller, which extends back long before I joined the Department as a student."
Waller is a past President of the College of Liberal Arts Aviation Board, has served on the board many years, and was the College's Distinguished Alumnus of the Year in 2007. He is instrumental in the celebration of AVFEST, the annual Aviation Alumni Weekend Reunion on campus each spring, and he was instrumental in establishing the Jason McKean Endowed Scholarship in Aviation to honor McKean, a Tech graduate active in the aviation program before his death in 2012.
"Louis has always worked to see our students and academic unit succeed," Lyons said. "He was instrumental in designing and leading mock interviews for our seniors. These experiences ensured that our graduates were better prepared for entry-level employment within the aviation industry and helped maintain a 100 percent graduate placement rate for more than 15 years. Of note, his mock interviews serve as an exemplar among aviation programs accredited by the AABI."
Waller is not only a generous donor but also an outstanding advocate of the program, which includes all faculty, staff, and students. It's not unusual for him to take a few minutes when he's on the ground to answer email or Facebook messages from friends who have questions about the aviation program at Tech.
The support is actually a family affair; his wife, Ronda, is a University of Alabama graduate but also a lover of all things Tech.
"Our annual visits to AvFest and fall football games have only confirmed to her my love and support of Tech," said Waller, married to Ronda since 1997. "Some years, I've taken vacation just to attend these events. Not only has she supported this, she's attended with me when her schedule allows. Over the years, she's gained so many friends at Tech including faculty, alumni, and other spouses."
The two also support several other higher education institutions: Alabama and Jones County Community College in Ellisville, Miss., where Waller earned his two-year degree before transferring to Tech.
"After graduating community college, I was searching for a university to complete a four-year degree in aviation," Waller said. "After visiting Tech, I knew it would present me with the best opportunity to complete my FAA flight ratings, achieve a BS degree, and at the same time provide me with the best overall college experience."
Tech's Department of Professional Aviation has established itself as a high-quality degree program with a national reputation for outstanding graduates. The Department is a member of the University Aviation Association and is accredited by the Aviation Accreditation Board International. It maintains the highest academic standards and keeps abreast of the latest in technologies and the needs of the aviation industry.