Louisiana Tech University Alumni and Friends,
In the past year, our beloved University has seen so many changes. In the battle against COVID-19, our faculty, staff, and students have worked to ensure our campus community stayed safe and healthy while students continued to make academic progress toward their goals.
We've learned we could move most of campus operations online and still deliver an exceptional educational experience. We've also seen social unrest, suffered a category 1 hurricane, and dug our way out of last month's winter storm. 
Throughout these challenges, the members of our Tech Family have displayed leadership and taken pride in the innovative achievements we've made.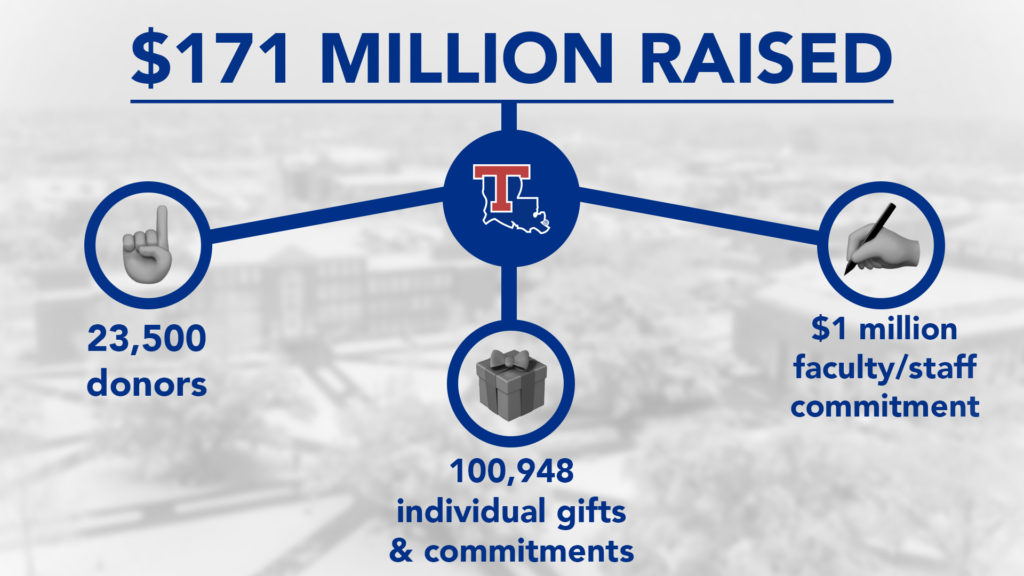 Among those achievements, I count reaching a successful end to the Forever Loyal campaign. More than 23,500 donors made 100,948 individual gifts and commitments throughout the course of the campaign, helping our University raise more than $171 million.
When we publicly announced our $125 million goal in 2018, we were confident the loyal members of our Tech Family would respond in tremendous ways. This momentous achievement would not have been possible without the commitment of thousands of individuals – our alumni and friends. We are grateful for your unwavering support and overwhelming generosity.
In this edition of the Tech Report – delayed because of the February winter storm – we have the privilege of sharing stories of our students and faculty and how your gifts have made an impact for our University. Please take time to read about how your friends and neighbors have helped Louisiana Tech begin another 125 years with pride and ambition.
Thank you for your commitment to our alma mater. Your time and talents have blessed Louisiana Tech University beyond measure.
Forever Loyal,
Les Guice