Louisiana Tech's tennis roster is a lesson in worldwide geography, a diverse mix of culture reflecting the flavor of a sport that has become more and more international during the past quarter century.
What hasn't changed is the passion required to play tennis or any other sport well for any real length of time.
"Passion is so important to succeed as a student-athlete," said Amanda Stone, a multi-sport college athlete and Tech's tennis coach since 2016. "Being very individual-based even in the team format makes tennis a really challenging sport; it takes a special person to dedicate themselves to work hard day in and day out."
Yet for the opportunity and the challenge, seven of the eight players came to Ruston from different countries.
"For sure my passion is being able to play and just follow my dream of being able to play for a college team, be part of a family, and leave a mark on a program like Louisiana Tech," said Alexia Romero, a sophomore from Argentina. "That's why I picked a placed like Ruston; Ruston not only has a school that has the major I'm pursuing, but also the family environment."
"It was extremely important to me to keep playing tennis while getting my college degree," said Ilana Tetruashvili, a junior from Israel. "I could not see myself giving up on the sport I played for so many years and just studying for four years. I chose to come to Ruston mainly because after the first call with Coach Amanda Stone, I could tell that the academic and athletic program here would be a perfect fit for me. She was extremely nice, and I felt like I would fit well in the tennis team here in Ruston and actually make a difference. Also I had heard only good things about Louisiana Tech before, especially education-wise."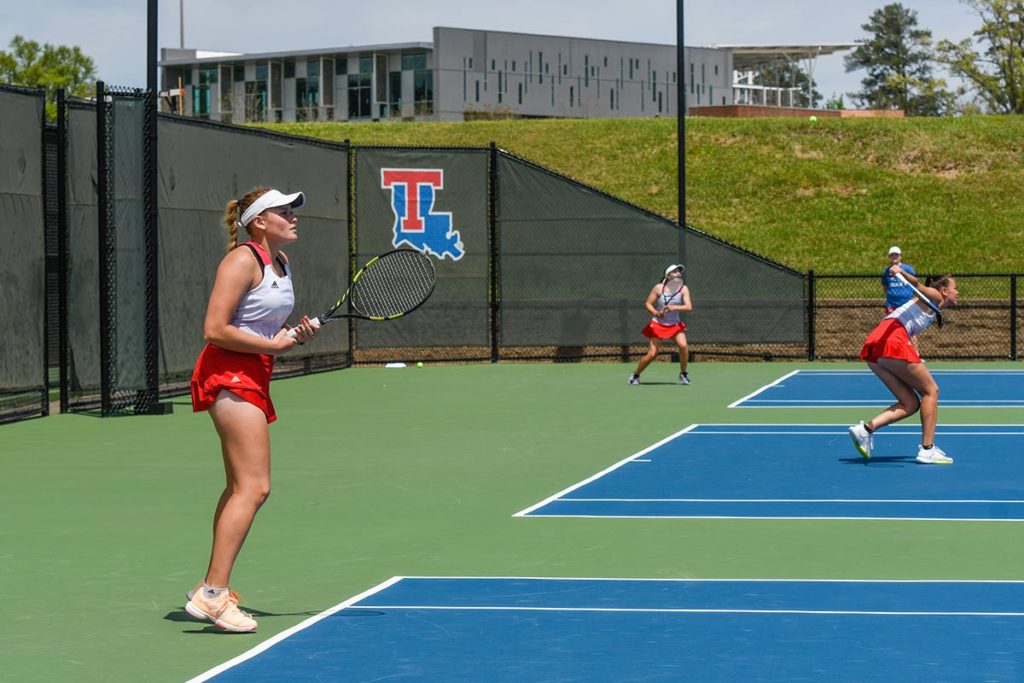 Freshman Leonie Schuknecht from Germany said she "definitely felt like a freshman" her first few weeks after arriving in Ruston, "a completely different environment and new city with unknown faces."
She soon settled in though "because I had a really nice roommate (freshman teammate Madalena Amil of Portugal) and a really nice team," Schuknecht said. "Now, I definitely don't feel like a freshman anymore. I feel very comfortable with my teammates on and off the court. I really love the team spirit and that we all are competing to win on the courts. Here, I want to win for myself, my team, and Louisiana Tech. This inspires me in particular."
A fighter on the court, Schuknecht has played the top position in singles and doubles in every match this spring.
"I think I was born with the fighting spirit," she said. "I'm a hard-working person who never gives up. My grandfather started playing tennis as a teenager and never had a single coaching lesson. He taught himself to play tennis with a lot of ambition and fighter spirit. A short time later, he was a successful tennis player and coach. My parents also always took part in sports competitions. Even my little sister is enthusiastic about tennis and competition. I have to have a good fighting spirit here alone just to be one step ahead of her.
"My motto on the court is whoever fights can lose; whoever doesn't fight has already lost."
"Having a passion and a fire for the game really changes the mindset," Stone said. "When you love what you're doing, the hard work becomes rewarding."
"I feel like in my game, my passion in tennis makes a big difference and helps me a lot," Tetruashvili said. "The competition is hard, and this season we've had so many close matches against players of the same level of tennis or even more talented, but at the end of the day the player who has more passion in the game and a bigger desire to win is who wins those close matches."
Although Stone laughs when she says Tetruashvili can be a "super goofy kid off the court," when it's match time, the "super-coachable" frontline player in each of her three seasons has a "presence" and "can take anybody to the last point. She finds a way. Her fight and heart really win a lot of matches for her."
Tetruashvili said that an obsessive desire to win helps her flip a switch during competition, that "when the passion for the game is involved and you are out there on the court wanting to win, personality goes to the side a little. Whenever I get pumped up, I always remind myself of my goals and to go after them no matter what."
The classroom demands an equal amount of dedication and willingness. Described as a fierce competitor by teammates, Romero carries the same attitude into her classes as a biomedical engineering major.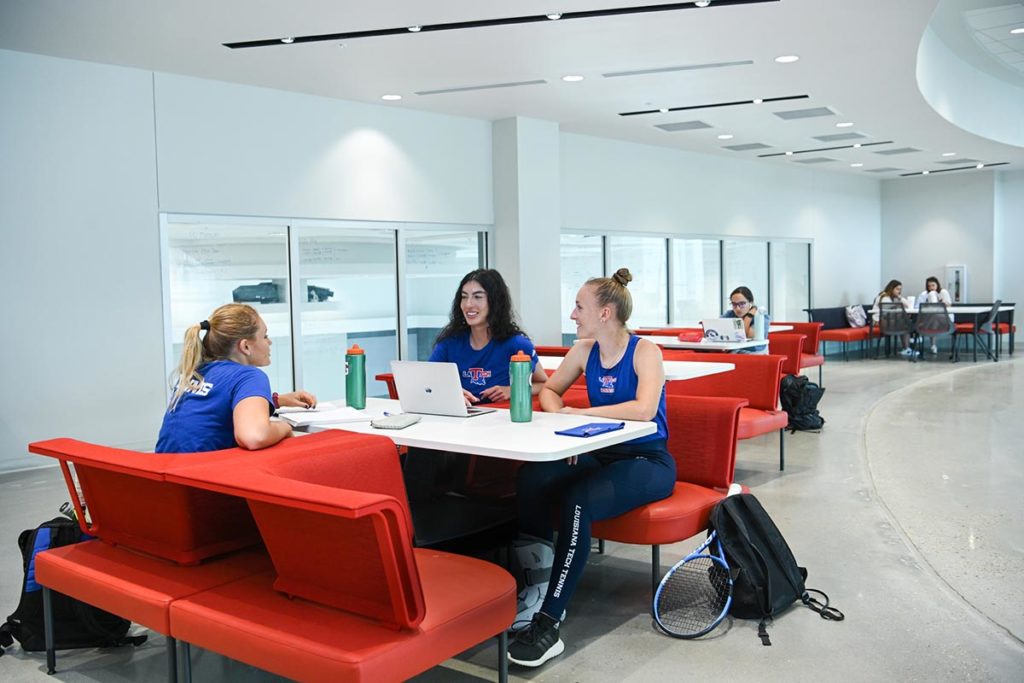 "They're different types of competitions, but at the same time, they share things in common – like being nervous and freaking out before stepping on the court or the night before a test; it's the same feeling," said Romero, who in 2020 was a member of both the C-USA All-Freshman Team and the C-USA Commissioner's Honor Roll and a C-USA Academic Medalist. "Also whenever I have to do a big hands-on project, if I just have so much motivation and dedication for doing it the best I can and of course competing to get the best grade or having the best project of the class, it feels like I'm the winner."
Same as her teammates Romero and Tetruashvili, Schuknecht said passion is easier to produce when your dreams feel supported.
"I chose Ruston because I love the family atmosphere of this place," said Schuknecht, a member of the West German U18 championship team in 2019. "I like the support the athletes get here. It makes it a lot easier when you get such good support."
"These three have been able to find success in tough circumstances," Stone said. "Their passion and desire to get better allows them to trust the process and work for the big picture as well as the moment in front of them."