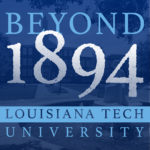 Dr. Bob Cunningham doesn't teach accounting as much as he teaches individual people who happen to be students.
A three-time College of Business graduate (1973, MBA 1985, DBA 1996), Cunningham is Louisiana Tech's second Executive in Residence and the first to tell you that his faith calls him to make connections with people, specifically students, in ways that instruct and encourage in an atmosphere of authenticity and inclusion.
He was the president of his high school class in the late 1960s in Ringgold, came to Tech—and flunked out. But a couple of calls from home gave him the will to try again, and then several Tech professors reached out, convinced him they cared, encouraged him to chase the successful soul that was inside—and he did.
He talks about those experiences—not all of them uplifting—and how the sum total, along with a love of accounting, entrepreneurial spirit, and his desire to see students succeed, led him back into the classroom and back into the lives of business students.
Website: 1894.latech.edu/beyond/
Email: 1894@latech.edu
Download the transcript to this episode.
Learn more about the College of Business
Learn more about the School of Accountancy
Learn more about Digital Commons