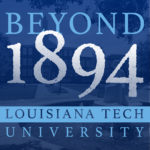 Got hope? If you do, how would you define it?
Dr. Michael Ternes, an assistant professor of psychology here at Louisiana Tech University, introduces us to Charles Snider's Hope Theory. According to the theory, hope is an active process that, unfortunately, we too often use in a passive way. When we say, "Hope you have a good day," what we usually mean is "I wish you to have a good day." See the difference?
If not, he helps us understand in this episode of Beyond 1894.
In his research concerning hope, he's found hope is something we can foster in individuals to help them make better career decisions. Hope can also help someone be more flexible in their thinking style. Hope just might be a way society can circumvent the mental health process, get rid of the stigma surrounding it so students who need someone to talk to can put themselves in better position to use resources available on campus so they can make choices that are the healthiest and most adaptive for them.
He recommends a couple of books for your consideration: Making Hope Happen by Shane Lopez and What Color is Your Parachute by Richard Nelson Bolles.
P.S.: We wish you to draw something meaningful and helpful specifically to you from this podcast.
Website: 1894.latech.edu/beyond/
Email: 1894@latech.edu
Download the transcript to this episode.
Learn more about the College of Education and the department of Psychology and Behavioral Sciences
Learn more about the Louisiana Tech University Digital Commons