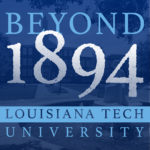 Devonia Love-Vaughn has arms long enough to reach you, encourage you, and gently push you toward positive change.
With a background in social work and in higher education, Devonia has been dedicated to giving children and young adults the space and resources they need to grow. As the newly appointed Dean of Inclusion Initiatives and Student Success, she hopes to strengthen Tech's legacy of being a home to all students.
In this episode, Devonia talks about her background in social work, the meaning and importance of inclusion, and how the Office of Multicultural Affairs is helping diverse communities on campus feel a part of the Tech Family.
Website: 1894.latech.edu/beyond/
Email: 1894@latech.edu
Download the transcript to this episode.
Visit the Office of Multicultural Affairs website to learn more about their scholarships, workshops, and student organizations.