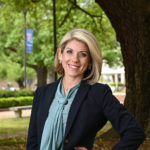 This week we meet Dr. Donna Johnson, Assistant Vice President for Academic Advancement & Partnerships for Louisiana Tech University. She oversees the Louisiana Tech Academic Success Center in Bossier City, the Tech Barksdale Program, and the Tech Shreveport Center.
Dr. Johnson discusses the importance of flexibility within education and providing pathways for students – traditional and nontraditional – to be able to meet their educational goals at their own pace.
Want to take your next steps towards future success? Visit latech.edu/summer to learn more. 
To learn more about CompeteLA, visit competela.org. 
Website: https://1894.latech.edu/beyond/
Email: 1894@latech.edu