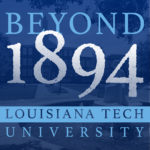 While we're trying to figure out how to baste a turkey or steal a decent dressing recipe to help us make it through the holidays, Dr. Gergana Nestorova, assistant professor in Louisiana Tech's Department of Biological Sciences and program chair for Tech's Molecular Science and Nanotechnology (MSNT) program, is aiding NASA in learning how to farm off Earth — and with no earth.
Nestorova created a new technology to more effectively analyze plant material, which will be used by a team of scientists who are discovering how to grow vegetable gardens in microgravity. These vegetable gardens will provide nutrition to astronauts on missions to the moon, and later Mars.
When Man shoots for Mars, the journey alone will challenge any current "Use By" date: it takes six to nine months just to get there.
On this episode of Beyond 1894, Nestorova, her undergraduate researcher, Francesca Weis, and NASA astronaut and scientist Serena Auñón-Chancellor, who spoke at Tech as part of its New Frontiers series, offer space food for thought.
Website: 1894.latech.edu/beyond/
Email: 1894@latech.edu
Download the transcript to this episode.
Dr. Nestorova's lab – The Applied Genomics and Biotechnology Lab