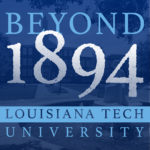 If you ask Libby Manning what she's been reading, be prepared to stick around a while.
When she was 10, her little sister was the only 3-year-old in town who understood phonics, all thanks to "playing school" in the garage. Teaching is part of what Dr. Libby Manning, an associate professor in the College of Education at Louisiana Tech University, was called to do.
After graduating from Louisiana Tech, she taught kindergartners in Shreveport, first graders in Jackson, Miss., then taught for 17 years, mostly fifth grade, at A.E. Phillips Lab School in Ruston. Very few things she's done in the classroom during her career encouraging and guiding students have been made up on the spot; Manning is all about strategy.
Her belief is that to learn in the classroom, you have to build a community, you have to be able to have fun while you're learning "to help it stick," and that we have to be physically, socially, and cognitively engaged.
In this episode of Beyond 1894, Manning shares with listeners some strategies on reading and on teaching, and why she believes that "we're never finished learning. It's an ongoing process we go through as readers. The way we get our world changed is one reader at a time and one writer at a time."
Website: 1894.latech.edu/beyond/
Email: 1894@latech.edu
Download the transcript to this episode.
Learn more about the College of Education.