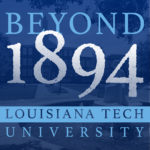 Each of us buys and sells, in some way, most every day.
Social distancing has changed the way we interact with each other, including the way we buy and sell products. This interview was produced before the mid-March quarantine began, but the topic – the who, what, when, where, and why of sales – is always timely.
Louis Zmich, a Louisiana Tech marketing doctoral student and president of the university's Doctor of Business Administration Association, shares with us about the relationship aspect of sales and marketing, the importance of human touch, and how technology is drastically changing one of the oldest occupations in human history.
Website: 1894.latech.edu/beyond/
Email: 1894@latech.edu
Download the transcript to this episode.
To learn more about Louis Zmich, check out his SelectedWorks profile.
To learn more about the Doctor of Business Administration program at Louisiana Tech, check out the program webpage.