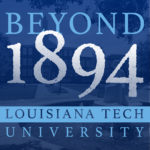 What happens when education meets caring and collides with chemistry? A sort of mentorship magic, illustrated in today's episode.
Amy Bell interviews Dr. Marsha Cole and Sierra Napoleon. Dr. Cole is a lecturer in the chemistry department, and Sierra is a senior in her capstone class.
Dr. Cole has had quite an academic journey, from not believing she could go to college to getting a doctoral degree in chemistry and becoming a lecturer. Her life was changed by mentorship, and she is now passionate about mentoring others.
Sierra tells us how Dr. Cole has helped her become a more confident chemist. For her capstone project, Sierra recently studied homeopathic remedies to treat gynecological infections, so they explain what homeopathic remedies are and why someone would use them.
Website: 1894.latech.edu/beyond/
Email: 1894@latech.edu
Download the transcript to this episode.
Check out Dr. Cole's Selected Works profile to learn more about her research.
Sierra Napoleon recently presented at the 2020 Undergraduate Research Symposium. View the abstract to her poster presentation in our digital repository.