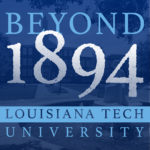 Dr. Davy Norris, Chief Research and Innovation Officer at Louisiana Tech, interviews Dr. Yuri Lvov, Tolbert Pipes Eminent Endowed Chair in Micro and Nanosystems, for this episode of Beyond 1894.
As a chemist, Dr. Lvov is recognized as one of the most influential nanoscience researchers in the world over the past 25 years. When he faced academic challenges in Russia, his home country, he started anew in Germany, where he teamed up with another chemist to invent the method he is now famous for – materials self-assembly.
In this episode, Dr. Lvov explains his method of materials self-assembly and how it impacts nanotechnology and the medical industry. The conversation also gets personal: Dr. Lvov discusses what it was like for his family living in a Siberian Soviet labor camp during Stalin's reign, what it was like growing up in Russia, and how he eventually made his way to Louisiana Tech University.
Website: 1894.latech.edu/beyond/
Email: 1894@latech.edu
Download the transcript to this episode.
Dr. Yuri Lvov's Website
Dr. Yuri Lvov's Selected Works Page