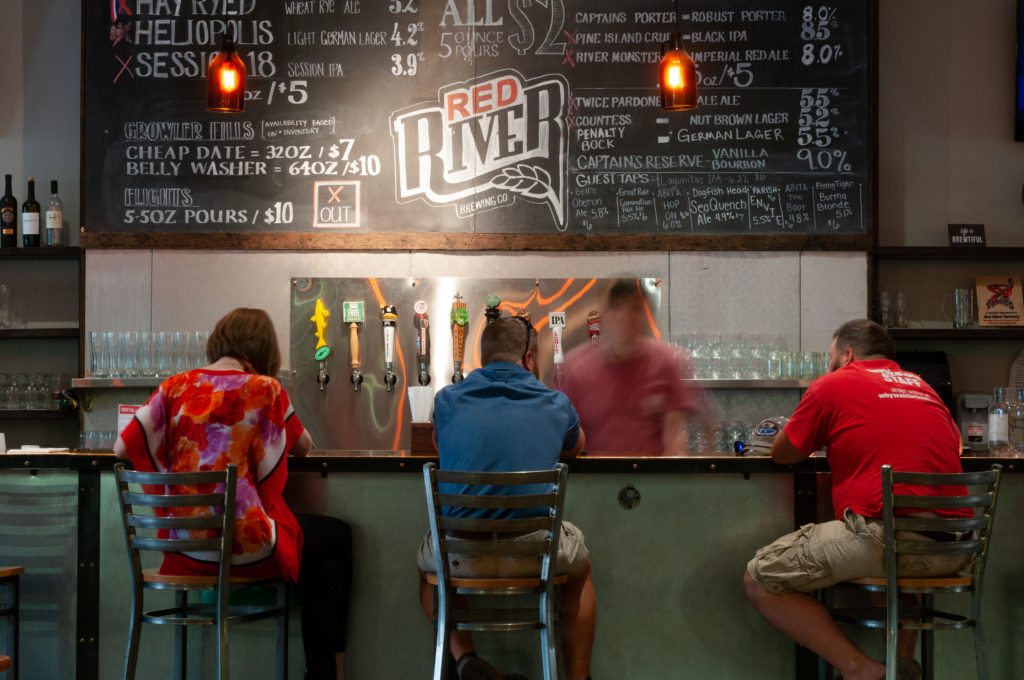 From the brewhouse to the farm, these Bulldogs bring knowledge, experience, passion to the table.
Home brewing requires a heavy dose of scientific method, technical equipment, and lots of study. Those requirements are part of the reason engineers and scientists are drawn to the hobby that's growing in popularity all over the world.
For Louisiana Tech University alum Jared Beville ('07, MBA), the road to the brewhouse began in his garage in 2009.
Early years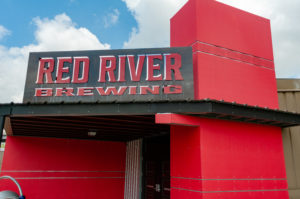 Robert McGuire, a former Californian with experience in winemaking, approached Beville about the possibility of home brewing. Beville soon fell in love with the science and brewing process.
But as a businessman, what appealed to him most was the market opportunity. At the time, there were no craft breweries in north Louisiana.
Beville soon contacted college friend Beau Raines ('04, Mechanical Engineering) and told him about the home brewing operation he and McGuire had. Raines and Beville met as undergraduates at Louisiana Tech when the two pledged Tau Kappa Epsilon. Raines had also gained interest in craft brewing while living in Mobile, Alabama, but had recently moved back to Shreveport.
The three soon began spending time together perfecting their recipes. McGuire had a background in science, Raines was the engineer, and Beville had the business knowledge.
At the beginning of 2012, the three got serious about expanding beyond simply brewing beverages for their own use. They had spent the previous years researching, creating recipes, and brewing. That year they incorporated as Red River Brewing Company, and by October 2013, they were state and federally licensed. They became the first manufacturing brewery in Shreveport since before Prohibition.
Farming and brewing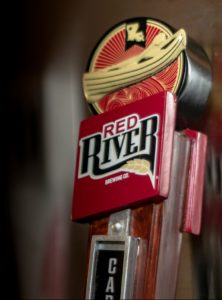 Beer typically consists of four main ingredients: water, yeast, hops, and barley – or some other starch. Beer is made by heating malted barley grain with water in what is called mashing. Next comes lautering, when the wort – liquid containing the sugar – is separated from the grains. After lautering, the wort is then boiled with hops to give it the flavor, aroma, and bitterness that beer is known for. When the wort has cooled, yeast is added to begin the fermentation process. At this point, the beer is ready to be filtered and bottled.
During the early years of homebrewing, the guys were producing about a five-gallon bucket of spent grain per week. McGuire taught school with a woman whose son was raising sheep. So in 2010, the group began sending the spent grain to Craig Smith ('14, Animal Science), which he used to feed his sheep. As the brewery grew, so did the farm. Eventually, Smith expanded his operation to include cattle and began Smith Family Farms.
Smith did not grow up on a farm. He grew up in the city of Shreveport. The son of Tech graduates had always wanted to join the military, but a hip injury led him to change his path and he found interest in farming. His parents convinced him to go to college at their alma mater around the same time they bought some land near Lake Bistineau. He first started farming with sheep in 2009, but sheep don't do well in Louisiana, so he switched to cattle. Now they farm about 150 acres and receive about 1,000 pounds of spent grain per week from the brewery.
Over the last year, something else started brewing at Red River. With an influx of breweries into the state and difficulty expanding distribution to other areas, Red River decided to stop distribution and switched from a manufacturing brewery to a brewpub – becoming the first brewpub in Shreveport.
"The margins are so thin." Raines says, "Why focus our efforts on the part of the business that has the tiniest margins, when from a brewpub standpoint we could be more successful."
Patrons can still come into the brewery and purchase a six pack, but the products are not distributed to stores. By embracing market changes, the trio was able to transition into a business opportunity that offered more promise. As owners of a brewpub, they could expand their offerings to serve a wider selection of beverages as well as food.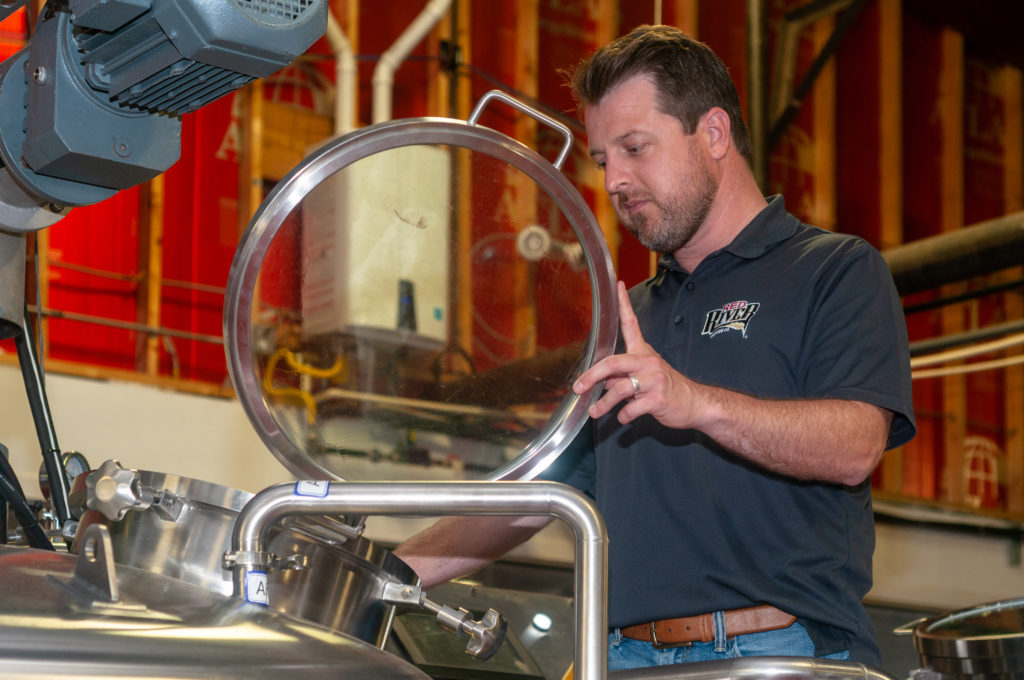 Experience from college
Beville and Raines' time at Louisiana Tech played a big role in their business. Raines' degree in mechanical engineering has helped make the brewing process as efficient as possible. From fluid flows to heat transfer, he's been able to troubleshoot equipment issues over the years. Beville's background in business has helped in accounting, licensing, and day-to-day operations. The market has shifted since they first opened, and Beville has had to analyze the trends to navigate the business forward.
"The soft skills I developed at Tech also played a major role," he said. He was shy in high school but the social life at Tech helped him come out of his shell.
Being in a fraternity taught Beville and Raines how to try new things – among them running a business.. To them, that's essentially what Tau Kappa Epsilon was. They had to collect money and pay bills. They worked their way from house manager and treasurer to president and vice president of the organization. The challenges and opportunities in that fraternity house gave them the confidence they needed to start their own business.
Although Jared eventually graduated with a finance degree from LSU, his time at Tech made him more well-rounded and prepared him for the business environment. He loves economics because of Dr. Otis Gilley and Dr. Ali Darrat. He's been to three different universities and said Tech's professors were the highest caliber he experienced. Three years after graduating from LSU, Jared obtained his MBA from Tech by taking night courses at Tech Barksdale.
Smith's time at Tech opened him up to other ways of farming that gave him the scientific background he needed to turn his small sheep operation into an agricultural business. This has allowed him to adjust common practices and innovate so that his business can be a success.
Eat local, drink local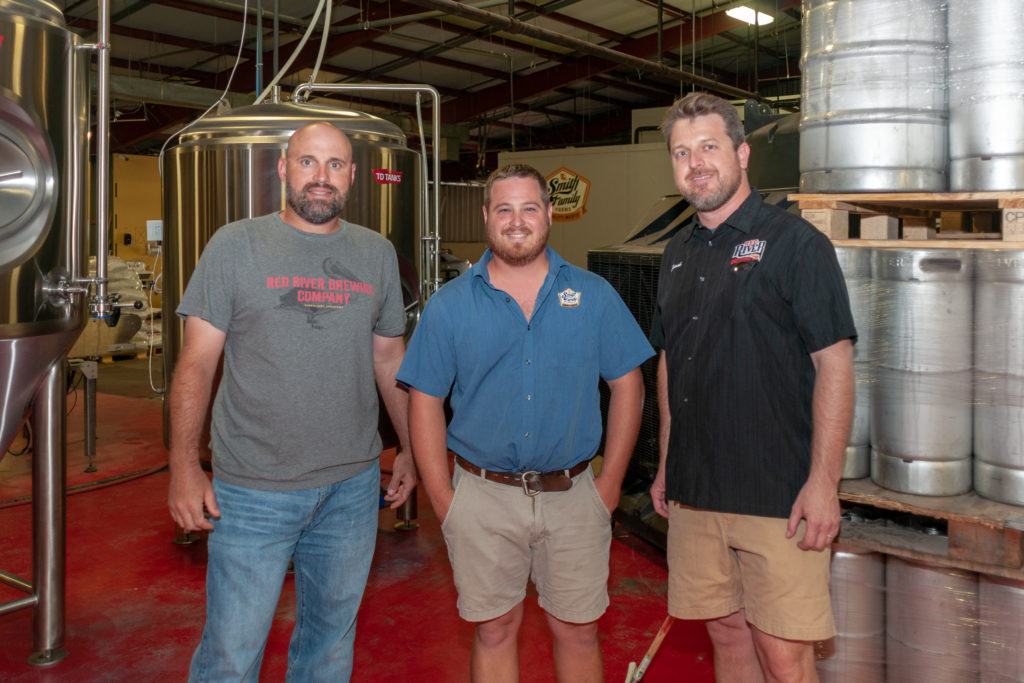 Throughout their experience, the partners have worked to adjust their business to meet the needs of the local community, whether that means partnering with other local small business people or lobbying for changes in local laws. They have partnered with chef Anthony Phelon's Fat Calf Boucherie and Smith Family Farms to serve food on site. The original connection between the brewer and farmer has strengthened, and the three businesses have been able to help each other. Red River supplies grain to the farm, which supplies meat to Fat Calf Boucherie, which then sells food at the brewpub.
Smith Family Farms has also seen continued growth. Smith realized it was no longer cost-effective to contract out the butchering of meat. While Smith was in Shreveport meeting with Fat Calf, he spoke with Beville about needing space to process. Red River had plenty of room in the warehouse because the owners had just stopped the distribution part of it. A new opportunity was born, and Smith Family Farms has been building out their space in the brewery. The farm will start processing meat on site this summer.
By design, Red River is more of a non-traditional, family-friendly restaurant that is very free flowing. Patrons can sit at picnic tables, couches, the bar, or on the outdoor patio. There are games for kids young and old, and with room for over 400 people, the facility can be rented out for corporate events, birthdays, wedding showers, class reunions, and more.
Maybe one day, the owners will be able to expand the cooperative and collaborative environment by adding retailers to the space to make this location a destination. Although they currently sell at farmers' markets in Ruston and the Shreveport area, Smith Family Farms could possibly add a meat counter on-site in the future.
"If we've learned anything over the last few years it's that there needs to be a vision that the business stands behind," Raines said. "But we also need to have the willingness to pivot if consumers have needs we're not meeting."
Continuing education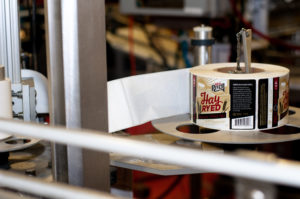 Their education didn't stop when they got their degrees. After learning about the I-20 Accelerator Program at Louisiana Tech, Beville, Raines, and McGuire met with Kathy Wyatt to find out how the program could help their young business. They traveled to Ruston every Wednesday for about a quarter to complete the program while they continued to work their pre-brewery, full-time jobs.
Three years later, Jared saw the need for an intern to help with operations at the brewery. So he contacted Wyatt with a list of the qualities he was looking for in an intern. He added the stipulation that the student needed to have the entrepreneurial spirit. Wyatt knew someone who fit those exact qualifications. Jackson McConnico ('17, Finance) began working with Red River and it just so happened that he was dating Craig's sister. McConnico has worked for Red River over the last year but is currently transitioning to Smith Family Farms.
Kathy has been really good to us. It's been a great relationship and a great program that Tech has. If someone is looking at starting a business, I would strongly encourage them to go through that program. They have been great to us for over three years.

– Jared Beville
Smith echoed Beville's belief that Tech has been instrumental in their success.
"Tech was good to me, and still is." Smith said. "I still talk with people on south campus weekly. If we ever have questions, we can refer to them. They are still teaching how I can or should do things."
"You're a phone call or an email away to connect with people who can help you. That's huge!" Beville said. "I don't think you get that at a large school. Tech is unique!"