Bradshaw Advises Graduates to Find and Pursue Their Passions
Four-time Super Bowl winning quarterback Terry Bradshaw told Louisiana Tech University graduates to find their passion in life during his commencement address to the Spring 2019 class, the largest in Tech history with 1,100 graduates.
The record-setting Bulldog football player and favorite son of Louisiana Tech told graduates they would remember graduation as a day full of love they would never forget.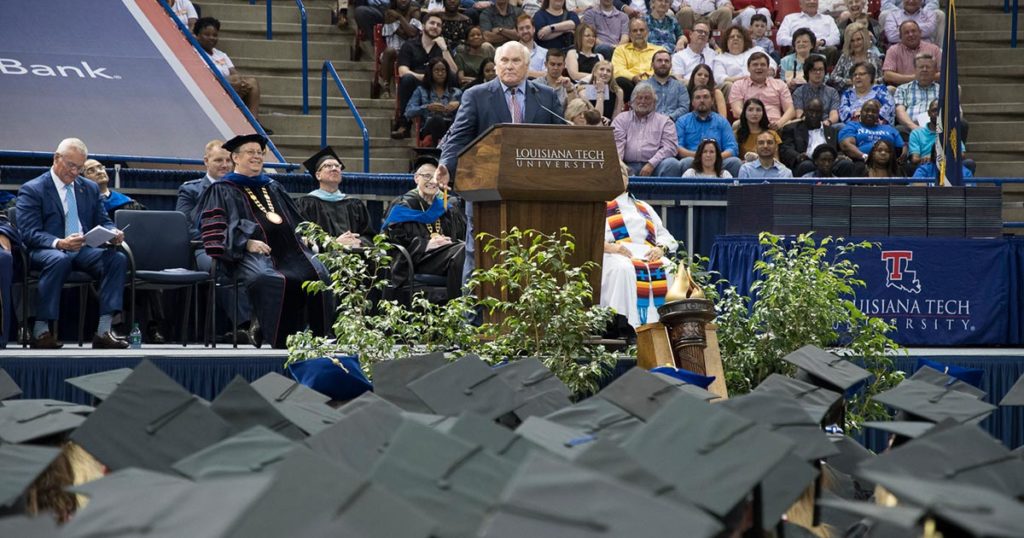 "That's the wonderful thing about Tech," Bradshaw said. "We have a tremendous amount of love. You'll use that to make a difference in the lives of millions of people. Find out what it is that stirs you and pursue it."
Though life is full of ups and downs, he added, having enthusiasm in one's career makes it possible to confront challenges.
If you want to be happy in life, you need to have a passion for what you want to go into. You have to have that passion to endure.

– Terry Bradshaw
"On my journey in life, I learned it's OK not to always be the best. It's not OK not to give your best."
During the commencement ceremonies, Louisiana Tech recognized the newest member of the Hall of Distinguished Alumni, Drake Mills. He was presented the Tower Medallion to signify his achievements.
Mills, a 1982 Finance graduate and the University's Alumnus of the Year in 2010, serves as Chairman, President, and Chief Executive Officer of Origin Bancorp, Inc.
The Tower Medallion Award signifies membership in the Hall and is awarded to Tech alumni who have distinguished themselves by exceptional achievement, community service, and humanitarian activities.
Tech Hosts Louisiana's Only Science Olympiad Invitational
Jan. 26, Louisiana Tech University hosted its inaugural Science Olympiad Invitational.
With participating teams from throughout Louisiana and Texas, students had the opportunity to participate in 23 events in two grade-level divisions.
In its 35th year, Science Olympiad is an international non-profit organization dedicated to improving the quality of K-12 science education, increasing male, female, and minority interest in science, creating a technologically-literate workforce, and providing recognition for outstanding achievement by both students and teachers.
The Science Olympiad Invitational is a compilation of competitive events comparable to an "academic track meet." The event tasks reflect the ever-changing nature of genetics, earth science, chemistry, anatomy, physics, geology, mechanical engineering, and technology. One of the goals of the Science Olympiad is to celebrate and elevate science students and science education to a level normally reserved only for varsity sports programs, something event coordinator Chris Campbell was captivated by early in his career.
"I was drawn to the variety of events when I started an Olympiad team at Simsboro High School around 12 years ago and started hosting an invitational in Lincoln Parish in 2010," Campbell explains. "After joining Louisiana Tech University's UTeachTech program in 2015, I was hoping to bring back the invitational – this time at Tech. I'm proud to say that for the 2018-19 school year, Louisiana Tech hosted the only invitational in the region, which includes Arkansas, Louisiana, and Mississippi."
Louisiana Tech, SOWELA Agreement Designed to Create Student Pathways in Forestry Products Industry
Louisiana Tech University and SOWELA Technical Community College recently signed a memorandum of understanding (MOU) focused on forestry education between the two schools.
The MOU is designed to help students take advantage of career growth opportunities in the forest and forest products industry. In addition, the industry needs to replace workers who are ready to retire, as well as grow their leadership pipeline for future growth.
When a student earns his or her technical diploma in forestry, they can apply 12 hours of credit from that degree toward a Bachelor of Science in Forestry degree.
The partnership between SOWELA and Louisiana Tech provides students with a chance to increase career opportunities, said Dr. Gary Kennedy, Dean of the College of Applied and Natural Sciences.
"Students who earn the associate degree generally excel in the technical skills associated with the management of forests," Kennedy said. "Those who move on to the bachelor's degree will have the opportunity to develop management skills within the forest industry, which allows for further career options and career tracks."
Tech Team Finishes Top 10 in International Debate Championship
Against more than 80 other competitors, Louisiana Tech junior political science major Leah Hannah was Champion of the Varsity Division in the recent 2019 International Public Debate Association (IPDA) National Championship, the top achievement in an exceptional performance by Tech's team.
Tech placed in the Top 10 of more than 40 schools nationwide that competed in the tournament co-hosted by Tech, Bossier Parish Community College, and LSU-Shreveport. Tech was 11th in the nation in Season Long (total points added up for each tournament all year), and sixth nationally in both the Varsity and Professional divisions.
Accounting Alumnus Earns Top Score on CPA Exam
Louisiana Tech University accounting alumnus Warren Wolf recently received the Elijah Watts Sells Award for earning one of the top CPA exam scores in the nation.
Only 110 candidates — out of nearly 86,000 individuals — met the criteria to receive this prestigious award given annually by the American Institute of CPAs (AICPA).
"Receiving the Elijah Watt Sells Award has been a great honor," said Wolf, who earned a bachelor's degree and master of accountancy from the College of Business in 2017. "It has been very exciting to see my hard work at Louisiana Tech and studying for the CPA exam pay off."
To qualify, CPA candidates must obtain a cumulative score above 95.5 across all four sections of the Uniform CPA Examination, pass all four sections on their first attempt, and have completed testing in 2018.
Wolf currently serves as a Louisiana Legislative Auditor, where he audits state entities to verify financial information is materially correct so it can be used in preparation of other conglomerated reports and by the Legislature to make informed decisions. His work involves identifying potential risks of misstatement, identifying and testing key controls, and performing analytical and substantive procedures to ensure account balances are materially correct.
The College of Business has seen another accounting alumnus on this list in recent years. In 2011, Timothy Smith was one of only 37 candidates to earn the Elijah Watt Sells Award.
Jonathan Donehoo: A Heart for Art, A Heart for Others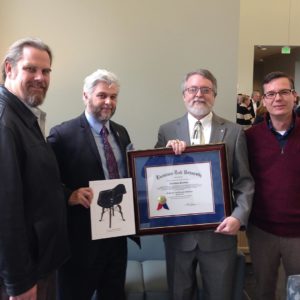 Jonathan Donehoo, former director of what is now called Louisiana Tech's School of Design, made cultivating friendships an art.
"His death," said Dean Dablow, one of his closest friends, "was an earthquake to those who knew him best. Jonathan Donehoo was the most gracious, caring and thoughtful man I have ever known."
Donehoo's sudden passing at age 65 from heart failure Feb. 28 leaves, as his obituary read, "a hole in the lives of many friends, colleagues, and family members who were blessed by his company, generosity, sage advice, and special sense of humor. He will be missed."
Associated with Tech for more than 30 years — and from 2006 until his retirement in 2013 as the Director of Tech's School of Art — Donehoo was appointed co-director of Tech Rome early in his career, served more than 25 years in that capacity, and radiated a deep love for both his students and travel.
"What set Jonathan apart as a traveler was his absolute passion for taking people with him on his journeys, profoundly connecting his travel companions to places around Europe," said Karl Puljak, Tech's current Director of the School of Design and a friend who "drank many coffees — hundreds," Puljak said, in Donehoo's office.
"It is not an exaggeration when I say that literally thousands of students were led by Jonathan over his years as director of the University's Tech Rome Program and the School of Art's French Quarter," he said. "He delighted in opening the world to students who'd never traveled overseas, and his hope was that at the conclusion of that first trip, they would be planning for their next one. These experiences profoundly transformed the students' view of themselves and the environment around them."
Donehoo didn't stop traveling after retirement. He took friends with him to places he knew they'd enjoy — Paris, London, Rome — and "he gave them an experience they would always remember," Dablow said.
He visited students who became grownup friends in New Orleans, Vancouver, Virginia, and on Lake Ouachita in Mount Ida, Arkansas, where he was planning to move.
A service was held to honor and celebrate his life on March 15 at the Episcopal Church of the Redeemer in Ruston. The family requests that friends consider a gift to the Jonathan Donehoo Memorial Fund at the Louisiana Tech University Foundation. This fund will help to support students of the School of Design participate in the study abroad program that was so dear to Donehoo.
Tech Named One of World's Top Universities for Sustainable Development
Louisiana Tech University was one of the top 300 institutions globally and top 27 institutions in the United States named to the Times Higher Education (THE) 2019 University Impact Rankings. In Louisiana, only Louisiana Tech made the international list.
The University Impact Rankings assess universities against the United Nations' Sustainable Development Goals (SDGs). The ranking uses indicators to provide comparisons across three broad areas – research, outreach, and stewardship – covered in the SDGs. Louisiana Tech performed especially well in the areas of providing access to quality education; working to make the city inclusive, safe, and sustainable, and promoting healthy lives for community members at all ages.
Everything we do as an institution is built upon our mission to provide an unparalleled educational experience and produce graduates who ignite innovation in their careers and communities.

– Dr. Les Guice
"The University Impact Rankings recognize that our University is responsible for ensuring access to quality education and contributing to the health of our community and region, and that Tech does a good job of that."
In 2016, THE recognized Louisiana Tech as one of 20 universities in the world that will "challenge the elite universities" and become globally renowned by 2030. In the report, Tech was one of an emerging group of "challenger" universities that are quickly rising in the world rankings and "have an opportunity to become globally renowned in the next 10 to 20 years."
In late 2018, Tech was included in THE's World University Rankings for the first time. This ranking is based on the University's global reputation and research output.
Bulldogs Set to Host LSU in Hoops 4 Disaster Relief Exhibition
Louisiana Tech and LSU will meet in the "Hoops 4 Disaster Relief" exhibition contest on Nov. 2 inside the Thomas Assembly Center on Karl Malone Court.
All of the proceeds from the exhibition event will benefit disaster relief efforts stemming from the tornado that struck Ruston and the campus of Louisiana Tech on April 25.
Tickets are on sale for $15 for lower bowl reserve (red seating) and $10 for upper bowl general admission (blue seating). Season ticket holders, based on last season, will have first right of refusal of their seats by Aug. 1.
Groups of 20 or more can purchase tickets at $5 apiece. The first 500 students will get in free (student ticket claim process will be announced at a later date). Students beyond 500 can buy a general admission ticket for $5.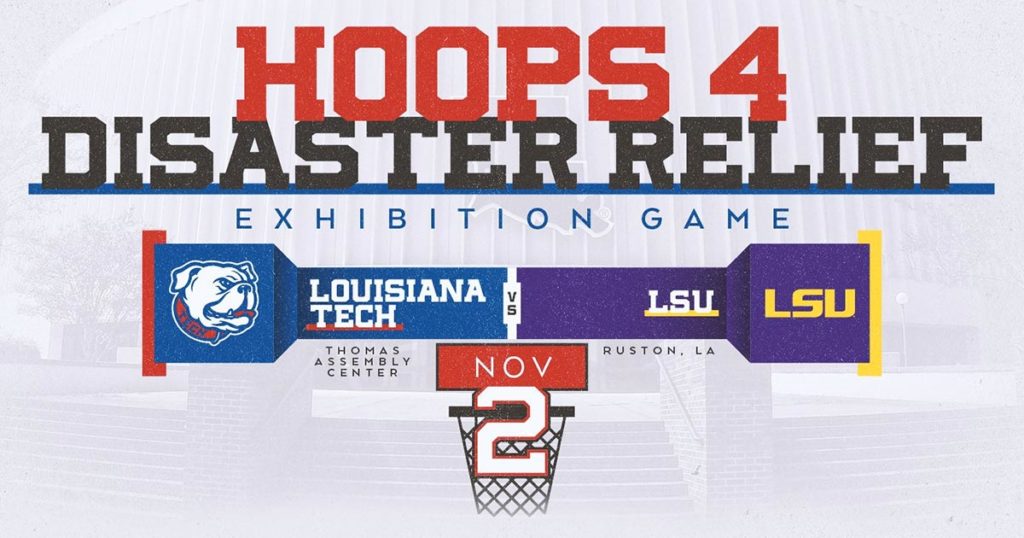 "The response from our community, the state of Louisiana, and across the nation has been inspiring," Tech head coach Eric Konkol said. "We are grateful to LSU for coming to Ruston to play in this exhibition game and aid in the rebuilding efforts. This game will benefit our team and excite our fans, but more importantly, it will provide a tremendous opportunity to raise resources for the Disaster Relief Fund. Let's pack the TAC on Nov. 2 and continue to be Ruston Strong!"
"This is what we do in Louisiana," said LSU head coach Will Wade. "When someone needs help, we all pitch in. For us, it gives our guys the opportunity to travel and go play a good team away while we prepare for the season. It's helpful for everybody and we're glad to be a part of it."
Both the Bulldog and Tiger football teams have a bye on Nov. 2. This will mark the first time ever Louisiana Tech will take on LSU in the TAC. The two in-state programs have met 12 times with the last meeting in Ruston coming in 1945. They faced off last season in Baton Rouge with the Bulldogs narrowly falling, 74-67.
A tip time will be announced at a later date. Tickets can be purchased by calling the Tech Ticket Office at 318.257.3631 or by visiting LATechSports.com/ tickets.