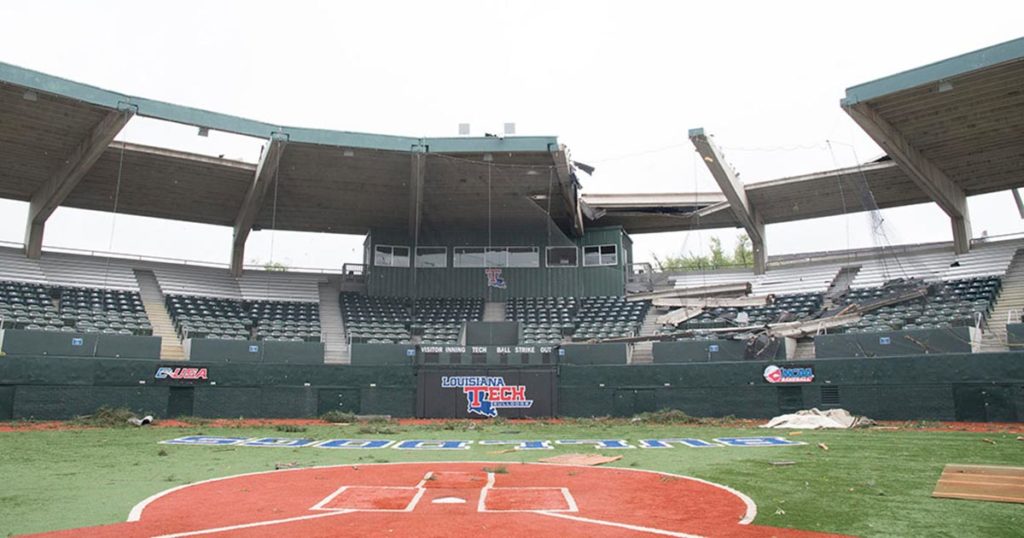 Thursday, April 25, 2019, will forever be an infamous date in Louisiana Tech history because of the EF3 tornado that began around 2 a.m. in the southwest part of Ruston and ended northeast of town, cutting a diagonal path along the west side of campus.
EF3 tornadoes have winds of 136-165 miles per hour. That level of power can cause incredible destruction, and the sheer magnitude of the storm's force remains evident in what is left of the Lady Techster softball and soccer complexes and Love Field at Pat Patterson Park. Each facility is a total loss.
Although there were two fatalities in Ruston, the Tech community was spared loss of life and, most things considered, precious little damage was done compared to what could have been. Classes resumed the following Monday. There was no major damage other than to the athletic facilities. And students, faculty, and staff quickly galvanized to help with the cleanup. In a time of desperation, the campus — all of the Tech Family and friends — responded in an inspiring way.
The tornado has changed the literal landscape of the campus and of Ruston — hundreds of trees 50 to 100 years old are snapped or gone — but the silver lining is that the tornado will change the landscape of Tech Athletics in a good way. Once the state and federal funds are leveraged with Tech's private and self-generating funding, the campus will continue to transform during the next several years. Leadership plans for athletic facilities to be rebuilt in such a way — more aesthetically pleasing, efficient, and equitable — that each will serve the University well for the next several decades.