Married faculty and the coronavirus
They took vows to stick together 'for better or for worse,' but does that count during a global pandemic? When you teach at home? And are raising children? And have never done this before?
It does? Good: two are better than one. Although it was … difficult.
With all those elements in play, even some of the world's finest faculty could at times manage no more than running in place during the most challenging spring quarter in Louisiana Tech history. There were the 'better' times — lots (and lots) of time with the family — and the 'worse' times, like those days Instructor of Communication Studies Kristi Stake would walk down her rural driveway or into the woods to locate a better Wifi connection than she had in her home so she could continue a Zoom call, all the while swatting mosquitoes and dodging wasps.
"Not the easiest way to maintain a professional decorum," she said.
Sometimes you laugh to keep from crying.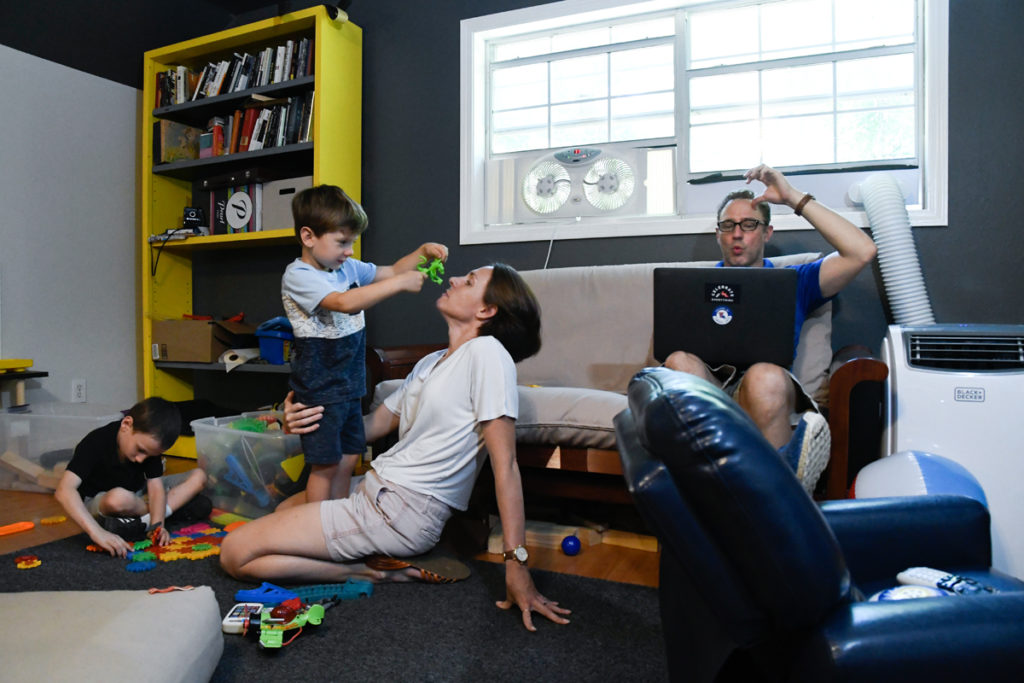 "On my own end, this has been a time of great challenges and struggles," Associate Dean of the College of Liberal Arts (CoLA) and Professor of Art History Bryan Zygmont said. "I am beyond thankful to have a supportive boss (CoLA Dean Dr. Donald P. Kaczvinsky) and a University that has understood the challenges of a full-time employee who has a 4- and 6-year-old at home."
His wife Anna Kelley is a little more to-the-point: "Working from home," the Tech English instructor said, "has made accomplishing anything more than what is essential nearly impossible."
Then she tapped the brakes — but only a little.
"Well," she said, "it wasn't that bad, but it sure wasn't easy."
Divide and conquer works in theory, but not so much in a pandemic. More like divide and survive.
"Anna teaches English upstairs online," Zygmont said from his home. "Some days she works from 7-12 and then I work from 12-5, and other days we flop, then get more stuff done after the kiddos go to bed at 8 pm. Then we then try to finish up what we didn't get done in our five hours — which is lots."
"This 7am-5pm schedule posed a number of challenges," Anna said. "First, trying to cram a full-time job into part-time hours. After the kids went to bed, I was back to work, often until 12 or 1 in the morning. The second major challenge was that, even though we were both at home while we worked, the 7-5 day left Bryan and me little time with each other, especially since nights were often spent working apart rather than time together."
"Right about now I feel I am a great dad," Zygmont said, "a poor elementary school teacher, a fair Associate Dean, and a below-average spouse."
Anticipating the shutdown, Anna began preparing her students for a stay-at-home quarter the first day of classes. Some student moms even asked her how they were going to care for their children and do their class work.
"I know," she'd said. "Me too. I don't know how we're going to do it."
Transitioning to online classes and maintaining her teaching methods "seemed within my wheelhouse," she said, but "caring for, let alone teaching, my own children felt incredibly daunting."
"I send my children to school not just because I work during the day, but because I choose to place them in front of professionals trained to care for them and teach them in a way that I do not feel equipped to do," she said. "I am a mother, and hopefully a diligent and good one, but I am not an elementary school teacher."
In a similar boat were Kristi and her husband Dr. Joel Stake, a lecturer in the Department of Biological Sciences, a couple who battled rural Wifi while learning to teach school to their children, seventh-grader Evie and second-grader Van.
"As for being thrown in as a surrogate teacher for our kids, I don't think we ever really got into a rhythm there," Kristi said. "Fortunately, our daughter is extremely independent and responsible, so we basically left her to her own devices to stay on top of all of her middle school assignments. We tried to alternate days of being in charge of our son's elementary schooling so that one person could concentrate on teaching while the other was the parent. But that plan fell apart quickly because students had questions and needs daily, and we found we couldn't really take a 'day off' from teaching our own courses."
Another hard part of at-home teaching and working is when the work role demands priority over the parent role.
"That was the hardest part," Kristi said, "having our own children in our house wanting interaction with their parents and having to put them off in order to get our work done. It's never fun to tell your kids, 'No, Dad still can't play because he has to sit here and answer emails.' Or, 'Sorry, Mom has four Zoom meetings today, so I will be preoccupied for the afternoon.'"
"Around Week 9 of the quarter," Anna said, "when I had to say again to my son who was close to tears, 'Yes, I want to play with you, but even though I am home, I have to work,' it hit me just how difficult a sentence that is to deliver."
Lady Techster basketball coaches Brooke and Scott Stoehr had a theoretical head start since they've worked together throughout their marriage and since both Aubrey, 9, and Cooper, 7, are with them at ballgames — their work place — most of the time.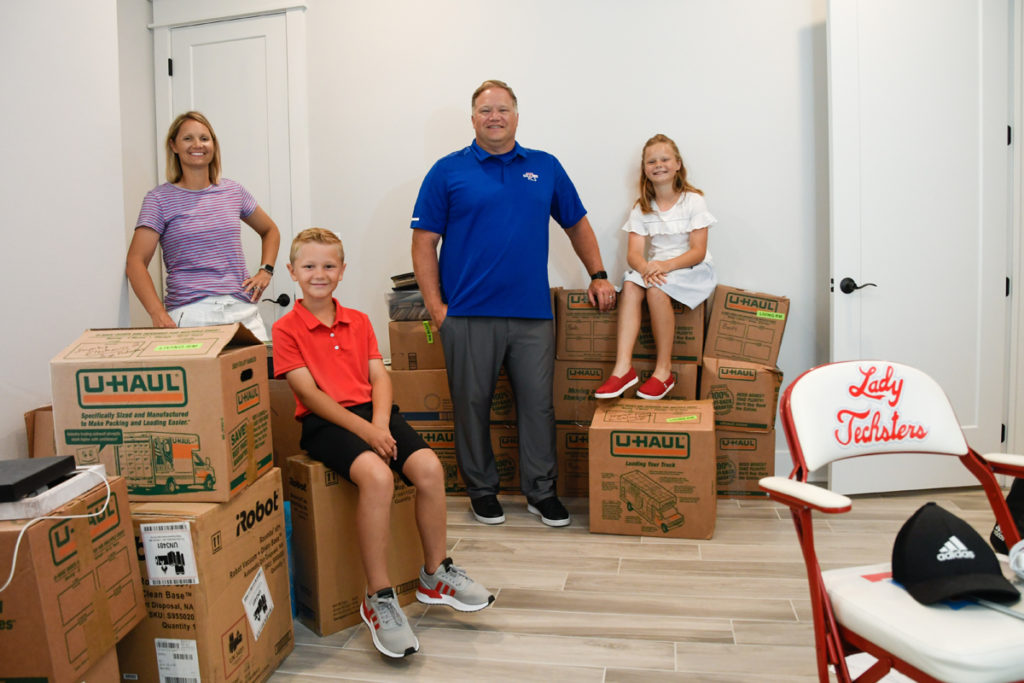 "We've survived working together all these years," Brooke said. "COVID-19 might not get us, but my attempt at cooking for the last few months may push the family over the edge. Oh, we thought it would be fun to throw a move into this quarantine, so we just got finished executing that, moving from one house in the neighborhood to another."
Teamwork.
As it was for Team Stoehr, Lady Techsters soccer coach Kevin Sherry has been recruiting online, giving possible future Lady Techsters virtual tours of the campus, and preparing for the upcoming season. But as with our other couples, Sherry and wife Isabel Lamptey, an instructor in the School of Literature and Language, have found that Quarantine Time hasn't been all work.
The couple's three dogs — Huck, Finn, and Becky — are "very fit" due to all the long walks, Sherry said, the garden has "never looked so good," and he's finally found time to practice darts every evening, "trying to perfect my technique."
"The adjustment was difficult to start with, but having a routine and setting a schedule every day helped give each day some form of 'normalcy' with each part of the day having a task assigned to it," he said. "Once it became the 'norm,' each day had a purpose with things that needed to be done, which helped us cope and look forward to doing."
The couple has caught up on their favorite TV shows — Call The Midwife, Mister Winner, After Life, and World on Fire, to name just a few — Sherry has read a 1,000-page book the life of Winston Churchill, and early in quarantine, Isabel completed her doctoral degree with South Bank University in London.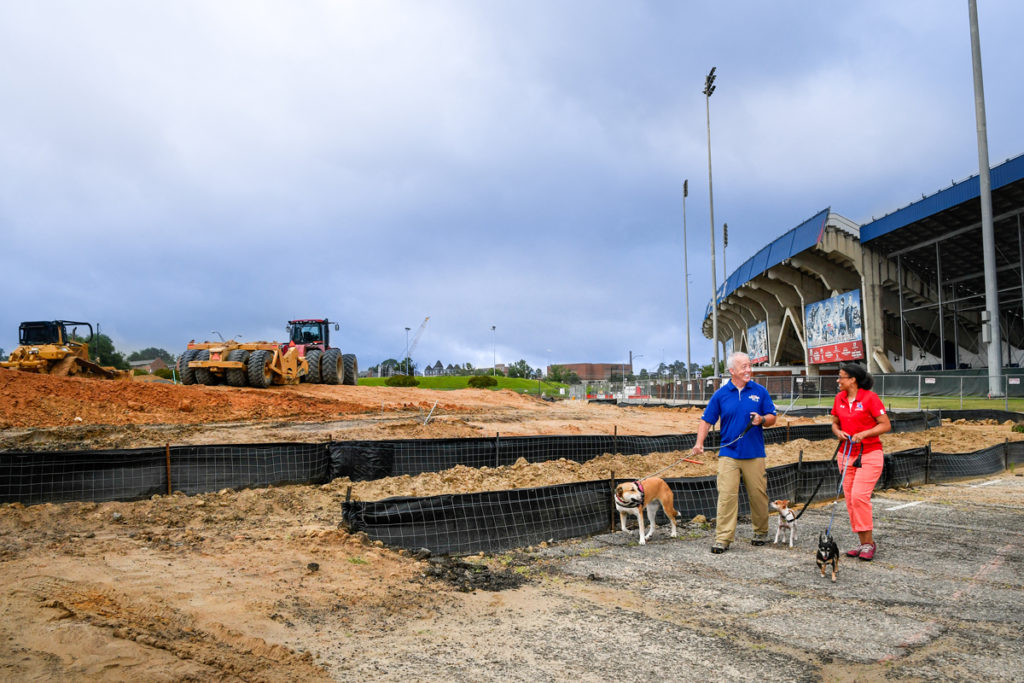 "And every day the lawn gets some TLC and is looking great," he said.
The Stakes caught a huge break in that, while they live in a rural spot where internet reception can be dicey, they live next door to Kristi's parents, Alice and Moe Letlow, who are both retired. So the family has been communally staying at home between the two houses, frequently with six people — two of them pinch-hit retired childcare givers — spanning three generations under one roof.
"Our kids started reading the Harry Potter series during this pandemic, and we've stayed up late at night watching the movies with the oldest when she was finished," Kristi said. "We've also been watching 'throwback' series like Ghostbusters, E.T., and Goonies with both kids."
They've built bonfires, played in the woods to get out of the house, included the children in cooking and letting them pick out meals. Joel even installed a hang board for rock climbing training, and Kristi repainted the master bedroom.
As anyone else who's worked at home has done, the Stakes improvised work spaces.
"We've used our extra bedroom that also serves as the kids' craft and game room as our 'offices,'" Kristi said. "We have two wooden TV trays that we've covered with files and laptops and anything else we need for Zoom calls. And we have a gaming chair and an old antique ornamental chair that we use as make-shift seating. Joel and I share this space with our youngest child. Our middle-schooler uses her room to spread out and do her school work."
And then, there's the fallback position that a lot of at-home workers have adopted.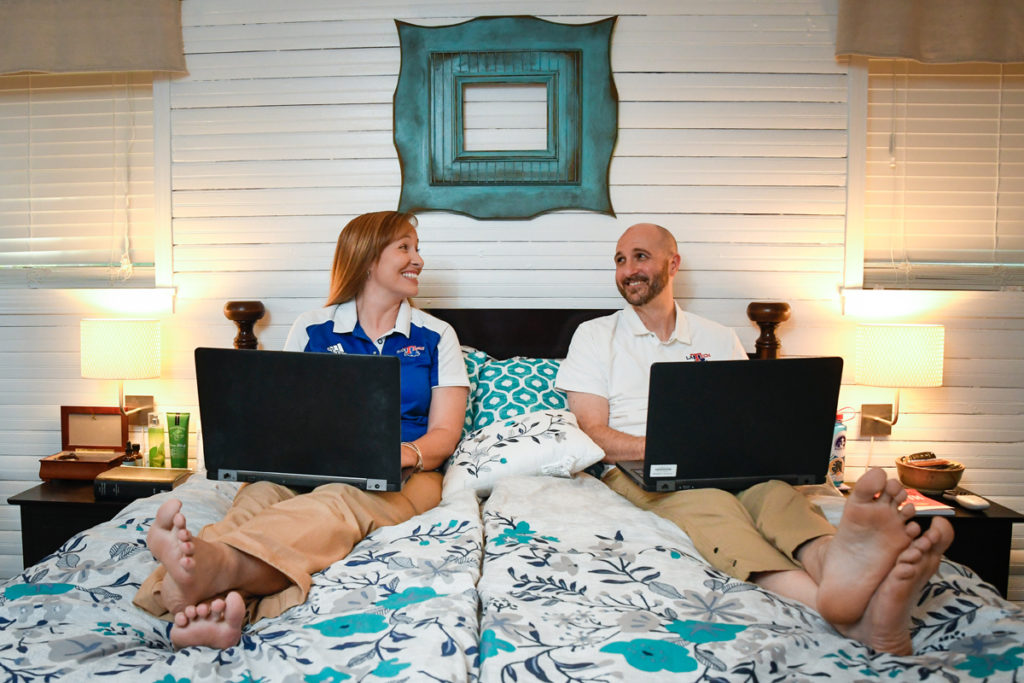 "Mostly," Kristi said, "Joel and I work out of our master bedroom with each of us in bed on Moodle on our laptops exchanging ideas, working through technology issues together, and sharing what is working in our individual courses."
Nice work if you can get it.
But just as coaches missed face-to-face interaction with their student-athletes, professors missed in-person meetings with their students, a main reason they got into teaching.
"I struggled more with how to keep my students engaged and connected while teaching remotely, and I changed some of my strategies throughout the quarter," said Kristi, a self-proclaimed extrovert. "I missed the energy of in-person classrooms, and I tried implementing discussion boards, scheduling Zoom meetings, recording videos, connecting through social media, and other ways to feel engaged with my students. I don't think I ever really felt comfortable with the impact that the class had remotely compared to the normal in-person classroom setting."
But there are always silver linings, even in a global health crisis.
"I think what has made the most impact on our family has been the time our children have been able to share with each other and with my parents who live next door," she said. "Every afternoon, our kids walk the path from our back yard to my parents' yard, and they have enjoyed playing cards, charades, board games, doing crafts, and going on outdoor adventures with them. That's time that they wouldn't have had if all of our usual activities hadn't been cancelled, and I know it's something they will remember forever."
"I am glad the difficult spring quarter is over," Anna Kelley said. "I am grateful for having and keeping a job that I love. I am grateful for how close I became with my children as I led them through 'lessons' and how amazing it was to see their effort and growth. I hope that our children will remember this as a hard time that we got through together, as a family, and how important it is to sacrifice the things you love or even prefer when it is necessary to do so for the greater good."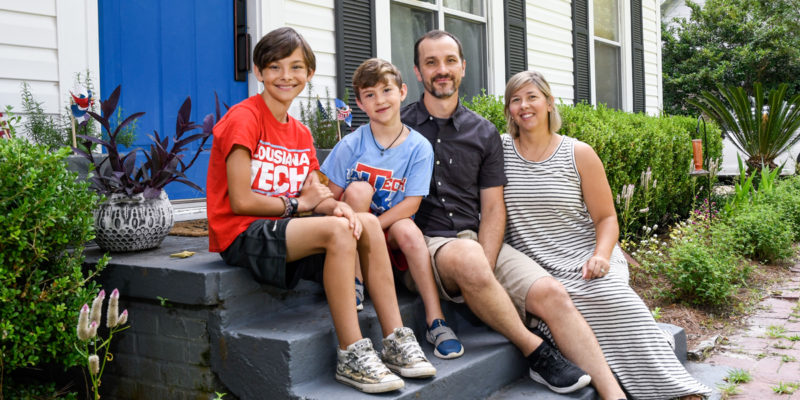 How the Deals dealt
Brad and Lacey Deal are the parents of two boys, Oli and Finn. Brad is an associate professor in the School of Design, and Lacey is an instructor in the Department of Kinesiology. Like thousands of others who are often on the Louisiana Tech campus, this family quarantined at home this spring.