A transformational gift from country music legend Kix Brooks has made Louisiana Tech University the first university in the world to offer the opportunity for music students to learn on a Solid State Logic (SSL) Origin studio console.
The hybrid analog-digital 32-channel studio console incorporates some of the latest developments in audio recording technology with many of the features that SSL consoles have been known for since the 1960s.
"SSL is one of the top three companies in the world for studio consoles," said Dr. Michael Austin, founding Director of the School of Music. "Our studio gives students in the Music Industry Studies concentration hands-on experience working in a real recording studio environment on real projects. Rather than learning concepts in the abstract, they have plenty of opportunities to put those concepts into practice right away."
The "control room" also doubles as a lecture space and computer lab. Rather than cramming into a crowded control room to learn new recording and editing techniques, then having to remember them for the next time they start working on an audio project in another space, students simply turn around in their chairs and put what they're learning into practice. The computers in the lab have a wide range of audio and music software for students to use. Attached to the recording studio is an additional lab space set up for creating audio and music for media projects, such as film and video games, including mixing in 5.1 surround sound.
"I'm so proud to be a part of this important initiative – making a donation is the easy part," Brooks said. "It's so exciting to see the current leadership in the School of Music intent on helping our University offer more than just a traditional music program. In today's music world, the recording process has become almost as important as the creation and performing of the music. It's a skill that has become imperative in the business of radio, TV, and creating popular music for a living."
Music Industry Studies – the newest academic concentration in the School of Music – is designed to bring together technology, music, and business and provide new career opportunities for students who are in the College of Liberal Arts.
"When they apply for internships and jobs, our students can say that they've got experience working on a large-format recording console, which isn't something many students coming out of similar programs can say," Austin said. "The studio is also an excellent resource for the singer-songwriters and studio musicians in our program who can easily record themselves and their work, which really goes a long way to help them present themselves as polished professionals after graduation."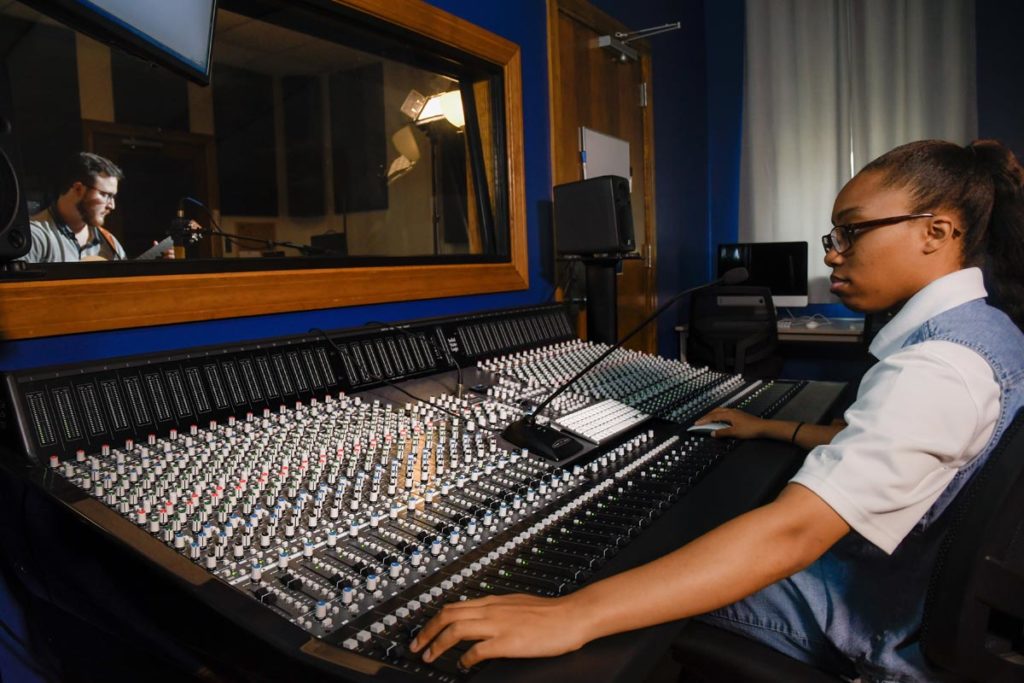 The energy-efficient console – it goes to "sleep" when not in use – is already having an impact on students in the School, Austin said. A current student was able to get an internship this summer in St. Louis because of his experience at Tech.
"He and a few other students have been working in the studio helping Dr. Cain Budds record an album of short guitar pieces," Austin added. "This album will be the first release of Ever Loyal Records, our classical and jazz record label, and these students will already have production credits to add to their resumes and portfolios.
"In the next few weeks, we will start offering workshops to music students on how to use the studio. We've also used the studio to help other departments record voice-overs for student videos, and we plan to use it in the next few weeks to make graduate school audition recordings for some upper-level music students."
The focus in Music Industry Studies is only one innovation that has come from the School of Music in the past couple of years. Students, especially students in the new Game Design minor, have the opportunity to take new courses in video game music and sound, radio production, and podcasting. Several new student-run record labels that will be able to share the best of Louisiana Tech music are in the final stages of creation.
"Over the course of upcoming quarters, the studio will be used quite a lot more as a few of our Music Industry Studies students work on their capstone projects and our student-run record labels get up and running," Austin said. "We'll also expand the available software in our studio to include more of what you'd expect to find in a professional recording environment. A little farther into the future, we would also like to implement a 'Producer in Residence' program that would give our students the opportunity to work on projects with big names in the music industry during a one-to-two-week period each year."
Brooks sees many advances at Louisiana Tech and said he wants to play his part in helping current students become innovators in the music business.
"By the looks of things, I might have to consider making my next album there," Brooks said. "I'm sure it won't be long before our students will be helping me to understand the latest technology. It's moving fast, and Louisiana Tech has a strong history of being on the forefront of innovation!"