Louisiana Tech University's licensing program, administered through the Office of University Communications and Marketing and with assistance from Collegiate Licensing Company (CLC), ensures that Louisiana Tech fans can find approved and licensed gear no matter where they are.
Gear – T-shirts, jewelry, and thousands of other items – that bears the name or one of the logos from Louisiana Tech goes through an approval process to ensure items and designs are of the highest quality. Approved items bear a holographic decal designed to show they represent the best of our University, and the licensing program provides funding for student scholarships and enhancements.
"You can share your passion for Louisiana Tech University by choosing genuine licensed merchandise," said Tonya Oaks Smith, Executive Director of Tech's Office of University Communications and Marketing, "and our students will gain the opportunity to join the Tech Family and live out our Tenets through your purchases."
CLC delivers licensing and marketing services, and enforcement and legal services to thousands of colleges and universities nationwide.
In the past year, Tech has added many new opportunities for fans to show their Bulldog spirit.
"We're so proud to have added the Louisiana Tech Amazon store – at amazon.com/latech – this year," Smith said. "It's a simple way for fans all over the world to purchase Tech apparel for the whole family."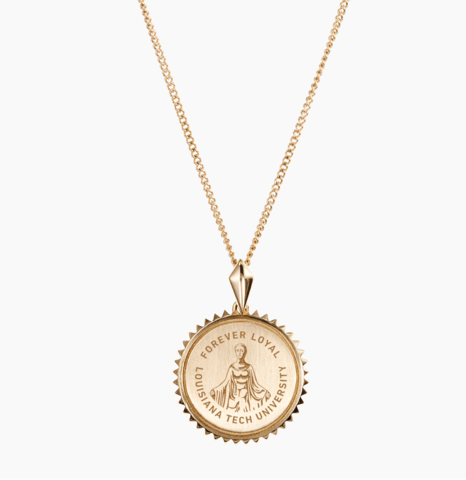 Collegiate and personalized jewelry designer Kyle Cavan also added a Louisiana Tech-focused line to its collections. With items featuring the Tech logo and Lady of the Mist, the collection offers perfect graduation or birthday gifts.
To complement the new Amazon store, the University introduced a vintage line called Old Red and Blue that uses historical logos to promote Louisiana Tech's rich history. The first item in this line is a T-shirt featuring the mid-century script Tech logo. The shirt can be purchased through the Louisiana Tech bookstore on campus and online.