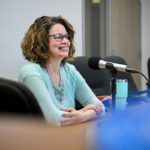 When Dr. Laura Bostick's daughter was born blind, her life changed forever, and her focus shifted.

As an early biomedical engineering graduate, Dr. Bostick spent almost two decades with NASA before the birth of her daughter led her to investigate the best ways to teach a blind person. Through conferences, connections, and colleagues at Louisiana Tech, she earned her master's degree in special education and eventually her doctorate, leading her to a director position with the UTeachTech program on top of her inspiring work as a professor and mentor at the university.

In this episode, Dr. Bostick has something to teach all of us, recounting her journey from a STEM field to motherhood to teaching, how they're all connected in the current state of her career, and how teaching others to teach has a deeper impact than we may realize.

Website: https://1894.latech.edu/beyond/

Email: 1894@latech.edu

Learn more about the UTeachTech program: https://www.UTeachTech.com/
Learn about CyberTeach-LA: https://www.uteachtech.com/cyberteach.html

Listen to our episode with Dr. Edward Bell, the director of the Professional Development and Research Institute on Blindness.