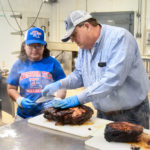 Just another blue-ribbon afternoon at Louisiana Tech's Meat Science Lab over on South Campus, where every day's a holiday and every meal is a USDA-approved grand slam. This episode of Beyond 1894 is a bit hectic, sometimes loud, but very informative and never boring—in other words, it mirrors South Campus, where getting your hands dirty or having blood on your apron is a badge of honor. Today we visit with Dr. Mark Murphey, Academic Program Chair in Ag Sciences, and Emily Milbourn, a pre-vet graduate and former student in Dr. Murphey's "The Art and Science of Barbeque" class. This pre-Memorial Day podcast should serve as a starter kit check list about what you're doing wrong around the grill and how you can improve. We talk fire control, cuts of meat (read Dr. Murphey's Top 10 Favorite Steaks here), even how to enroll in the class.
You might need a seat belt: we're in the office of Meat Lab Supervisor Gorden Reger, which is between the outside where students were grilling ribeyes and the chop shop where Reger was doing butcher instructions—except when he had to reach over us and take a phone call regarding an order for some meat. There are no days off here!, on this same piece of ground that Louisiana governor John Bel Edwards tweeted about after his visit May 7.
Want to take your next steps towards future success? Visit latech.edu/summer to learn more.
To learn more about our Animal Science program, please visit: https://ans.latech.edu/agricultural-sciences-forestry/animal-science/
Website: https://1894.latech.edu/beyond/
Email: 1894@latech.edu