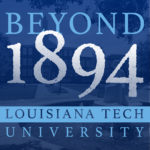 Theatre is storytelling brought to life — live and in person without a social media filter — and it has been entertaining people for centuries. There is magic in how real and authentic the story can feel, but when dramatic scenes include violence, it's important the brutality remains an illusion.
Mark Guinn, Director of Louisiana Tech's School of Theatre, is a Fight Master of Stage Combat with the Society of American Fight Directors and a Certified Teacher with the British Academy of Stage and Screen Combat. He makes sure every punch, stab, and swing on stage looks real while being fake.
In this episode, Davy Norris interviews Mark Guinn about his experiences as a fight master, a lighting design technician, a stage combat teacher, and a theatre professor here at Tech.
No legs were broken in the making of this episode.
Website: 1894.latech.edu/beyond/
Email: 1894@latech.edu
Download the transcript to this episode.