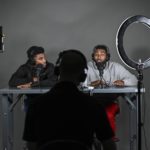 This episode was recorded in the podcast studio at WRLDINVSN's newest headquarters, a massive warehouse in Ruston serving their day-to-day operations. Co-founders of the WRLDINVSN brand, Marlon Watts and Nicholas Clark, have a lot to say about Louisiana Tech University helping them turn a passion project into a million-dollar clothing company.
The 2019 Young Alumni of the Year talk with host Gavin Kelly about their time growing and learning as students, their overnight success that's really not-so-overnight, and why they've decided to plant roots in Ruston as they expand.
This interview was conducted in conjunction with the latest edition of 1894: The Louisiana Tech Alumni Magazine, in which the theme is passion. You can read Nick and Marlon's WLRDINVSN story from the magazine here.
WLRDINVSN: https://www.wrldinvsn.com/
College of Business: https://business.latech.edu/
College of Liberal Arts: https://liberalarts.latech.edu/
Website: https://1894.latech.edu/beyond/
Email: 1894@latech.edu